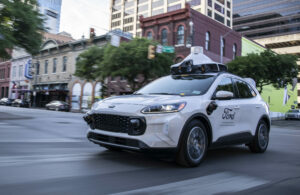 Ford is shifting its investment in advanced driver assistance system (ADAS) technology away from Level 4 and higher vehicle autonomy, in favor of further investment in Level 2+ and Level 3 automated driving systems, CEO Jim Farley told investors Wednesday.
The decision means that Argo AI, Ford's joint venture with Volkswagen to develop self-driving vehicle technology, will be closed down, Farley said during a third-quarter earnings call.
Ford's decision led to a similar decision at Volkswagen. "Our goal is to offer our customers the most powerful functions at the earliest possible time and to set up our development as cost-effectively as possible," VW CEO Oliver Blume said Wednesday.
Ford executives, who committed $1 billion five years ago to develop Level 4 technology, have come to realize that "profitable, fully autonomous vehicles at scale are a long way off," Farley said.
"It's estimated that more than $100 billion has been invested in the promise of Level 4 autonomy. And yet no one has defined a profitable business model at scale," he said. "Based on… this outlook, and our increasing promise and focus on Level 2 and Level 3, we've decided to wind down the Argo investment."
He said the OEM's investments will be redirected into further development of its existing Level 2 BlueCruise technology, enabling its customers to travel through larger geographical areas "with their eyes off the road." Former Argo employees will help in that effort, he said.
"This is a huge addressable market, and [there is] the potential for highly accretive new revenue streams tied to Level 3," Farley said.
Under the SAE's levels of driving automation, Level 2 is an assistance system that requires a driver to constantly pay attention to the road. In Level 3, the vehicle is in control of the driving, but the driver must be prepared to take over when necessary.
The CEO spoke about some of the challenges on the road to achieving Level 4, in which the vehicle is fully in control.
"As for the future of true L4 autonomy, we don't expect there to be a sudden, 'Aha!' moment like we used to," he said. "Deploying Level 4 broadly, perhaps the toughest technical problem of our time, will require significant breakthroughs going forward in many areas. Reliable, low-cost sensing — it's not the case today. Algorithms that can operate unlimited compute resources, without constraining the operating time and domain of an electric vehicle. Breakthroughs in neural networks that can learn to operate a car more safely than a human, even in very complex urban environments."
During a question and answer period, analysts pressed Farley on the future of autonomous driving, and whether the OEM might be giving up ground to competitors who continue to press ahead.
"There are some out there that believe they have a solution to this that is close to working. And I think some of us thought that Argo might be not that far behind," said John Murphy, an analyst with Bank of America. "So I'm curious, you know, what changed? And if you think those folks may be misguided in their assumption that they actually have a solution."
Farley responded that the "enormous investment that will have to be made in the non-technology pieces" in the successful rollout of L4 "is a big factor in our thinking." The "go-to-market investment of a customer-facing service" will include such things as "all the depots, all the HD mapping of the ODS [database] across this enormous geography, the enormous fleet — because it's still weather-constrained, you have to have a driven fleet to complement it," he said.
Doug Field, chief advanced product development and technology officer at Ford, agreed that achieving L4 capability "is the toughest problem of our generation. And I don't think about it as capital constraints nearly as much as talent constraints."
"We are deeply passionate about the L3 mission. We have ideas of how it can work and how customers can interact with it that are really exciting, particularly when you add them to our next-generation EVs. So this is the way we want to use that talent, and we think it's the most meaningful way for them to impact the world," Field said.
Asked how far in the future L4 autonomy might lie, CFO John Lawler responded that, with adequate investment, it would be at least five years "before you could actually get to something that started to generate a meaningful business. And we see a much greater opportunity to impact more customers immediately with L2, L3 technology and impact our business in a positive way in the more near-term time frame."
Farley said the shift is as much about the realities of L4 development as it is about furthering the capabilities of the existing BlueCruise system, which he called "mission critical" for Ford.
"Ford has deployed BlueCruise on many vehicles across hundreds of thousands of Blue Zone miles," he said. "We have strong technology partners working alongside us. And now we're going to bring in several hundred people from Argo, a brilliant collection of minds who've done a great job, who have done wonderful work in the L4 space. Their job and mission now is to help us create a differentiated Level 4 BlueCruise system."
To date, more than 83,000 vehicle owners have enrolled in the Ford BlueCruise and Lincoln ActiveGlide services – and logged more than 21 million hands-free, L2 miles in just over one year since launch, Ford said. The system operates on more than 130,000 miles of North American roads, which Ford refers to as "Blue Zones."
By 2028, the OEM expects to have more than 30 million connected vehicles on the road around the globe.
Images
Featured image: An Argo AI vehicle undergoes testing. (Provided by Argo AI)
Share This: