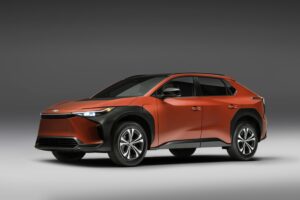 Toyota is considering a significant revision of its electric vehicle (EV) strategy "to better compete in a market it has been slow to enter," according to an exclusive report by Reuters.
Toyota's planning had previously assumed demand for EVs would "not take off for several decades," four people with knowledge of the plans told Reuters. Currently, automakers are forecasting EVs to represent more than half of total vehicle production by 2030.
According to the article, the people said the company has halted some work on existing EV projects. "The proposals under review, if adopted, would amount to a dramatic shift for Toyota and rewrite the $38-billion EV rollout plan the Japanese automaker announced last year to better compete with the likes of Tesla," Reuters said.
The article says that Toyota has suspended work on some of the 30 EV projects it announced in December, and that those projects include the Toyota Compact Cruiser crossover and the battery electric vehicle (BEV) Crown.
The review was triggered in part by the realization by some at Toyota that the OEM needed to reduce its EV production costs to compete globally with Tesla.
"The revamp under consideration could slow the rollout of EVs already on the drawing board. But it would also give Toyota a chance to compete with a more efficient manufacturing process, as industry-wide EV sales run past Toyota's earlier projections," Reuters said.
Toyota's e-TNGA platform, used by the bZ4X crossover, was designed so that EVs could be produced on the same assembly lines as gas-powered vehicles and hybrids. That was based on an assumption that Toyota would need to sell about 3.5 million EVs a year, or a third of its output, to be competitive, sources told Reuters.
But sales of EVs "are growing faster," Reuters points out. "Automakers globally now forecast plans for EVs to represent more than half of total vehicle production by 2030, part of a wave of industry-wide investment that now totals $1.2 trillion."
The bZ4X is the first Toyota vehicle that was launched under the global bZ, or "Beyond Zero," BEV series. The OEM said in April that it planned to sell around 70 electrified models worldwide by 2025, including 15 dedicated BEVs.
In a response to the news organization, Toyota said it was committed to carbon neutrality but did not comment on specific initiatives.
"In order to achieve carbon neutrality, Toyota's own technology – as well as the work we are doing with a range of partners and suppliers – is essential," the company said in response to questions from Reuters.
A working group led by Shigeki Terashi, former chief competitive officer at Toyota, has been put in charge of the review, according to six people knowledgeable about the work.
"What's driving Mr Terashi's effort is the EV's faster-than-anticipated takeoff and rapid-fire adoptions of cutting-edge innovations by Tesla and others," one of the people told Reuters.
Research firm Ducker reported in June that an increasing number of EV producers are showing interest in integrating large aluminum castings, or mega-castings, into their vehicle structures, following the lead of Tesla.
Ducker analysts said Mercedes-Benz, Volvo, and Volkswagen are among the OEMs following Tesla's lead in the use of mega-castings, in spite of the industry's limited experience with the technology.
Mercedes-Benz is "aiming for maximum cost reduction and weight reduction" on its EQXX, a low-volume vehicle unveiled as a concept during the last Consumer Electronics Show, Ducker's white paper said. "The vehicle is a technological exercise as Mercedes-Benz aims not only for lower production costs, but also for weight reduction (which mega-casting makes possible) leading to a better management of energy consumption to increase range."
In a recent earnings call, Tesla CEO Elon Musk revived talk about a new generation EV that would be half as expensive to produce as the company's current Model 3 and Model Y. The project had been shelved in early 2022, when Tesla was focusing on the Cybertruck and the Semi.
"At this point we've done the engineering for Cybertrucks and for Semi, and, so, it's obviously against what we're working on, which is the next-generation vehicle, which will be probably about half the cost of the 3/Y platform, it will be smaller, to be clear," Musk said during the earnings call this week in response to a question about Tesla's third platform.
"But it will, I think, certainly become, certainly exceed, the production of all our other vehicles combined," he added.
Images
Featured image: the 2023 Toyota bZ4X crossover. (Provided by Toyota)
Share This: