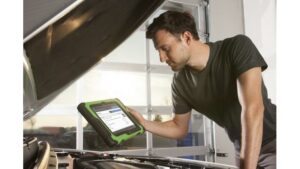 Software updates to Bosch ADS scan tools includes photo capture, upload capability
By on
Collision Repair
Bosch has released three software updates for its ADS and ADS X series scan tools, which a spokesperson told Repairer Driven News "will help prepare collision technicians for the increase in 2023 model vehicles" that will hit roads in the coming months.
In addition to providing full pre- and post-diagnostic scans of all systems on vehicles, the tools can perform advanced driver assistance system (ADAS) calibrations on SGW-enabled vehicles. In order to perform safe and proper repairs every time, collision repairers should always check OEM repair procedures and conduct pre- and post-scans as well as calibrations, as highlighted in the two videos below from Collision Advice, the Society for Collision Repair Specialists, and the Data Enhancement Gateway (DEG).
The software updates improve user experience through a "Manage Photo" feature that allows technicians to launch the tool's camera or upload existing photos with labels to scan reports, special tests, and calibration reports. Bosch noted that the feature serves as a helpful reference tool for technicians who may need to refer to past repairs and services when performing a special test or calibration. More than 5,400 new special tests, 2,063 systems applications, and more 2022 model-year coverage is also provided through the updates.
The ADS software updates include coverage for 2022 and 2023 models including General Motors, Jeep, Mercedes-Benz, Alfa Romeo, RAM, Audi, Honda, Toyota, Lexus, Mazda, and Volkswagen. A full list of added coverage by model is available at "https://www.boschdiagnostics.com/ads-software/release-notes">boschdiagnostics.com/ads-software/release-notes.
Bosch ADS users with a current subscription can install the updates after automatically receiving the download.
Technicians that don't already have the scan tools can purchase them, and their software subscriptions, from online and in-store retailers including NAPA Auto Parts, O'Reilly Auto Parts, and Amazon. A full list of distributors and retailers that carry Bosch tools and equipment is available here.
Images
Featured image: A Bosch ADS scan tool in use. (Credit: Bosch)
Share This: