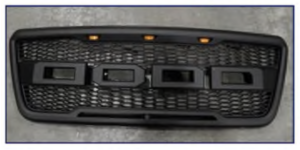 Ford accuses companies of distributing, selling thousands of counterfeit parts
By on
Announcements | Legal
Ford has filed a federal trademark infringement suit against four companies that it claims distributed, advertised and sold thousands of counterfeit truck grilles and other parts over the past two years, and possibly longer.
Named as defendants in the suit are three U.S. companies — wholesaler Crov Inc., shipper Sunward Logistics USA, and importer FD-All Together Automotive — and one Chinese manufacturing company, Qingdao Hairunkaiyuan Auto Parts Co (QH), which does business through www.freedream4x4.com and other websites.
Ford said an investigation conducted with the help of state and federal law enforcement recently uncovered "a significant global counterfeiting operation, where Defendants manufacture, import, market, sell, and distribute a massive number of counterfeit 'Ford'-branded truck grilles and other counterfeit 'Ford'-branded parts and accessories to other third party resellers and to consumers directly, primarily through their own websites and through online marketplaces, like Amazon."
Seized in the raids were thousands of counterfeit products that would be worth millions of dollars if they were genuine, Ford said in its complaint, filed on Aug. 8 in the U.S. District Court for the Central District of California. The raids "have confirmed the significant scale and brazen nature of Defendants' unlawful and infringing conduct," Ford said.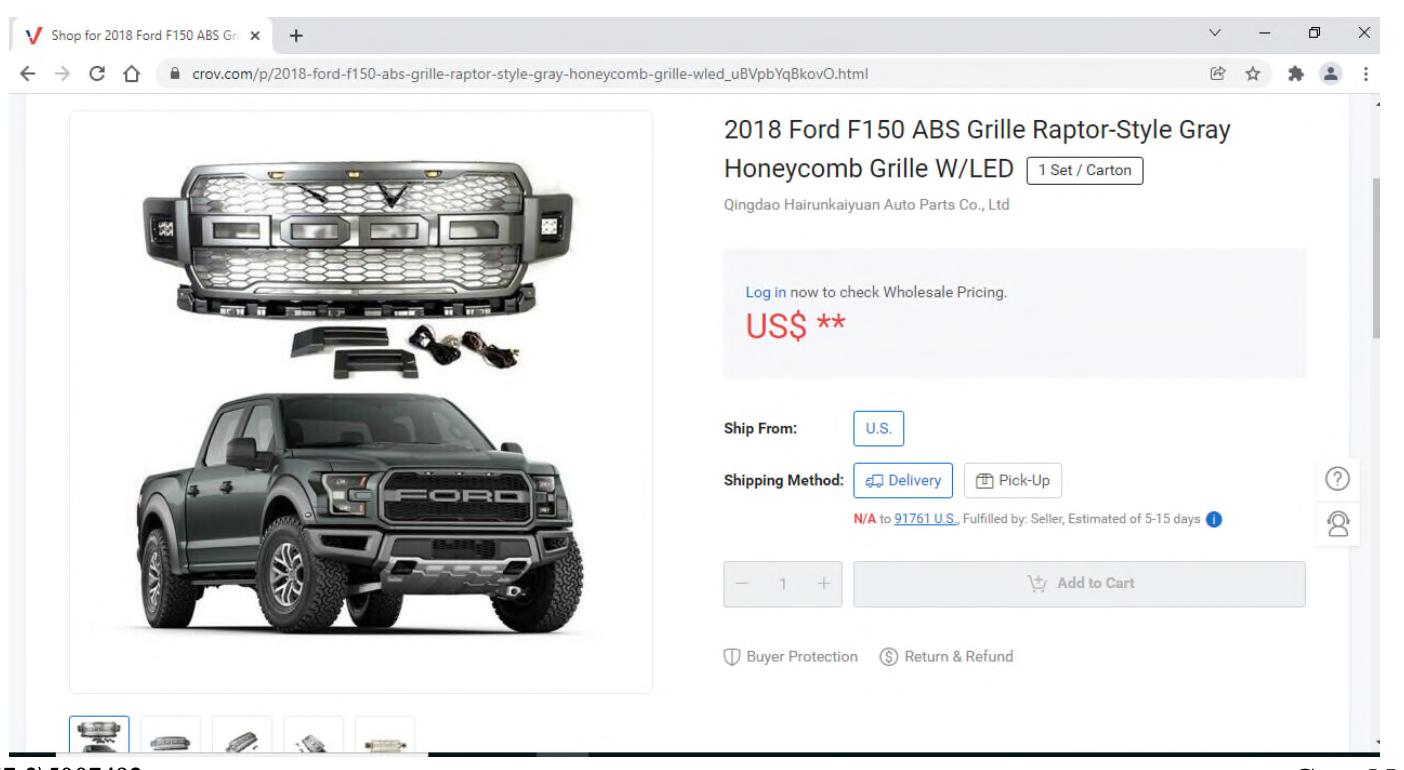 The OEM said the counterfeiting operations "have resulted in consumer confusion and have harmed Ford's business and the consumer goodwill associated with the Ford brand. Defendants, of course, also profited tremendously from their illegal conduct, at the expense of Ford and end customers duped into buying cut-rate counterfeit replica products, parts, and accessories."
The counterfeit parts "were, and are, of substantially different and lower quality than Ford's genuine high quality products," the complaint states.
Sunward has denied the allegations. The other defendants have yet to file responses with the court.
The suit asks the court for unspecified monetary damages and an order to halt the defendants' conduct.
Ford said it became aware of the counterfeit operation at the November 2019 SEMA-AAPEX show in Las Vegas, where Crov was circulating a catalog offering several different "Ford" grilles for sale.
The OEM followed up with test buys from Crov in 2019 and 2020. The buys showed that the products were initially sold by HQ and shipped by Sunward through two of that company's warehouses, in New Jersey and California.
In November 2020, law enforcement authorities secured a search warrant for Sunward's New Jersey warehouse, where they seized nearly 4,000 counterfeit grilles, along with 5,000 separate "F" and "R" letters that counterfeiters typically use to replicate Ford's trademarks. Shipping the grilles without the letters is done in an effort to evade detection by U.S. Customs, Ford said.
During the same raid, authorities seized 527 counterfeit spark/glow plugs, ignition coils, and emblems, Ford said.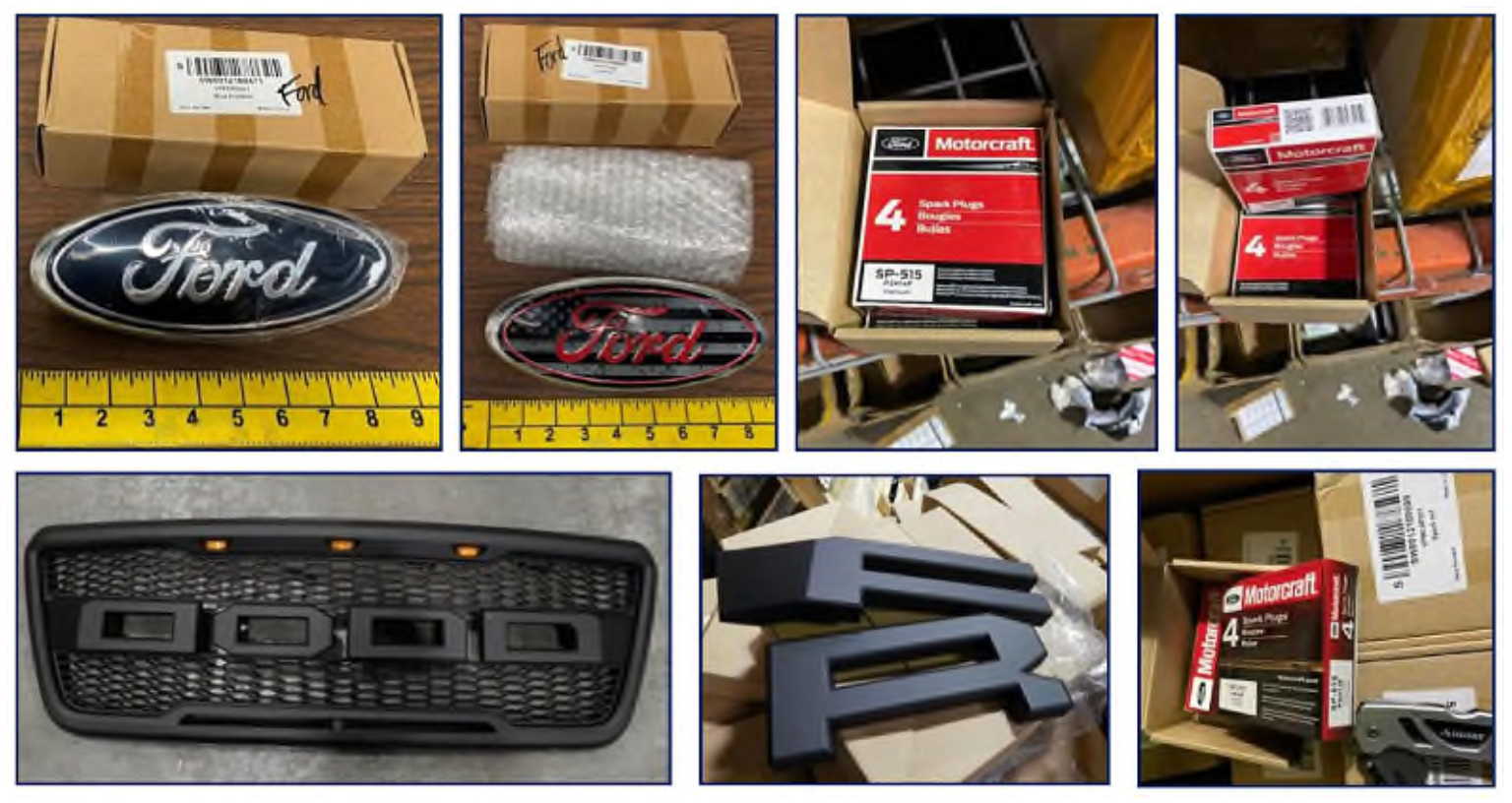 Subsequent searches of Sunward's California warehouse, and a California warehouse operated by FD, found 589 "Ford"-branded grilles and more than 1,800 "F" and "R" letters. If genuine, the parts would have been worth $2.5 million, Ford said.
Despite the repeated raids and seizures, Ford charged, the defendants are still offering counterfeit "Ford"-branded products, "highlighting the extreme willfulness of the unlawful and infringing conduct and the intent of the Defendants to continue unabated until forced to stop."
In December 2021, Ford said, a sales representative for QH, associated with www.freedream4x4.com, offered newly-developed counterfeit "Ford" Raptor grilles for sale. The OEM was able to purchase some of the grilles, which arrived without the letter "F." Those letters were then supplied in a separate shipment.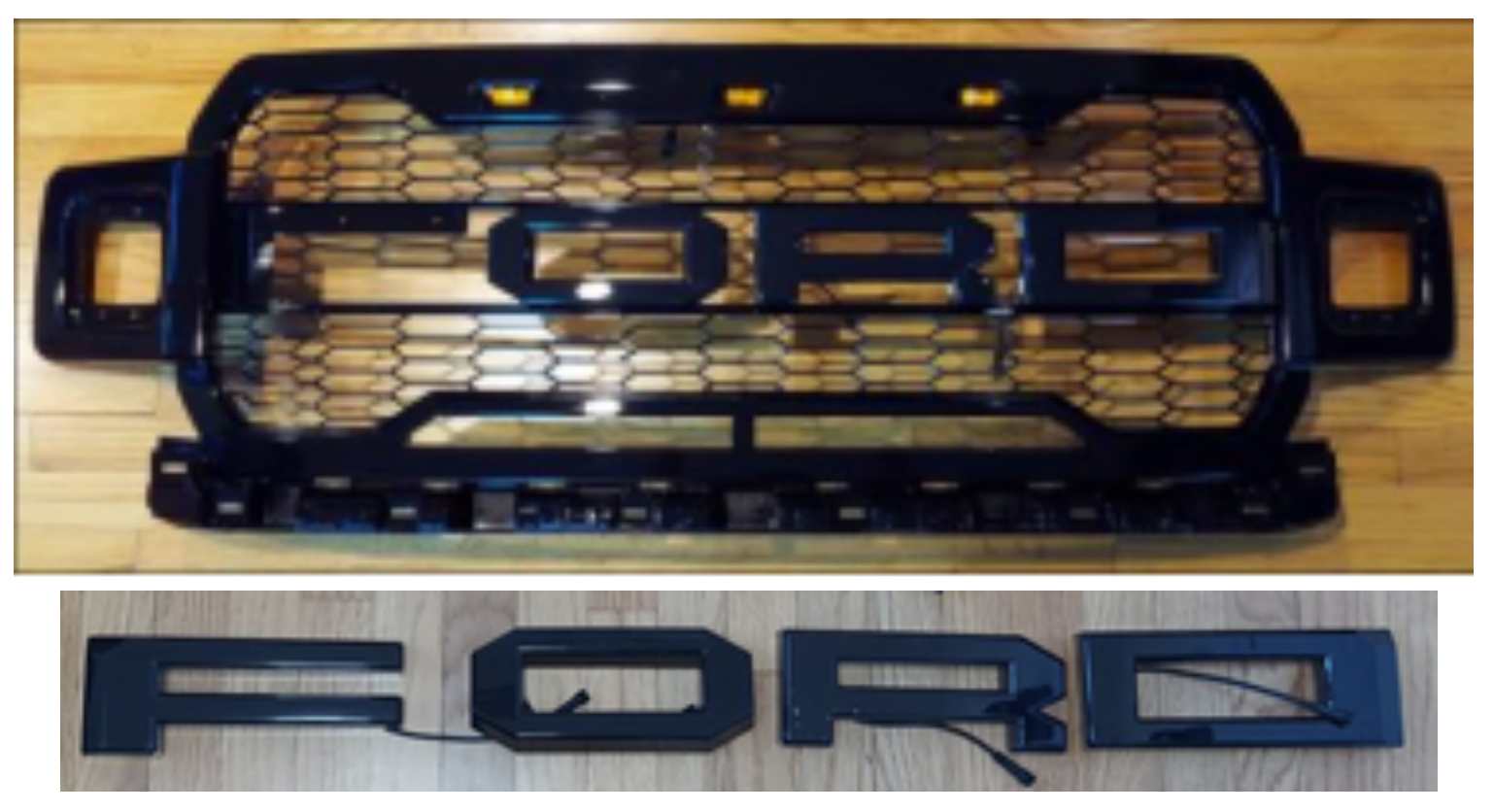 Aside from the damage Ford claims has been done to its business and reputation, the sale of counterfeit grilles can present a safety concern. On its Global Brand Protection website, Ford notes that grilles and other collision parts "work together the way Ford engineers intended to ensure proper fit, function, and most importantly, safety. Using Ford collision parts to repair your vehicle guarantees that it will have the same structural performance characteristics as it did with the original parts, giving you peace of mind in the event of a subsequent collision."
The Automotive Anti-Counterfeiting Council (A2C2), a collaboration of North American automakers working to identify and stop the proliferation of counterfeit automotive parts in the North American market, includes grilles among the items highlighted in an A2C2 infographic showing parts at risk for counterfeiting.
"Counterfeit grilles may not properly house safety sensors that control the vehicle's supplemental restraint system (SRS) and/or other collision mitigation systems, thus rendering those systems inoperable," A2C2 says. "Exacting design, materials and manufacturing ensure that safety sensors will remain securely in place and that cooling components are protected."
According to the most recent data, the estimated financial impact of counterfeit auto parts entering the U.S. exceeds $1 billion for A2C2 members.
"Unfortunately, many counterfeit parts closely resemble genuine parts, often making it difficult for consumers to spot them," A2C2 says. "The best approach is to know and trust the source of the parts or the repair shop that is providing them."
It encourages repairers to fight counterfeiting by using "common-sense research measures" when evaluating suppliers and procuring replacement parts. "It is most important for shops to know and trust the source of their parts and utilize reputable supply chains," the organization said.
Anyone who suspects they have been sold a counterfeit part should contact the National Intellectual Property Rights Coordination Center or the brand protection department for that automaker, found in the members section of the A2C2 website.
Images
Featured image: A counterfeit Ford grille seized at a New Jersey warehouse. Ford said counterfeiters will often separate the grille from the letters necessary to complete the counterfeit trademark in an attempt to evade detection and seizure of products by U.S. Customs. (Ford Motor Co.)
An advertisement for a "Raptor-style" "Ford" grille on the website of Crov. Ford claims the defendants continued offering counterfeit parts for sale, even after searches and seizures at their warehouses. (Ford Motor Co.)
Counterfeit products that Ford said were seized by authorities in a raid on a New Jersey warehouse. (Ford Motor Co.)
Grilles and letters were shipped separately when a Ford representative purchased grilles from QH, the suit claims. (Ford Motor Co.)
More information
The Automotive Anti-Counterfeiting Council (A2C2)
The National Intellectual Property Rights Coordination Center
Ford Global Brand Protection
https://www.fordbrandprotection.com/Index.aspx
Share This: