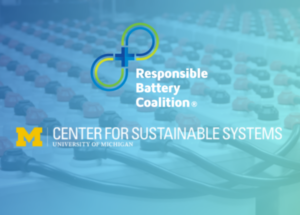 Coalition & University of Michigan launch ICE vs. EV ownership costs study
By on
Market Trends
The Responsible Battery Coalition (RBC) has begun a comprehensive research project with the University of Michigan Center for Sustainable Systems to compare the total cost of ownership between internal combustion engine (ICE) and electric vehicles (EVs).
The study will address primary contributing factors to vehicle cost; where, when, and for whom EVs are most cost-effective, and government policies that could have the most impact on lowering EV costs. Five vehicle classes — compact sedan, midsize sedan, small SUV, midsize SUV, and pickup truck — will be studied in 14 cities.
"We are using representative generic vehicle data rather than data for specific models so that we can do apples-to-apples comparisons between BEV and ICE vehicles," University of Michigan Center for Sustainable Systems Director Gregory A. Keoleian told Repairer Driven News. "We are also including life cycle costs of HEVs but the emphasis is on the BEV ICE comparison. Within BEVs, we have data for 200-mile, 300-mile, and 400-mile range vehicles. So in total, we have 25 vehicles through these combinations of class, powertrain, and range."
The vehicles will be studied in Atlanta, Boston, Chicago, Cleveland, Dallas, Detroit, Houston, Los Angeles, Miami, Manhattan, Philadelphia, San Francisco, Seattle, and Washington D.C. Cities were selected that represent major vehicle markets and a wide range of climates, electricity markets, gas prices, and levels of policy support such as government incentives programs, Keoleian said.
"The Responsible Battery Coalition is dedicated to developing and sharing the latest scientific resources to help Americans understand the impact of electrifying the transportation sector," said RBC Executive Director Steve Christensen, in a statement. "This independent, comprehensive study will build on our Green Principles and help the RBC better understand the current consumer costs of not yet achieving a circular economy for EV batteries."
Understanding the total cost of ownership (TCO) of an EV, and not just the initial purchase price, is becoming an increasingly important factor in consumer decision-making, according to RBC. The TCO of a vehicle includes customized accessories, upgraded power systems to extend vehicle range, taxes and other fees as well as long-term operating costs including fuel, maintenance, repairs, and insurance. The lack of clear comparisons between the two vehicle options is one factor that RBC believes is slowing down the widespread adoption of EVs and decarbonization.
"Our research partnership with RBC will enable us to conduct a more in-depth analysis of EV costs in comparison with internal combustion engine vehicles by considering vehicle type, user behavior, and where the vehicle is purchased and operated," Keoleian said. "For example, we will account for regional differences in the total cost of ownership related to charging installation costs, electricity and gasoline costs, temperature effects on fuel economy, and insurance as well as federal and state EV incentives and policies."
Christensen added that the research will reveal if EVs have cost-parity with ICE vehicles over their lifetimes, such as EV battery recycling, in addition to emissions savings.
"The research adds to our work in defining the best practices for managing all batteries throughout their lifecycle," Christensen told RDN. "This study is intended to inform consumers and industries that manufacture, sell, use, reuse or recycle EV batteries. We hope that policy leaders will find it useful as well as they look for ways to support EV adoption and domestic battery manufacturing."
The project will take into account regional factors that, according to RBC and the University of Michigan, haven't been thoroughly investigated before, including:
Impact of local climate on vehicle fuel economy;
Refueling patterns based on driver time valuation;
Projections of future gasoline and electricity prices; and
Anticipated driving patterns.
Additionally, the research team will evaluate the carbon reduction potential of EVs and calculate the social cost of carbon using regional greenhouse gas emissions estimates developed by the Center for Sustainable Systems and Ford Motor Co.
The first phase of the study is slated for completion in December. Results will be shared with the public shortly after peer review. The second phase will run from January through Dec. 31, 2023.
Images
Featured image credit: Responsible Battery Coalition (RBC) and University of Michigan's Center for Sustainable Systems
Share This: