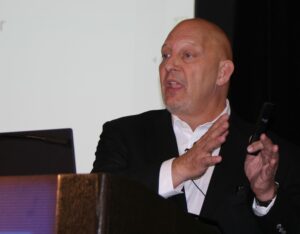 Change. Put simply, that's what Collision Advice CEO Mike Anderson believes has to happen for collision repair shops to find and keep technicians and other employees on payroll.
"Something's got to change. We are never going to be able to get the best of the best until we can pay a better wage. …Fifteen to $18 an hour is not cutting it."
In 2017, the average body shop spent 10% of its sales on administrative wages and as of June this year, that rose to 14%, 15% at some shops, Anderson added.
Anderson outlined ways for shops to better choose and retain collision repair employees during this year's first Repairer Driven Education (RDE) Series session at the SEMA Show on Monday in Las Vegas. Anderson asked three audience members what they offer entry-level repair planners. They answered between $18 and $20 an hour with five to seven days vacation after one year and 50-100% of employee health insurance coverage. Compare that to Amazon, Anderson said, which has a long list of benefits, including 401(k) savings plan, paid college tuition, employee and family health insurance, health savings accounts, maternity and paternal leave, and more. And fast food restaurants are offering $19 an hour with paid vacation and volunteer service.
So how do shops compete against those lines of work? On top of raising the starting wage offered, Anderson said benefits need to be looked at differently. Think about rewarding excellent work with a memory, not just a monetary bonus. One example he shared was a shop owner who paid for a cleaning service once every week for a month for one of his employees. Also, paid time off [PTO], which gives employees extra money on top of their regular wage to take time off and gives them the option to use the extra cash to go on a vacation.
It's also about rethinking your shop's employee structure. Front end estimator, CSR, backend estimator, a designated parts person, a full-time mechanic, a technician with one apprentice, another technician with two apprentices, a painter with a prepper, and a lot porter make up a team that can easily bring in $300,000 a month in sales but, even better, each position could be promoted to create a career path instead, Anderson said. CSR to front end estimator to back end estimator then up to manager or parts to CSR to front end estimator, and so on. That creates the opportunity for two teams to more than double sales and create four-day work weeks, possibly even a three-day work week once a month, he said.
Keeping an exemplary crew comes down to training and knowing how to prove the need for repair procedures to get reimbursed by insurance carriers, Anderson said. That means answering four questions: is the repair procedure required by the OEM? Is it an included operation? Is there a pre-determined labor time and if not, how much time is it worth? Paint manufacturer bulletins found on Database Enhancement Gateway (DEG)'s website, DEGweb.org, material manufacturer's bulletins outlined in the Society of Collision Repair Specialists' (SCRS) Guide to Complete Repair Planning, scan tools, owner's manuals, and the vehicle itself all come into play when determining the answers to those questions, Anderson said.
"Five, six, seven years ago it wasn't about who had the people," Anderson said. "It was about who could get the car. …Today, people have a two-month backlog so it's not about who gets the car, it's about who gets the people. Your No. 1 biggest competitive advantage over anyone in your market is culture — how you treat your people, how you pay your people, and how you recognize your people."
It's important to match personalities with skill sets during hiring considerations. Anderson shared descriptions of some of the roles. A CSR loves people and people love them — they can handle disgruntled customers, know how to multi-task, and are strong in completing administrative paperwork. The front end estimator is more extroverted while the back end estimator is introverted — make the sale vs. researching repair procedures and working behind the scenes.
"When we implemented our team and our cell system, we started to see there were people that really were good at certain jobs, and then what we did is we tested them to figure out what made them tick," Anderson said.
Seeing the success of each type of employee and matching applicants with those traits led to quicker hiring and increasing sales five times in two years at Anderson's shops.
Training for repair planners — also known, among others, as blueprinters and estimators — includes covering:
Technological skills – how to use the shop's management system and a digital camera to take photos of vehicle damage
Communication skills – effectively listen and communicate with customers, CSRs, adjusters, technicians, management, third-party payers, and others to relay why certain procedures were necessary in order to be reimbursed by insurers.
Vehicle terminology – names of parts and components
Understand 100% disassembly – not what to remove but why for a more complete teardown.
Understand estimating systems, P-pages, software, and estimating tools.
Understand how to identify collision damage – how vehicles are designed to divert inertia forces, direct vs. indirect damage, to look for broken or stressed spot welds, cracked and peeling paint, et cetera.
Understand mechanical systems – airbag systems, safety restraint systems, suspensions, and safety checks of them.
How to research, understand and document OEM repair procedures.
How to make informed parts decisions (one-time use parts and repair versus replace).
Understand advanced paint processes and color identification.
And, Anderson noted, hiring repair planners with experience should include having them write an estimate to see how well they write line notes and research OEM repair procedures. Or, ask them specific questions about a component and its repair to determine their knowledge base.
Rather than throwing new hires into the job, Anderson recommends shops utilize online and in-person training resources from several sources, including OEM repair procedure websites, Collision Advice, SCRS' Blueprint Optimization Tool (BOT), I-CAR, the three estimating systems (CCC, Audatex, and Mitchell), RepairLogic, and the Database Enhancement Gateway (DEG) Estimate Toolbox for OEM owner's manuals. There are also a couple online photography training options available from Accountable Estimating and Collision Hub's YouTube as well as in-person classes at Apple and Samsung stores.
Collision Hub also offers a file documentation online class for repairers to learn how to documentation techniques to strengthen negotiations with payers. Collision Advice's "Who Pays for What?" quarterly survey results can be used too to teach repair planners what are deemed not-included operations. Anderson said shops should also consider reading the book "Never Split the Difference: Negotiating As If Your
Life Depended On It" by former FBI lead international kidnapping negotiator Chris Voss and co-author Tahl Raz to learn more about negotiation strategies.
The RDE series continues through the end of the SEMA Show on Friday. Check out the full lineup here. Prior-year RDE session recordings are available for purchase at https://rde.scrs.com.
More information
Anderson also provided the following resources for shops to use for training:
SCRS Quick Tips: youtube.com/user/SCRSCollision/videos
DEG Estimating Tips: https://degweb.org/category/estimating-tips
Nissan/Infiniti training
Porsche training
BETAG North America eLearning: betagnorthamerica.com/findAnElearningCourse.php
Ask I-CAR: https://rts.i-car.com/ask-i-car.html
OEM Body Construction And Material Repair Guidelines: https://rts.i-car.com/collision-repair-news/crn-706.html
Mitchell training portal: https://miportal-mitchell.force.com/miPortal/Home_miportal
Collision Hub estimating training: https://collisionhub.com/product/introduction-to-auto-estimating-live/
Vale Training estimatics courses: https://www.valetrainingsolutions.com/our-courses/estimatics/
Audatex Estimating Worklist: http://www.audatexsolutions.com/Falcon/Novo/Estimating/Worklist
Mitchell estimating training videos: http://www.mymitchell.com/tchs/helpfiles/rcw/1033/Content/40670.htm
Electronic Parts Catalog: https://degweb.org/oem-parts-epcs-free
RepairLogic: https://go.oeconnection.com/repairlogic-waitlist?utm_source=mike-anderson&utm_medium=sell-sheet
Images
Featured image: Collision Advice CEO Mike Anderson (Lurah Lowery/Repairer Driven News)
Share This: