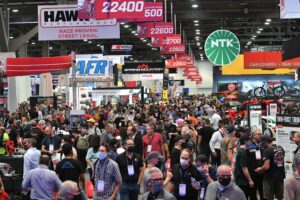 Registration is now open for this year's SEMA Show and Repairer Driven News has been given a sneak peek at what the Society of Collision Repair Specialists (SCRS) has in store for its Repairer Driven Education (RDE) seminars that will take place during the show.
The 2022 show will be held Nov. 1-4 at the Las Vegas Convention Center. Organizers say it "will build upon the positive momentum following last year's event, which successfully connected the $47.8 billion industry in person in what was the largest automotive trade show in North America since the pandemic shut everything down in 2020."
"The SEMA Show is where industry professionals go to grow existing relationships, create new ones, and push their businesses forward," said SEMA Vice President of Events Tom Gattuso, in a news release. "Exhibitors are eager to showcase their products and services to the tens of thousands of qualified professionals in attendance."
Access to the priority space selection for exhibitors is available at semashow.com through May 18.
"Enthusiasm for the 2022 Show continues to exceed last year's, with more than 1 million square feet of exhibitor space already committed for the 2022 SEMA Show and confirmed spaces running 25% above last year," said Warren Kosikov, SEMA vice president of sales, in the release.
Attendees at the 2022 SEMA Show will learn about the latest products, trends, and technology in the industry from manufacturers exhibiting throughout the entire Las Vegas Convention Center, including the surrounding parking lots.
"Our industry continues to thrive despite current challenges in the marketplace, and last year's event proved that the value of conducting business and networking face-to-face can never be replaced," said Gattuso. "Our mission is to help continue that momentum by providing an unparalleled experience that builds meaningful business relationships."
Educational seminars led by industry experts and networking events that bring market niches together will also be available during the four-day trade event. One of the educational offerings, held annually at the show, is SCRS' RDE seminars.
Here's a rundown of what will be held this year:
Monday, Oct. 31 from 3-5 p.m.
"Build Your Next Repair Planner In-House, from Scratch!" CollisionAdvice President Mike Anderson will explore the keys to success in building internal skill development programs that can help broaden the pool of candidates that shops can consider for otherwise very specific positions.
"What is a Prevailing Rate, and How Do You Define Yours?" AkzoNobel Senior Services Consultant Tim Ronak and Services Consultant Tony Adams will discuss what a "prevailing rate" is, as referred to by insurance carriers, and where their data comes from to determine it as well as what shops need to know to figure out their necessary rates.
"Untap Your Potential by Understanding Your Performance!" BASF Business Solutions and Performance Group Manager Braxton Ewing along with Business Development Manager John Shoemaker will hold a roundtable discussion on using available information to develop internal goals based on performance to achieve success and continued improvement in the collision industry.
Tuesday, Nov. 1 from 9:30-11:30 a.m.
"Say Hello to Quality Control…the Modern Way." Sherwin-Williams Manager of Business Services Lee Rush will provide details on quality assurance methods to prevent undetected errors in repairs to avoid not only loss of profit, but reputational damage, liability and risk involved in making a mistake and the unthinkable happens. Attendees will be provided with the tools to analyze their production and staffing requirements and to begin to optimize their business performance.
"Replicating OEM Seam Sealers and Textures." Teroson Head of Collision Repair John O'Neill will explore and demonstrate traditional and modern gun-applied replication techniques to teach attendees the differences between how the masking workflow looks and how the roll of tips, air pressure, air temperature, and distance are factors in the overall success in being able to replicate today's seam sealer applications.
"Profitability Gains Through Labor Identification." BASF Business Development Manager Phill Knapp, BASF Regional Business Manager Trista Anger, and Shoemaker will discuss the changes in vehicle design and how that has changed the labor types used in repairs. As the labor types are defined, how to calculate labor costs accordingly will be laid out taking into consideration the additional training required to perform the repairs as well as the costs to invest in and maintain OEM certifications.
Tuesday, Nov. 1 from 12:30-2:30 p.m.
"How to Open and Operate a Successful ADAS Services and Calibration Business." Auto Techcelerators co-founder Frank Terlep will go over the opportunities, challenges, sales, marketing, and operational requirements to open and operate a successful and profitable ADAS service and calibration business or division amid the growing use of the systems, which is predicted to reach 100 million in North America next year, according to SCRS.
"Supercharge Your Business and Attract the Best Employees." Elite Body Shop Solutions Owner Dave Luehr and trainer Beth Rutter will let attendees know what it takes to become the employer of choice in your market. They'll discuss why most businesses can't seem to find and retain top talent and what a small number of outliers are doing differently to solve the problem.
"Embrace Digitalization in Your Paint Shop." BASF Global Color Solutions Manager Alejandra Iberico and NA Color Solutions Lead James Chargo as well as other panel members who will be announced later this year will talk about how shops can prepare for the accelerations of digitalization including working through a cloud service, digital color retrieval, virtual and augmented reality for eLearning, and the metaverse.
Tuesday, Nov. 1 from 3-5 p.m.
"Structural Adhesives and Hybrid-Joining Operations in Collision Repair." 3M Senior Application Engineer Ryan Marrinan and Senior Manager of Global Expertise Delivery Jason Scharton will "demystify" structural adhesives and their use in modern repair operations including the various types, why they work, and how they should be stored as well as the process from disassembly of structures to surface prep, adhesive application, weld and rivet bonding, cleanup and destructive testing.
"Protecting Your Business Against Liability Exposure from Evolving Technology." SPARK Underwriters Chief Underwriting Officer David Willett and Vehicle Specialty Market Underwriter Shaughn Kennedy will cover seven aspects that commercial underwriters look at in collision repair businesses to help evaluate risk-mitigation tradeoffs. New technology in vehicles, and the necessary repairs to restore the vehicle after a loss has created new exposures and this seminar will leave repairers better prepared to mitigate risk associated with evolving business responsibility, according to SCRS.
"Consumer Guidance: Invoking the Appraisal Clause." Auto Claims Specialists Managing Director Robert McDorman will be joined by another appraisal specialist and at least one collision repair business owner who has experience referring clients to right to appraisal (RTA) experts to delve deep into how shop owners can implement the process recommendation as a customer service into their businesses and the resulting benefits. The RTA provision within insurance policies helps consumers address deficiencies in the claims settlement process and is often an effective way to resolve claim disputes with carriers by allowing the consumer to demand a binding appraisal of their damaged vehicle when an agreement can't be reached on its value versus the cost to repair it.
Wednesday, Nov. 2 from 9:30-11:30 a.m.
"Take Control of Your Estimate and Repair Order Data." Datatouch Managing Director Pete Tagliapietra will present shops with the information they need to start reaping the benefits of the information they generate instead of giving it away to for-profit companies that sell information and data without authorization to third-party firms for their own financial gain.
"The Roadmap to Becoming the Employer of Choice." Adams and Ronak will take a look into what factors are driving employee turnover, causes of employee disengagement, and how your business can stand out to deliver on exactly what employees are looking for from an employer today.
"Aluminum Repair That Works: Glue Pull Repair." KECO Body Repair Products CEO Chris White along with KECO master GPR trainers Gene Fetty and Danny Hacker will focus on how "the control and finesse" that comes with using the GPR method is the consistent and affordable solution for aluminum panel repair that's "creating quite a buzz among technicians and shop owners."
Wednesday, Nov. 2 from 12:30- 2:30 p.m.
"Mindset Matters: One Man's Commitment to Let the Light In." Maimone Group Operational Manager Chris Maimone has faced countless obstacles and endured numerous brain and spine surgeries from a young age, but has used them to drive his success at his family's business, Marcos Collision Centers as well as at multiple MSOs and then later to shape his perspectives as a business mentor for the automotive industry, according to SCRS. Maimone will share with attendees how he believes being hands-on created opportunities to improve the companies he's worked with to help shop owners work through their obstacles and "embrace the power of a quality-oriented mindset to improve their business."
"Are You Capturing Modern Paint Processes?" Chargo and Shoemaker will walk attendees through how to precisely document every step of the replication of the dynamic and vibrant colors OEMs are now putting on their vehicles as well as how ADAS and recovery of costs come into play.
"Stop Wasting Marketing Dollars – Target the people who actually need your service." Phoenix Solutions Group President Nick Schoolcraft will define three proven marketing strategies that not only grow collision sales organically, but also ensure body shops establish a permanent bond with their customers to ensure that when additional collision services are needed, there is only one shop they'll turn to. The solutions are a must for shops who are looking to remove themselves from their direct repair program (DRP) relationships, are struggling to market their certification to vehicles owners that are unaware of the benefits of certified repairs, and to differentiate independent shops from national brands that are encroaching on the market share.
Wednesday, Nov. 2 from 3-5 p.m.
"The Importance of Wheel Alignment in ADAS Recalibration for Collision Centers." Snap-On Equipment Training Manager Charles Searles and Special Projects Manager Christopher Sobieski will take a deep dive into the critical relationship between the vehicle centerline and the importance of wheel alignment as it relates to ADAS recalibration. Attendees will leave this seminar with a more thorough understanding of the importance of sensor fusion and how to capture a more complete analysis of the vehicle alignment condition.
"Bulletproof Negotiation Tactics – Newly Revised!" Anderson and Database Enhancement Gateway (DEG) Administrator Danny Gredinberg will explore the fundamentals of creating "the perfect platform to win any attempt to negotiate or rebuke repair plan necessities" using real-world examples, role-playing and repeatable steps in building documentation.
"Make OEM Network Tools Valuable to My Repair Center." Rivian Automotive Collision Network Manager Frank Phillips, Rivian Collision Repair Senior Manager Kelly Logan, CCi Global Technologies Vice President Brandon Laur, and International Technical Automotive Systems (ITAS) Managing Director Tony Young will discuss the resources that can be mutually beneficial to the repairer and the automaker with a common goal of driving repair quality and safety. The conversation will seek engagement from attendees with questions and examples of shared information will be provided.
Thursday, Nov. 3 from 9 a.m. to 2:30 p.m. – OEM Collision Repair Technology Summit
The OEM Collision Repair Technology Summit is designed to put attendees in a room with innovators in automotive structural design and technology.
The event features three sessions each of which will highlight how modern vehicles have developed and the influence that has on vehicle repairability. From alternative fuels and safety technologies to vehicle design and material makeup, each session will focus on emerging trends and collision industry preparation.
Friday, Nov. 4 from 10:30 a.m. to 12:30 p.m. – IDEAS Collide Showcase
Tagged by SCRS as a "one-of-a-kind event," 10 presenters will pitch the industry with a concept designed to either stimulate thought or resolve a specific business challenge. Each presentation will be 10 minutes with topics aimed at rattling the status quo and offering conceptual keys to resolve existing market challenges.
All of the 2021 RDE sessions are available at rde.scrs.com.
Registration for the 2022 SEMA Show is offered in three categories – attendee, exhibitor, and media. Everyone must qualify to attend. Attendees are encouraged to register early at semashow.com/register so they can secure their credentials and receive updates on breaking news from the show. For more information about qualifying documents and this year's show, visit semashow.com.
Attendees will need to register and pay a fee for the RDE sessions as part of their show registration process. However, in a world where the cost of everything is escalating, SCRS has elected to keep advanced pricing for the sessions the same as it has been in previous years; $75 per regular session, with the best value at $375 for a full series pass. There will also be a full series digital add-on for $125 to bring the sessions home post-event for the rest of the team.
Explore the full Repairer Driven Education lineup here. 
IMAGES
Featured image: File photo of the show floor at a previous SEMA Show. (Provided by SEMA)
Share This: