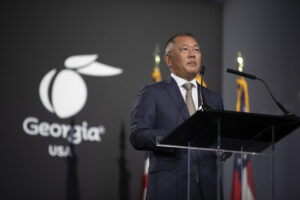 Hyundai has broken ground at the site in Georgia of what will be its first U.S. electric vehicle (EV) and battery manufacturing plant, months ahead of schedule.
The OEM said in May they planned to begin work in early 2023 on the $5.54 billion Bryan County "smart factory," since named Hyundai Motor Group Metaplant America (HMGMA). Commercial production is still slated to begin in the first half of 2025 with an annual production capacity planned at 300,000 units, including "a diverse range of innovative Hyundai, Genesis, and Kias."
"Today, our EVs are recognized as best in class, and with this partnership [with Georgia], we are determined to be the global leader in electrification, safety, quality, and sustainability," said Hyundai Motor Group Executive Chair Euisun Chung in a statement. "With the Hyundai Motor Group Metaplant America, we will continue to evolve beyond an automaker to the world's leading mobility solutions provider."
Approximately $1 billion is anticipated to be invested by non-affiliated HMGMA suppliers in connection with the project in other locations. Hyundai's global EV sales goal is 3.23 million annually by 2030. The automaker plans "to maintain its position as one of the top three EV providers in the U.S." through the additional capacity the HMGMA will provide.
The new plant will have "a highly connected, automated, and flexible manufacturing system, which organically connects all elements of the EV ecosystem to realize customer value," according to Hyundai, and will become an intelligent manufacturing plant. "All processes of production—order collection, procurement, logistics and production—will be optimized utilizing AI and data. The innovative manufacturing system will also help create a human-centered work environment with robots assisting human workers."
And as part of Hyundai's commitment to sustainability, the plant will rely primarily on renewable energy sources to power the facility and use emission-reduction technologies to meet the RE100 renewable electricity requirements.
Hyundai and Kia have also launched "social responsibility" initiatives. Hyundai's include:
A $120,000 donation to Georgia Tech to provide two $15,000 science, technology, engineering, and mathematics (STEM) scholarships a year for the next four years;
$500,000 Hyundai Scholar Hope and Young Investigator Grants from nonprofit Hyundai Hope On Wheels to Children's Healthcare of Atlanta to continue its "long-standing fight against pediatric cancer; and
$200,000 in donations from nonprofit Genesis Inspiration Foundation to two Georgia-based nonprofits for youth arts programs.
And through Kia's Corporate Social Responsibility program, "Accelerate the Good," the following will be donated by the OEM to the Bryan County community:
$300,000 to Family Promise of the Coastal Empire to purchase houses for families who recently lost their homes;
$100,000 to establish a Kia Kid's Café with America's Second Harvest of GA to feed and tutor low-income children after school hours;
$100,000 to help pay travel expenses to St. Jude Children's Research Hospital in Memphis, Tennessee for pediatric cancer patients and their families; and
$100,000 to Inspiredu to help provide low-income children with technology and resources to facilitate learning.
Images
Featured image: Hyundai Motor Group Executive Chair Euisun Chung speaks during the group's Metaplant America groundbreaking ceremony in Savannah, Georgia on Oct. 25, 2022. (Credit: Hyundai Motor Group)
Share This: