Lordstown, VinFast deliver first batches of EVs to customers
By on
Market Trends
Lordstown Motors Corp. and VinFast have begun delivering their first batch of electric vehicles (EVs) to customers.
Lordstown announced last week that its full-size battery-electric pickup truck, the Endurance, had achieved full homologation as well as certification from both the Environmental Protection Agency (EPA) and CARB, which the OEM called "key conditions to start customer sales."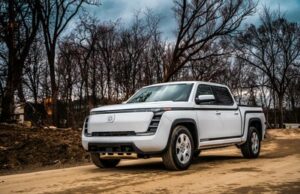 Foxconn purchased a Lordstown, Ohio factory from Lordstown Motors earlier this year where the two companies collaborated to build the Endurance. Fisker will also produce its second all-electric vehicle, the PEAR, at the plant.
Lordstown says production volume will "ramp slowly and accelerate as we resolve supply chain constraints." Initial production began in September
"I am very proud of the Lordstown Motors and Foxconn EV Ohio team for their hard work, grit, and tenacity in achieving this milestone," said Edward Hightower, Lordstown CEO and president. "We are very excited to start delivering vehicles to our commercial fleet customers. The Endurance will provide benefits to customers that use their vehicles for work. It optimizes key attributes of traction and maneuverability – with our in-wheel hub motors, safety – with our five-star crash performance, and value in the segment."
A page dedicated to information about the Endurance on LMC's website doesn't say how much it will sell for, but notes that it is designed to be "smarter, safer and more productive for work" with four in-wheel hub motors to reduce the number of moving parts and improve vehicle control. Other features include 109 kWh battery capacity and 193-mile EPA-estimated range.
According to The Drive, Endurance prototypes caught fire last year and the company's CEO and CFO both resigned. The company has also struggled with a lack of funding to start production. Lordstown said in September it expected to end the quarter with cash and cash equivalents of $195 million. Q3 results announced in November showed an ending cash balance and short-term investments of $204 million "above internal expectations due to continued strong spending discipline" and a reported operating loss of $154.8 million, which included a $74.9 million non-cash asset impairment charge, a $30 million accrual for historical litigation, and a $16.2 million charge to reflect the net realizable value (NRV) of inventory.
Another EV OEM, VinFast, also recently exported its first batch of vehicles, 999 VF 8s, to the U.S. from its Vietnam factory. The export is the first of 65,000 global orders already made for the VF 8 and VF 9. Exports will continue in early 2023 to deliver VF 8s to Canada and Europe. The first VF 9 models will be delivered to customers in Vietnam and international markets during 2023 Q1.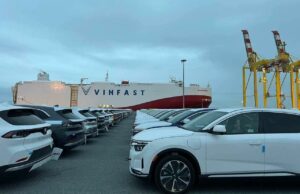 The VF 8 Eco version's electric motor can reach 260kW of power, has a maximum torque of 500Nm, and has a battery with a range estimate of 420km (WLTP standard). The VF 8 Plus version can reach 300kW of power and 620Nm of torque as well as a battery range estimate of 400km.
According to WRAL TechWire, VinFast is on track to begin building a factory in Chatham County, North Carolina by the end of the year. About 2,000 acres of land have already been cleared in Moncure for the project and the factory will have the capacity to manufacture and deliver 150,000 EVs annually, WRAL reports.
Images
Featured image credit: xijian/iStock
Lordstown Motors' full-size battery-electric pickup truck, the Endurance. (Credit: Lordstown Motors)
VinFast inventory of vehicles (Credit: VinFast)
Share This: