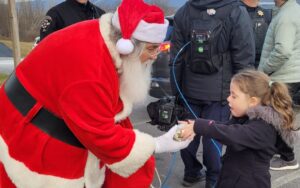 Repairers take part in initiatives to spread goodwill, vehicle repairs
By on
Announcements
Two community programs have partnered with auto repairers and police to help out individuals and families with Christmas gifts and vehicle repairs.
Professionals Auto Body (PAB) and their partners have delivered presents to children in need through its "Kids for Christmas" program for the eighth year this year in Pennsylvania.
During the first year, enough money was raised to help one family. This year, 115 children received gifts. WTAJ News, reporting from Altoona, spoke with Blair County Sheriff Jim Ott about the program.
"This is good for the community," Ott said. "The community needs to see interaction with each other, with the businesses, with the sponsors; there's private individuals that donate. Obviously, Santa needs a proper escort so we make sure that he gets around. It's good for the kids. The kids need that interaction with law enforcement and it's a privilege to us to be able to do it."
PAB's GoFundMe page, which the organization uses to raise money to purchase toys, food, and other items for families in need, states, "We work along with the local police departments to help kids & families during the holidays. We find families who are struggling and need help through the holidays. We get personal & buy specific gifts from the kids' Christmas wish list, then deliver the gifts to the kids with the help of the police officers."
"This plants a seed at a young age to know that they can have interaction with law enforcement in a positive manner," Ott said. "[If] we can start in a positive way, we may have a chance that we keep somebody from heading down the wrong path that we have to deal with them later maybe in a negative way."
Another community effort is ongoing across the U.S. to facilitate positive interactions with police officers. Through the Minnesota-based nonprofit, MicroGrants, police hand out vehicle repair vouchers instead of tickets during traffic stops for non-working or broken tail lights, brake lights, and signal lights. Participating auto service providers fix the bulbs for voucher recipients through MicroGrants' Lights On! program. Lights On! pays the bills and coordinates all administration and fundraising, according to the program website.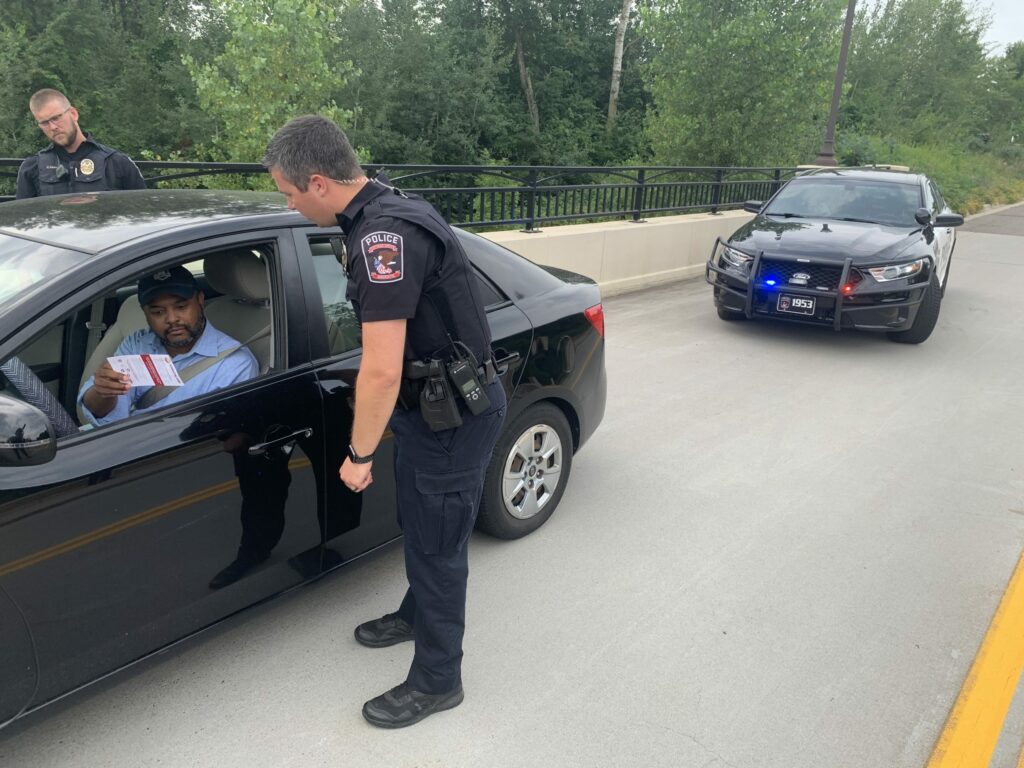 MicroGrants also works to provide cash to meet the immediate needs of low-income individuals and help them start a business, finish their education, or purchase a vehicle to get them to work.
"We all know that we have a problem with trust between the police and the community," said Chief Dave Mitchell, University of Maryland, College Park, in a Lights On! testimonial video. "We also know that one of the most frequent contacts that we have is on a traffic stop."
University of Minnesota Chief Matt Clark added, "Traffic stops are important to keep the community safe but at the same time, we need additional tools to better connect and have positive outcomes."
More than 7,000 vouchers have been redeemed in 17 states. Lights On! describes the program as a means to build "goodwill between police and the communities they serve" and to prevent people from getting tickets they can't pay, or would have to choose between paying the ticket and fixing their car or groceries and rent.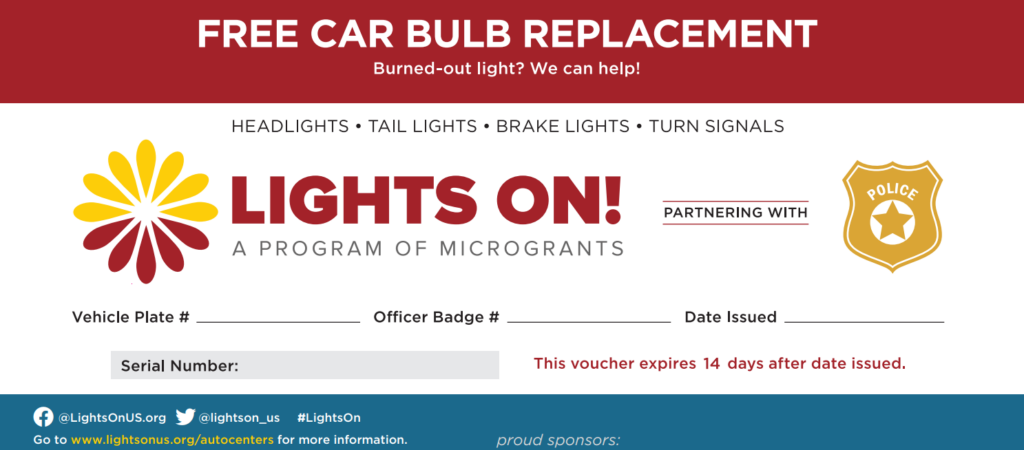 "This provides an opportunity to have an interaction with a police officer that turns out so positive and just builds that relationship, that bank of trust, that we always talk about," said Saint Paul Police Department Chief Todd Axtell.
Bloomington Police Department Chief Booker Hodges noted that many people who are pulled over in traffic stops are "working-class people that are just trying to go to work every single day."
"[T]o be able to provide them with a resource to get their vehicle fixed is something that a lot of people are appreciative of," he said.
After one of the most recent program expansions, in Baxter Springs, Kansas, Don Samuels, CEO and founder of Lights On!, told KAMR-TV, "The Lights On! program is a way to build relationships between police departments and the communities they serve. Instead of punishing drivers for broken lights, we can fix the mechanical issue and mitigate what often becomes a downward spiral for community members in need. We are giving officers a new tool on their duty belt that creates a positive interaction, especially needed in these tense times."
Shops who wish to participate in the Lights On! program can find more information at www.lightson.org or contact the program at lightson@microgrants.net to get started.
The vouchers are worth up to $250 at participating shops and Lights On! reimburses repairers for the cost. Shops' essential information is posted on the Lights On! locator page. To be involved in the program, shops must be full-service repair providers.
Auto shops are to service anyone who arrives at their facility with a Lights On! voucher in as timely a manner as possible, and with no appointment required. Shops also must agree not to conduct any up-selling to voucher holders.
Images
Featured image: Santa hands out toys during the 2021 Professionals Auto Body (PAB) "Kids for Christmas" program. (Credit: PAB)
A police officer hands out a voucher and explains the Lights On! program during a traffic stop. (Credit: MicroGrants and Lights On!)
An example of a Lights On! voucher. (Credit: MicroGrants and Lights On!)
Share This: