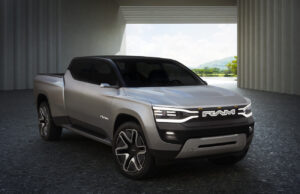 Stellantis unveils Ram 1500 BEV concept truck, CEO says more plants may close
By on
Market Trends
While Stellantis unveiled a new battery electric vehicle (BEV) concept at this year's Consumer Electronic Show (CES) in Las Vegas, Reuters reports that CEO Carlos Tavares said the company will likely close more of its manufacturing plants if high prices for electric vehicles cause vehicle markets to shrink from pre-pandemic levels.
Calling the new concept Ram 1500 Revolution BEV "a visionary road map," Stellantis said the truck "provides a glimpse into the future and demonstrates how the industry's leading truck brand will once again redefine the pickup truck segment." A Ram 1500 BEV is slated to hit the market in 2024.
"The Ram 1500 Revolution BEV Concept is our clearest signal yet that we're on the precipice of something extraordinary at Ram and points directly to where we're going on our electrified journey," said Mike Koval Jr., Ram brand CEO, in a statement. "At Ram, we've redefined what pickup trucks can be and will do so again by pushing past what competitors are offering by delivering the best electric pickups on the market."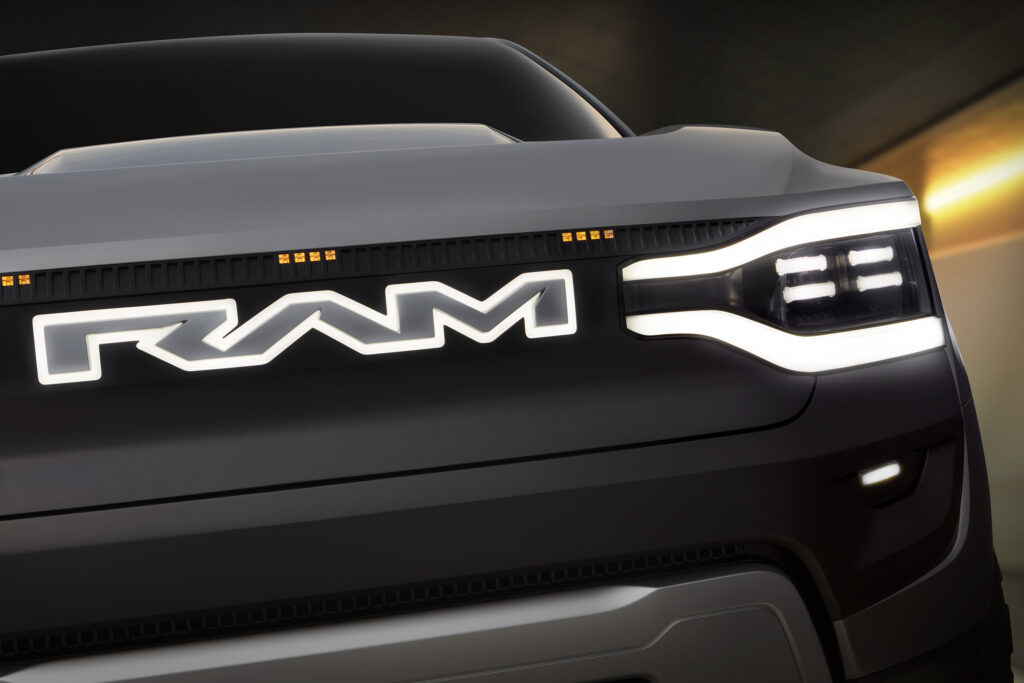 Despite unveiling the concept truck at CES on Thursday, Tavares painted a different picture for the future of the company when he spoke at the show.
"If the market shrinks we don't need so many plants," Tavares said, according to Reuters. "Some unpopular decisions will have to be made."
Stellantis said last month it would "indefinitely idle" an assembly plant in Belvidere, Illinois, citing high EV costs. Tavares told reporters similar actions "will happen everywhere as long as we see high inflation of variable costs."
However, just last month Stellantis ramped up production of the all-new M3 electric motors at its Emotors manufacturing plant in France through a joint venture with Nidec Leroy-Somer Holding. The plant's production capacity is expected to reach more than 1 million electric motors per year by 2024. Stellantis aims to reach a 100% passenger car BEV sales mix in Europe by 2030, as outlined in the Dare Forward 2030 strategic plan and to support its "Carbon Net Zero" roadmap.
Stellantis says the Ram 1500 BEV concept is part of Ram's "significant contribution" to the company's strategic plan "to lead the way the world moves by delivering innovative, clean, safe, and affordable mobility solutions."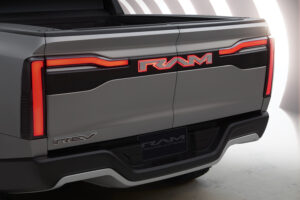 "Ram Revolution is also our philosophy as we redefine the pickup segment, with a steady drumbeat of announcements and initiatives as we embark on our electrified journey," Koval said.
Features on the concept BEV include saloon-style opening doors without a B-pillar, a removable center console with a fold-flat surface, a powered mid-gate with mounted jump seats and a removable lower section, and two electric drive modules. The all-wheel-drive pickup would be built on an STLA Frame body-on-frame architecture with full underbody aero panels and an active diffuser. It would add up to 100 miles of range in about 10 minutes of charging with an 800-volt DC fast charger. It would also feature four-wheel steering with up to 15 degrees of articulation.
When in reverse, the BEV's camera stitches together images from various other cameras around the truck, providing the driver with a 360-degree view of the interior digital screens.
Ram says the feature "allows the driver to see their surroundings with greater clarity, helping to avoid accidents and improve safety, especially when backing up to a trailer."
The mirror also includes a supplementary backup flood lamp that provides additional visibility when reversing the truck, which Ram says will prove useful in low-light conditions. In addition to the backup camera, the rearview mirror also communicates with biometric cameras that observe the truck's environment as it approaches objects and as it's being approached. The BEV also features digital side-view mirrors and augmented reality (AR) head-up display (HUD) highlight the onboard advanced technology.
During CES, Stellantis also announced the establishment of Mobilisights, an independent business unit fully dedicated to growing the company's data as a service (DaaS) business and to developing and licensing innovative B2B products, applications, and services.
Mobilisights products will be available to private enterprises, public-sector utilities, education, and research institutions to foster data-driven decision-making and enable a wide-ranging portfolio of applications and services, Stellantis said.
"The vision for Mobilisights is to contribute to a smarter world, leveraging the insights that vehicle data provide to inspire innovative applications and services that can transform and dramatically improve the day-to-day lives of users and businesses," said Sanjiv Ghate, Mobilisights CEO, in a statement. "Harnessed effectively, sensor and other data available from connected vehicles can enable a wide range of services and applications with compelling benefits, ranging from personalized usage-based insurance to road hazard detection and traffic management. With its 14 iconic brands and millions of connected vehicles, Stellantis has unmatched global data scale capable of powering this business forward."
Fully leveraging the data from 34 million connected vehicles that the company plans to reach by the end of the decade, Mobilisights has exclusive access and rights to license vehicle and related data from all Stellantis brands to external customers.
Images
Ram 1500 Revolution BEV concept pickup truck (Credit: Stellantis)
Share This: