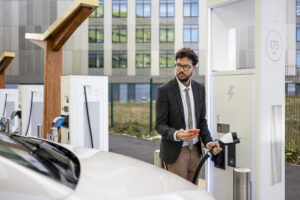 U.S. EV charging infrastructure lags behind demand, Biden Administration releases decarbonization blueprint
By on
Market Trends
The Biden-Harris Administration has released the U.S. National Blueprint for Transportation Decarbonization to cut all greenhouse emissions from the transportation sector by 2050.
The blueprint was developed by the Departments of Energy, Transportation, Housing and Urban Development and the Environmental Protection Agency. A USDOT news release states that "it exemplifies the Biden-Harris Administration's whole-of-government approach to addressing the climate crisis and meeting President Biden's goals of securing a 100% clean electrical grid by 2035 and reaching net-zero carbon emissions by 2050."
The plan builds on Biden's Bipartisan Infrastructure Law and Inflation Reduction Act, which together represent "historic" investments that "will transform how we move and live while we build the backbone of a safer and more sustainable transportation system," the release states. It is also the first milestone of a memorandum of understanding (MOU) signed by the departments of Energy, Transportation, and Housing and Urban Development and the EPA. More detailed decarbonization action plans will be developed and implemented by the agencies in cooperation with state, local, and tribal governments and with philanthropic organizations, the private sector, and global partners.
"The domestic transportation sector presents an enormous opportunity to drastically reduce emissions that accelerate climate change and reduce harmful pollution," said U.S. Secretary of Energy Jennifer M. Granholm. "DOE is prepared to implement this Blueprint alongside our partners within the Biden-Harris Administration to ensure all Americans feel the benefits of the clean transportation transition: good-paying manufacturing jobs, better air quality, and lower transportation costs."
The transportation sector, including all modes of travel by land, air, and sea, generated 33% of the country's greenhouse gas emissions in 2019 and more than 70% of total petroleum demand, which the departments and EPA agree in the MOU is "a major cause of poor air quality, particularly affecting low-income populations, populations of color, and overburdened communities."
Transportation costs are the second largest annual household expense in the U.S. and for the poorest Americans, the financial burden of transportation is "disproportionately and unsustainably high," the news release states.
"Transportation policy is inseparable from housing and energy policy, and transportation accounts for a major share of US greenhouse gas emissions, so we must work together in an integrated way to confront the climate crisis," said U.S. Secretary of Transportation Pete Buttigieg. "Every decision about transportation is also an opportunity to build a cleaner, healthier, more prosperous future. When our air is cleaner; when more people can get good-paying jobs; when everyone stays connected to the resources they need and the people they love, we are all better off."
The Biden Administration, the departments of Energy, Transportation, and Housing and Urban Development, and the EPA believe a well-planned transition to a decarbonized transportation system, such as further development and deployment of clean-energy technologies including electric vehicles (EVs) and hydrogen and sustainable fuels, while also building out the supporting infrastructure, will create good-paying jobs in all segments of the transportation sector while strengthening America's energy independence.
"Under the leadership of President Biden, EPA is working with our federal partners to aggressively reduce pollution that is harming people and our planet – while saving families money at the same time," said U.S. Environmental Protection Agency Administrator Michael S. Regan. "At EPA, our priority is to protect public health, especially in overburdened communities, while advancing the President's ambitious climate agenda. This Blueprint is a step forward in delivering on those goals and accelerating the transition to a clean transportation future."
The MOU states, "…the Parties will focus first and foremost on actions that can be taken this decade, recognizing that achieving full decarbonization of the transportation sector by 2050 will require reaching milestones decades in advance. For example, it takes several years, or even decades, for fleets to turnover, demonstrating the urgency of action in the transportation sector. The Parties seek to maximize the public benefits gained from the development and deployment of sustainable transportation technologies and solutions and to position the U.S. to lead international efforts to decarbonize the transportation sector."
U.S. Housing and Urban Development Secretary Marcia Fudge said the people HUD serves "deserve clean, affordable transportation options" and that the department looks forward "to working together to better align transportation, housing, and community development investments in these and other communities across the country."
The Washington Post reports that most of the emissions reductions will likely come from the adoption of EVs, which accounted for nearly 7% of new car sales in the first nine months of 2022, according to research group BloombergNEF.
Although the EV market is still small in the U.S., electric vehicles analyst Corey Cantor told the Post that evidence from Europe suggests once EVs take hold, they're adopted rapidly.
The infrastructure law included $7.5 billion for charging infrastructure and the Inflation Reduction Act provides tax credits of up to $7,500 for the purchase of EVs. However, new S&P Global Mobility data shows charging infrastructure is not nearly robust enough to fully support a maturing EV market.
Supporters of vehicle electrification point to the more than 140,000 EV charging stations currently deployed across the United States – including Level 2 AC and Level 3 DC fast chargers and both public and restricted access units – as a sign that a budding system to support our transportation transformation is in place.
However, S&P Global Mobility data shows that the charging infrastructure is not nearly robust enough to fully support a maturing electric vehicle market. Even when home charging is taken into account, to properly match forecasted sales demand, the U.S. will need to see the number of EV chargers quadruple between 2022 and 2025, and grow more than eight-fold by 2030, S&P says.
There are about 126,500 Level 2 and 20,431 Level 3 charging stations in the U.S. plus 16,822 Tesla Superchargers and Tesla destination chargers, according to S&P estimates. The number of chargers grew more in 2022 than in the preceding three years combined, with about 54,000 Level 2 and 10,000 Level 3 chargers added.
"The transition to a vehicle market dominated with electric vehicles will take years to fully develop, but it has begun," said S&P Global Mobility analyst Ian McIlravey. "With the transition comes a need to evolve the public vehicle charging network, and today's charging infrastructure is insufficient to support a drastic increase in the number of EVs in operation."
S&P Global Mobility registration data shows that there are 1.9 million electric vehicles (EVs) in operation today and that by 2025, there could be 7.8 million in operation, which would require about 700,000 Level 2 and 70,000 Level 3 chargers, including both public and restricted-use facilities.
There is also the issue of lower investment in charging systems outside of major metro market with 85% of Level 3 chargers and 89% of Level 2 chargers located in U.S. Metropolitan Statistical Areas (MSAs). Eighty-two percent of Tesla Superchargers and 83% of its destination chargers are also located within MSAs.
Recent research from Deloitte found that intent to purchase an EV is up a total of 9 percentage points year-over-year, while internal combustion engine (ICE) purchase intent has decreased from 68% to 62% year-over-year. A lack of affordability is the top concern U.S. consumers have when it comes to EV adoption outweighing climate concerns.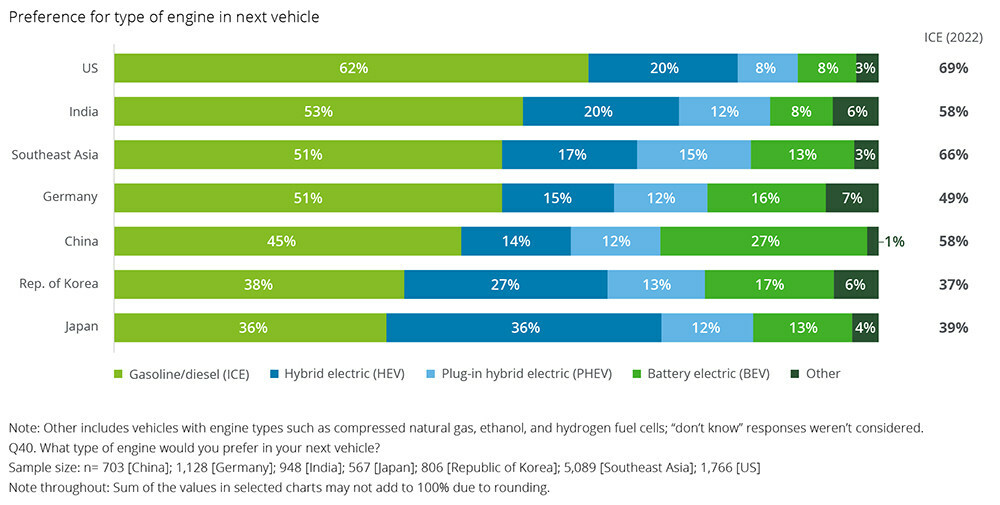 Seventy-seven percent of U.S. EV drivers surveyed by Deloitte expect to charge their vehicles at home and half will leverage traditional power grids. Deloitte found that simple payment options for public charging may help drive overall adoption since most drivers globally would prefer to use a credit/debit card or smartphone app to pay.
"Despite the challenges of the past several years, the automotive industry continues to adapt and charge forward," said Karen Bowman, Deloitte vice chair and U.S. automotive leader. "Although historically high transaction prices are a significant challenge for consumers, a strong desire to reduce refueling costs is driving EV purchase intent around the world. For their part, industry players are looking to capitalize on the shift to EVs to unlock new revenue streams in the form of value-added services that enhance the mobility experience. Ultimately, automakers that are able to drive more of the mobility value chain can be well positioned to thrive in rapidly evolving global market conditions."
Images
Featured image credit: SolStock/iStock
"Preference for type of engine in next vehicle" graph (Provided by Deloitte)
Share This: