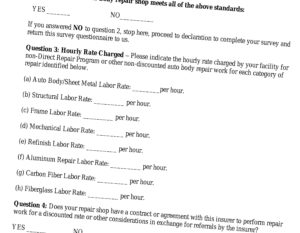 The California Autobody Association (CAA) has released its latest labor rate surveys as of Jan. 1 from GEICO, Liberty Mutual, Nationwide, Sentry, and USAA.
The results are available to members on the association's website under the "Labor Rate Surveys" link.
California Department of Insurance (CDI) representatives explained how labor rates are regulated in the state during a May 11, 2022 CAA session.
California allows, but doesn't require, insurance companies to conduct labor rate surveys and that results in three different approaches on what carriers agree to pay – standardized, non-standardized, and proven reasonable adjustments not based on labor rate surveys.
A standardized labor rate "gives the insurance company the rebuttable presumption of reasonableness," which would put the shop in the position of having to prove that any adjustment made by the carrier in the shop's requested rate is unreasonable, Claims and Service Bureau Chief Dave Edwards said.
He added that when carriers rely on a non-standardized survey of rates they have to prove their rates through answering questions such as "Did the insurance company provide support for any adjustment made? To the degree they don't want to pay the shop the shop's requested rate, do they provide documentation to support their adjustment?"
CDI Deputy Commissioner for Consumer Services Tony Cignarale noted that when standardized labor rate survey regulations were adopted, the CDI tried, and failed, to make them mandatory for all insurers.
Sometimes, he said, the CDI is able to "push" carriers into conducting a standardized labor survey, although, he noted, "that's not something that can happen overnight."
According to California code, which was revised in November 2016 and effective Jan. 1, 2017, insurers must send a survey questionnaire to all auto body repair shops registered with or licensed by the Bureau of Automotive Repair as an auto body and/or paint shop to produce a standardized labor rate survey. The results are then used to determine prevailing auto body rates, which is "calculated as the labor rate at or below which a simple majority of surveyed shops charge in a specific Geographic Area."
NorCal representative Pete Bezeck previously told Repairer Driven News that the accuracy of labor rate surveys hinges on the participation of shops.
If the survey is done right and shops respond, the survey generally works well, Bezeck said of the CDI template. But if shops don't respond, "it doesn't work."
Shops that want another labor rate source can check out LaborRateHero's surveys, conducted by National Autobody Research, which can be accessed and taken for free at laborratesurvey.com.
Images
Featured image: RDN file photo of questions from the California Department of Insurance's suggested standard labor rate survey template. (Provided by CDI)
More information
Calif. survey results with shops' prevailing rates, not door rates, can be surprise
Share This: