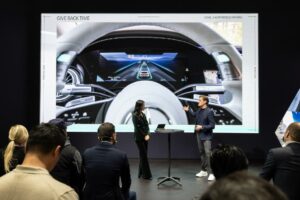 Mercedes-Benz self-driving system, Drive Pilot, has been approved for use in Nevada.
The OEM said last week during the Consumer Electronics Show (CES) in Las Vegas that the state's Department of Motor Vehicles approved their application and are preparing the certificate of compliance that will be issued within the next two weeks. The DMV will allow Mercedes to self-certify that the Level 3 autonomous system is safe for use on public roads. Mercedes is also seeking approval for Drive Pilot use in California.
SAE defines Level 3 autonomy as the vehicle being in full driving control and the occupant won't be required to take over, but it may be requested. Drive Pilot has been available in Germany since last May. The company now says Nevada's DMV has agreed to allow the company to certify that the system is safe.
Mercedes will limit the system to use on highways at 40 mph and below, meaning drivers can effectively use it only in traffic jams, KBB reports.
Drive Pilot builds use ultrasonic and moisture sensors, lidar, a camera in the rear window, microphones, and satellite navigation to operate.
Other systems currently on public roads include Tesla's Autopilot and General Motors' Super Cruise, both of which are classified as SAE Level 2, meaning drivers must pay attention at all times and be prepared to take over.
Nevada's step means Mercedes will be the first automaker to offer a system that lets drivers legally take their eyes from the road.
Benito Cid, Mercedes-Benz USA collision business development manager, told Repairer Driven News that the Drive Pilot system doesn't warrant a major change in the repair process for collision repairers.
"We always recommend a shop be trained in the repairs they are doing and that they follow the repair procedures to ensure the vehicle and its systems are functioning as originally intended," he said. "Liability for improper repairs is an issue no matter what. My thought/feeling is that when you remove the driver there could be an even greater concern. It could potentially be a more direct liability concern for those working on the systems, almost like putting them in the 'driver's seat.'"
Database Enhancement Gateway Administrator Danny Gredinberg reminds repairers that they should "always perform OEM research on the sensors, repairability of the surrounding parts, and calibration requirements."
"As for estimating purposes, estimating times may or may not be inclusive of these additional accessories/packages," he said. "Always select the proper vehicle options/equipment when decoding the vehicle as well as referencing headnotes and footnotes to verify included/not-included operations. When in doubt of an operation relating to ADAS features, users are encouraged to submit a
degweb.org
inquiry on the subject."
Images
Featured image: Mercedes-Benz at the 2023 CES Show. (Credit: Mercedes-Benz USA)
Share This: