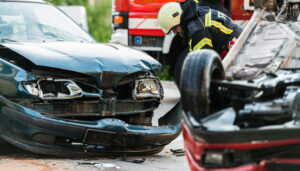 NHTSA: Car crashes cost Americans $340B, traffic fatalities beginning to level off
By on
Announcements
Motor vehicle crashes cost Americans $340 billion in 2019, according to the National Highway Traffic Safety Administration (NHTSA)'s new report, "The Economic and Societal Impact of Motor Vehicle Crashes, 2019."
The report examines the costs of one year of crashes that killed an estimated 36,500 people, injured 4.5 million, and damaged 23 million vehicles.
"This report drives home just how devastating traffic crashes are for families and the economic burden they place on society," said NHTSA Acting Administrator Ann Carlson, in a news release. "We need to use the safe system approach embraced in DOT's National Roadway Safety Strategy to dramatically decrease the number and severity of crashes: safer roads, safer people, safer vehicles, safer speeds, and better post-crash care."
The report draws on data from a range of crashes, including those that caused property damage, serious injuries, and fatalities. Data sources were NHTSA's Fatality Analysis Reporting System, Crash Investigation Sampling System, and Crash Report Sampling System. The report also examines crashes not reported to the police using consumer survey data, in-car observation techniques, and "a variety of other sources," the release states.
The $340 billion cost of motor vehicle crashes represents the equivalent of $1,035 for each of the 328 million people in the U.S. and 1.6% of the $21.4 trillion real U.S. gross domestic product for 2019, according to NHTSA.
"Those not directly involved in crashes pay for roughly three-quarters of all crash costs, primarily through insurance premiums, taxes, congestion-related costs such as lost time, excess fuel consumption, and increased environmental impacts," NHTSA says. "Traffic crashes cost taxpayers $30 billion in 2019, roughly 9% of all motor vehicle crash costs. This is the equivalent of $230 in added taxes for every household in the United States."
Losses include medical costs, lost productivity, legal and court costs, emergency service costs, insurance administration costs, congestion costs, property damage, and workplace losses. When quality-of-life valuations are considered, the total value of societal harm from motor vehicle crashes in 2019 was nearly $1.4 trillion, according to NHTSA.
The report shows that from 1975 to 2019, seat belt use saved 404,000 lives and prevented $17.8 trillion in societal harm.
In evaluating risky driving behaviors that contributed to fatal crashes, and those that led to serious injuries and property damage, NHTSA found the contributing factors to be alcohol use, distracted driving, passengers not wearing seat belts, and speeding:
"Alcohol-involved crashes resulted in 14,219 fatalities, 497,000 injuries, and $68.9 billion in economic costs in 2019, accounting for 20% of all crash costs;
"Crashes, where at least one driver was identified as being distracted, resulted in 10,546 fatalities, 1.3 million nonfatal injuries, and $98.2 billion in economic costs in 2019, accounting for about 29% of all crash costs;
"Failure to buckle up caused 2,400 avoidable fatalities, 46,000 serious injuries, and cost society $11 billion in easily preventable injury-related costs, accounting for about 3% of all crash costs; and
"Speed-related crashes are associated with 10,192 fatalities, 498,000 nonfatal injuries, and $46 billion in economic costs in 2019, accounting for 14% of all economic costs."
The report also includes data on the costs associated with motorcycle crashes, failure to wear motorcycle helmets, pedestrian crashes, bicyclist crashes, and numerous different roadway designation crashes.
NHTSA last examined the cost of motor vehicle crashes in 2015 based on 2010 data. Compared to those findings, the current report indicates the cost of crashes has increased by 40%.
"The difference in these estimates is attributable to a number of factors including inflation, which accounts for an overall rise in the cost of goods and services of approximately 17 percent, shifts in the severity of crashes and the nature of injury outcomes, and a revised basis for measuring unit costs," NHTSA's report states. "In addition, although the 2019 fatality rate per VMT [vehicle miles traveled] is unchanged from 2010 the incidence of fatalities and injuries has increased, reflecting added driving exposure, in part related to increased economic activity."
NHTSA states that while roadway fatalities and the fatality rate has declined consistently for 30 years, progress has stalled over the last decade and went in the wrong direction in 2020 and 2021.
So far this year, NHTSA reports in its latest projections for traffic fatalities in 2022 that fatalities are beginning to level off after two years of dramatic increases. The administration estimates that 31,785 people died in traffic crashes in the first nine months of last year, which is a 0.2% decrease compared to the 31,850 estimated fatalities during the same time in 2021.
The estimated fatality rate for the first nine months of 2022 decreased to 1.30 fatalities per 100 million vehicle miles traveled, down from the projected rate of 1.32 fatalities during the same time in 2021. However, fatalities among cyclists and pedestrians continued to rise.
"Fatalities have not increased for two quarters now, but we have far more work to do to save lives and address the crisis on our nation's roadways," Carlson said. "That means investing in safety, implementing strategies that work, and embracing the safe system approach outlined in the Department's National Roadway Safety Strategy. We urge everyone to do their part by driving safely and watching out for others on the road, especially vulnerable road users like pedestrians, cyclists and motorcyclists."
The U.S. Department of Transportation's actions to improve roadway safety is guided by the National Roadway Safety Strategy, which outlines the department's comprehensive approach to significantly reducing serious injuries and deaths on highways, roads, and streets, according to NHTSA.
Images
Featured image credit: Tashi-Delek/iStock
Share This: