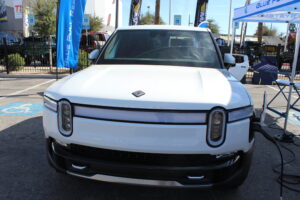 Illinois judge allows Rivian & Lucid to continue direct sales to consumers
By on
Legal
An Illinois judge has ruled that Rivian and Lucid can continue to sell vehicles directly to customers in Illinois to which the Illinois Automobile Dealers Association (IADA) has filed an appeal.
The December ruling granted the OEMs' motion to dismiss a 2021 lawsuit filed by IADA that contends the direct sales model goes against the state's vehicle code and the Illinois Motor Vehicle Franchise Act (IMVFA). IADA previously took issue as far back as 2009 and in 2019 with Tesla being granted dealer licenses for their direct sales model.
Thinking that "litigation was inevitable," the state Secretary of State asked for the attorney general's opinion on the matter in 2020. His informal opinion was that the laws at issue "did not contain any such requirement, nor any prohibition on 'newly established' manufacturers selling directly," Judge David B. Atkins' order states.
While IADA argues that Illinois law states a franchisee must contract with a manufacturer, Atkins wrote that the "argument paints a very limited picture of the statutes as a whole."
"First, it is evident that franchisees are not the sole contemplated form of dealer, as the IMVFA defines 'motor vehicle dealer' and 'franchisee' separately… This is further supported by various provisions referencing dealers with a 'franchise or selling agreement,' apparently contemplating other types of arrangements."
Atkins ruled that, based on the law, the legislature didn't intend to exclude manufacturers from the role of motor vehicle dealers.
"The legislature had extensive opportunities to exclude manufacturers from dealing vehicles in the definitions of those terms, in the requirements to obtain a dealer license, or elsewhere in the statute," Atkins wrote. "They did not do so, and the court declines to nevertheless read such an exclusion into the law via a tortured application of inapplicable requirements."
Atkins also noted, as did the Secretary of State, that dating back to amended law in 1957, "all persons" can sell motor vehicles in the state. And in 2017, the legislature rejected an amendment to the IMVFA that would've prohibited manufacturers from selling vehicles, Atkins wrote.
"The IMVFA for its part (introduced later) appears intended to address negotiating power imbalances (and related consumer protection concerns) between franchisees and manufacturers who do participate in the franchise system, not to force all manufacturers to do so," he wrote.
Lastly, Atkins ruled against IADA's claim that their due process rights are violated by the direct sales model through "a 'Bypass System' that harms their interest in the 'Established Franchise System.'"
"Both terms appear to have no basis in law, but are conceived by the Plaintiffs to refer to the usual way of business in the automobile market for many years and the Rivian and Lucid Defendants' plan to disregard that approach in favor of a new one," Atkins wrote.
In a written statement to Repairer Driven News, IADA said it "stands strongly with consumers" and has filed an appeal to Atkins' ruling and argued that their lawsuit seeks to "enforce existing state laws regulating automobile sales."
"This disappointing ruling is a blow to car buyers throughout the state," said Joe McMahon, IADA executive director. "For decades, Illinois law has required new vehicle sales be conducted by licensed franchised dealers, not directly by manufacturers."
The association contends that direct sales from manufacturers "result in a monopoly that offers no price benefit" and that the 700 new car dealers who operate 2,300 franchises across Illinois maintain service centers, handle recalls, generate millions of dollars in economic development and increase competition, which lowers costs for consumers.
"The bottom line is that Illinois franchise dealers are long-established members of the community that advocate for buyers when manufacturers make mistakes," IADA said. "Allowing manufacturers to sell directly to consumers sets a dangerous precedent and the IADA will continue to fight to protect Illinois consumers and dealers."
IADA filed a notice of appeal in the First Judicial District Appellate Court of Illinois on Jan. 13.
Rivian and Lucid didn't return RDN's request for comment on the ruling.
The Chicago Tribune reports that IADA has also "filed a protest" with the secretary of state's office against Ford stating that the OEM is withholding electric vehicles from dealers who "voluntarily" participate in a potentially costly certification program.
The complaint, which was brought by 27 Ford dealerships in Illinois, said the automaker is violating the state's franchise act by requiring investments of up to $1.5 million per dealership on equipment and staff training; the installation of Level 3 public charging stations; and changes to their existing sales and service agreements including exclusive web-based sales and nonnegotiable pricing on EVs, according to the Chicago Tribune.
Ford defended the certification program to the Tribune as "doubling down" on dealerships and benefiting customers.
Images
Featured image: A Rivian R1T is shown at the 2022 SEMA Show in Las Vegas. (Credit: Lurah Lowery/Repairer Driven News)
Share This: