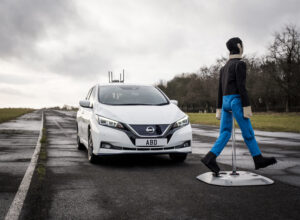 Pedestrian crash test dummy promises a more realistic target
By on
Technology
A robotic dummy, complete with articulated limbs and a realistic stride, has been unveiled as the latest tool for testing how advanced driver assistance systems (ADAS) can safely interact with pedestrians.
AB Dynamics has hailed its Soft Pedestrian 360 as a "next-generation pedestrian ADAS target developed to significantly decrease the time and cost of testing while offering greater realism."
Pedestrian detection has proven to prevent injuries to people on foot. The Insurance Institute for Highway Safety (IIHS)' Highway Loss Data Institute reported in 2018 that Subaru EyeSight (which has pedestrian detection with auto brake) cut Subaru-versus-pedestrian claims by 35%.
And of the 731 ADAS-related crashes recorded by the National Highway Traffic Safety Administration since July 2021, just two involved pedestrians.
However, one high profile case has raised concern over whether technology can be trusted to keep pedestrians safe. Tesla was the subject of a civil lawsuit, and investigated by U.S. regulators following the 2018 death of a pedestrian hit by a Model 3 suspected to be on autopilot.
Another challenge for driver-aid technology can be teaching systems how to see in the dark. When IIHS introduced a nighttime test of pedestrian automatic emergency braking systems last, it found more than half the vehicles failed to pass.
IIHS began testing pedestrian detection by ADAS in 2019 and the following year made an advanced or superior rating a requirement for vehicles to be labeled a top safety pick.
The Soft Pedestrian 360, designed by AB Dynamics and its sister company Dynamic Research Inc. (DRI), is the latest offering for automakers seeking to test their pedestrian protection software.
DRI chief engineer Joseph Kelly said the life-sized doll, which can bend at the joints, has been specially designed to avoid damaging vehicles during testing.
"Damage to the vehicle under test caused by targets can be a substantial contributor to the total cost of testing ADAS technologies," Kelly said. "It isn't just the damage to the test vehicle but also lost track and engineering time waiting for repairs that substantially increase the cost of testing. For example, if a windshield is damaged, camera systems located behind it often require recalibration, which is time-consuming and costly. We have specifically designed the Soft Pedestrian 360 to minimize the risk of damage to the test vehicle."
The dummy was designed to withstand the impact of a crash as well, dressed in heavy fabric that prevents the inner foam core from being worn out or torn, he added.
Makers of the product also said that it carries a long battery charge to prevent downtime in testing.
"Efficient use of track time is critical to keeping costs down and maximizing the uptime of both the test vehicle and the test equipment is a critical part of this," Kelly said. "Before we developed our own pedestrian target, we were regularly changing and repairing servos as a result of damage, and this significantly impacted the test schedule. Our solution aims to make ADAS testing as efficient as possible."
Image:
Courtesy AB Dynamics
Share This: