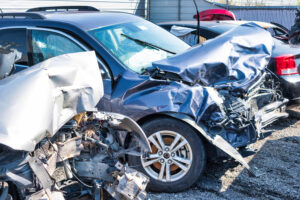 IAA reaches $5B in TL payoffs since 2019, increased used car values the cause?
By on
Insurance | Market Trends
IAA says its Loan Payoff program exceeded $3 billion in total loss transactions in 2022 — perhaps an indication that even more vehicles continue to be totaled by insurance carriers.
IAA, calling the total "exponential growth," said the program reached a record of $1.2 billion in processed loans and leases in 2021, bringing the grand total in transactions since its launch in November 2019 to $5 billion.
"Insurance carriers have praised the unrivaled advantages of the IAA Loan Payoff solution, bringing the industry closer to touchless digital transactions and helping optimize and streamline their workforce," an IAA news release states. "IAA Loan Payoff is the only solution that offers direct digital integration and settlement with all major financial institutions for both positive and negative equity loans."
Repairer Driven News asked IAA if the 2022 payoff milestone was reached because there were more total loss vehicles and higher salvage values last year and perhaps in 2020 and 2021 as well. A spokesperson referred us to TL frequency data in CCC's annual Crash Course reports.
CCC's 2022 report shows that TL frequency across all vehicle ages has risen steadily over the last six years.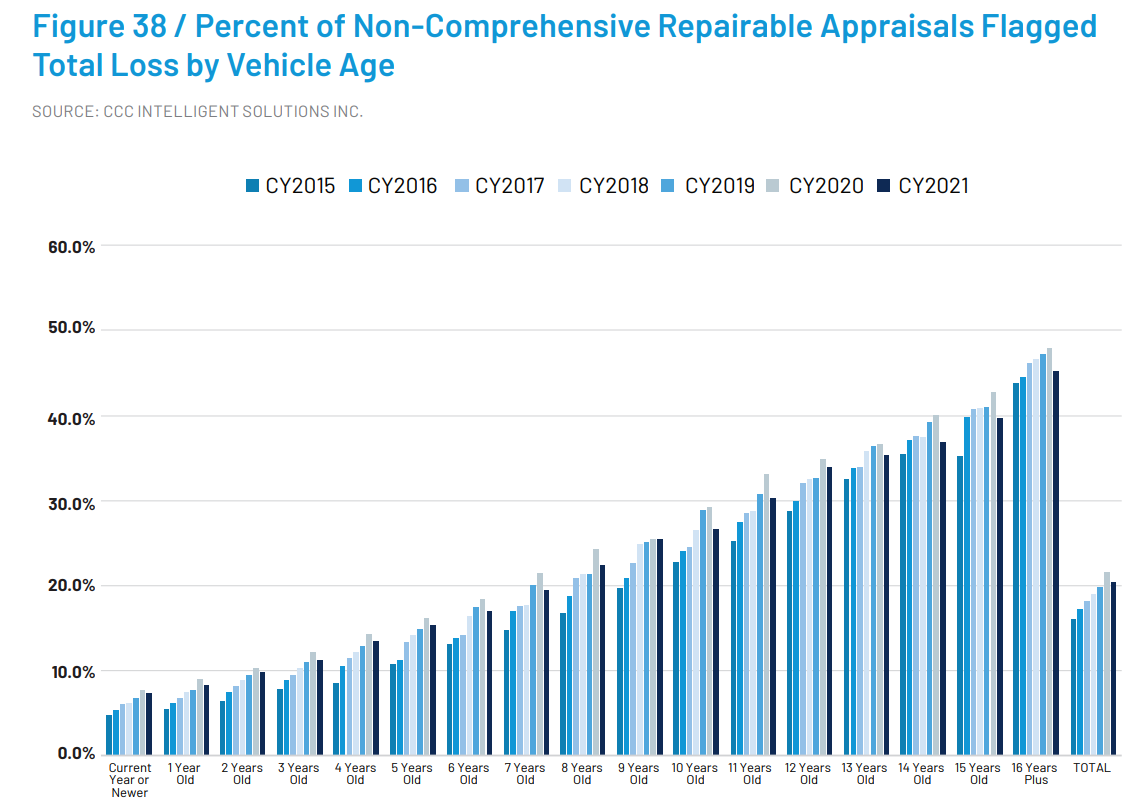 "While it dropped some between 2020 and 2021, particularly for older model year vehicles, total loss frequency overall in 2021 remains higher than in 2019, based on higher non-drivable percentages and growth in repair complexity and costs. Subsequently, improving the total loss claims process has become ever more imperative to overall consumer satisfaction with the claims process," the report states.
CCC also noted that expanded integration with companies reduced lienholder TL payoffs from weeks to hours, specifically citing its own Total Loss Care platform, which digitally connects insurers and lienholders "to efficiently exchange lienholder information, valuation reports and other documentation."
"Insurers using the product have seen the average time for registered lienholders to return the letter of guarantee fall to 14 hours on average versus several days, with 78 percent returned within one business day," the report states.
Vehicle complexity as well as used vehicle prices and retention values are also factors in rising TL frequency, according to CCC. With vehicle complexity comes more complex claims while used vehicle prices and retention values rise based on tight inventory. Used vehicle prices soared in 2021.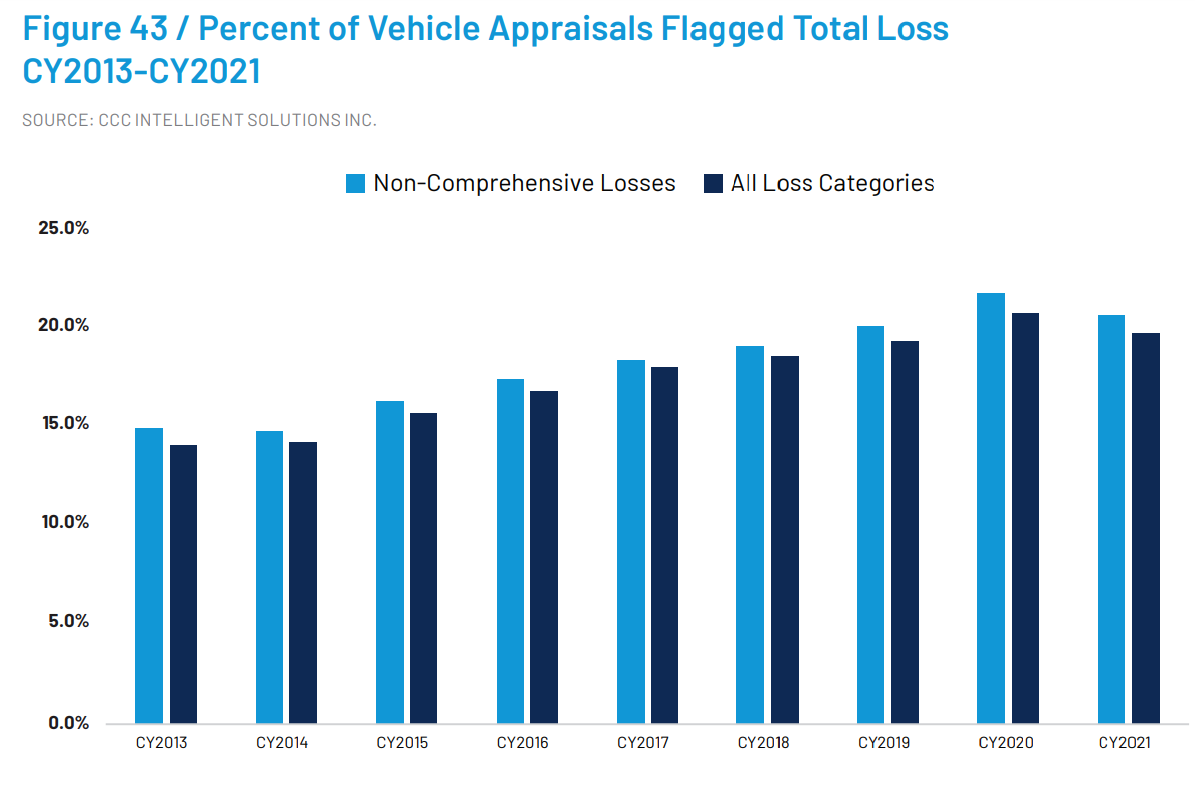 "Total loss frequency had already been rising year-over-year, closing out 2021 higher than 2019, and the slowdown in new vehicle sales in 2020 and 2021 pushed the average age of light vehicles on the road in the U.S. to 12.1 years.
IAA didn't provide the number of U.S. TL vehicles that make it back on the road or were salvaged and/or dismantled for parts. The spokesperson said the questions are "outside our purview."
IAA touts its program as a "game-changer" and says it's used by many top U.S.-based insurance carriers because of its "single point of entry for all total loss transactions with a lien or lease" and "secure digital portal to automate inefficient manual communications between carriers and lenders." Loan Payoff is the only program of its kind in the industry, according to IAA.
"It greatly saves time and costs by reducing seller claim cycle times by 10-15 days on average and per-claim costs by an average of $450," IAA said in the release.
IAA CEO and President John Kett added, "This milestone of over $3 billion in total loss loans transacted in 2022 is an incredible accomplishment and a testament to how much IAA Loan Payoff improves the overall claims experience for our customers. "An expedited claims process leads to more satisfied policyholders, and we are thrilled to be leaders in advancing toward an all-digital environment, reducing stress, time, and costs."
J.D. Power's P&C Insurance Intelligence Group Executive Managing Director Marty Ellingsworth wrote in an Insurance Journal op-ed that by the end of 2022, carrier losses and expenses "continued to outpace premium growth for major industry players," including Allstate.
"While some of those trends have now started to change course, the myriad challenges facing the industry are far from solved. Chief among these is the issue of frothy used-vehicle pricing," he wrote. "Prices for used cars surged roughly 50% through February of 2022 while auto insurance contract pricing systems predicted car values would continue to go down with a constant depreciation – a generally accepted trend for the last several decades of experience in retail used car valuation."
Ellingsworth added that, in the first two months of 2023, used car prices have begun to recede but noted that "as the auto industry continues to be transformed by the introduction of EVs and volatile swings in supply and demand become the norm, these once-in-a-lifetime anomalies are likely to happen a lot more frequently."
He said used vehicle depreciation has caused TLs to come out more expensive for insurers with real market values up by thousands. For example, Ellingsworth shared that a 2017 Toyota Rav4, valued at $30,000 that year, would now be worth $23,000 but would be sold for $10,000.
"Predicting a pay-out of $10,000 with an actual payout of $23,000 makes an implicit 230% 'uh-oh' for insurers," he wrote.
He also noted that rising insurance premiums are "bleeding customer loyalty," with the average auto insurance premium rising 9% in 2022, and is projected to rise another 8.4% this year, as "insurers scramble to make up for the shortfall."
Images
Featured image credit: D. Lentz/iStock
More information
Car insurance premiums still on the rise, Michigan, Florida & Rhode Island drivers will pay highest premiums
Looking to the future: CIC chair, panel talk influences on the industry & telematics
Share This: