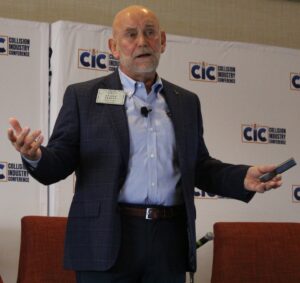 Two conversations during the January Collision Industry Conference (CIC) meeting in Palm Springs, California centered on not only influences and possible changes on the collision repair industry that could take place this year but looking ahead five to 10 years in the future, including advanced driver assistance systems (ADAS) calibration, OEM, insurer and government influences as well as the role telematics will play in all of the above.
Chairman and Opus IVS ADAS Solutions Vice President Frank Terlep shared what he thinks will be the top 10 influences this year on the collision repair industry: consolidation, ADAS services and calibrations, employee shortages, insurers, parts, OEM influence, BEVs, business technologies, economic uncertainties, and governmental regulations.
Consolidation and ADAS Services and Calibrations
Shop consolidation, he said, isn't "going to slow down in any of the segments we're in today."
"I predict you're going to see… mid-market consolidators, a couple of them, come together," Terlep said. "I think, and I've said this for many years, independent repairs are going to continue to become part of something bigger. It could be a franchise, it could be a network, it could be a 20 Group, it could be going from one to two stores to four stores. But independent repair is going to continue to become part of something bigger."
There has already been "a ton" of consolidation of new car dealers and Terlep predicts that will continue and will "drive bigger, larger dealer-based collision repair groups."
He used the auto glass industry as an example, specifically, Driven Brands.
"Driven Brands went from nowhere to No. 2 in the platform… I think every aspect of our industry is going to continue to consolidate ADAS calibrations. To me, this is the biggest business opportunity this industry has seen in the last 20 years. It's also the biggest opportunity for people to fail at this business because, again, ADAS and calibrations affect steering, braking, [and] acceleration.
"We can't bury our head in the sand and not do this work right. It's critical. …you're going to continue to see big consolidators, MSOs, go out and buy regional and local ADAS and calibration companies. You're going to see a number of local MSOs… open up their own ADAS calibrations and then, in my opinion, you're going to see a couple of regional and/or national players get into the business of calibrations."
There will also likely be new software in the market specifically designed for ADAS calibrations and services, Terlep added.
Employee Shortages, Insurers and Telematics
The ongoing repairer shortage, specifically collision repair technicians, is an issue the industry has been grappling for years — one of which has brought on a void of 35,000 technicians, according to TechForce Foundation's 2022 Transportation Technician Supply & Demand Report.
Terlep said the shortage will affect all aspects of the industry from increased consolidation, higher compensation, and length of rental (LOR) to limiting revenues and changing training and mentorship models.
"For those of you who are in the room that feel you are challenged, come see me, come see the committee chairs or …if you want to get involved and try to solve this, please come see us because there's a lot of this work going on in the committees here and we want as much participation as we can," he said.
As for insurers, Terlep noted that the COVID-19 pandemic "forced the insurance companies to do what they would have done in 10 years [to] doing it in six months," referring to a 9% increase in rates last year. He predicts rates will climb another 75 this year.
"From a technology implementation perspective, you're going to continue to see dramatic implementations of technology at the insurance level," Terlep said. "Now, the other thing though, for a couple of years, these insurtechs, or the darlings of the investment world, if you pay attention to that, that investment has dropped off a cliff. So, a lot of the insurtechs, in my opinion, you're going to see a lot of those merge together and go out of business."
He predicted claims automation will also increase this year including artificial intelligence (AI).
Terlep's perception of insurance market trends played into a later telematics conversation among a panel brought to the CIC stage by the conference's Future Disruptions Committee. The panelists were Michael Anderson with Guidewire, Greg Horn with Parts Trader, Luke Harris with USAA, and Marty Ellingsworth with J.D. Power. The telematics discussion continued from the November CIC meeting to cover myths versus facts with a separate panel of industry folks. The third panel discussion on the topic is slated to wrap up at the April 12-13 meeting in Richmond, Virginia.
Anderson said the definition of telematics is broad from pay-as-you-drive to looking at how motorists drive, vehicle infrastructure, vehicle-to-vehicle technology, and vehicle-to-everything technology.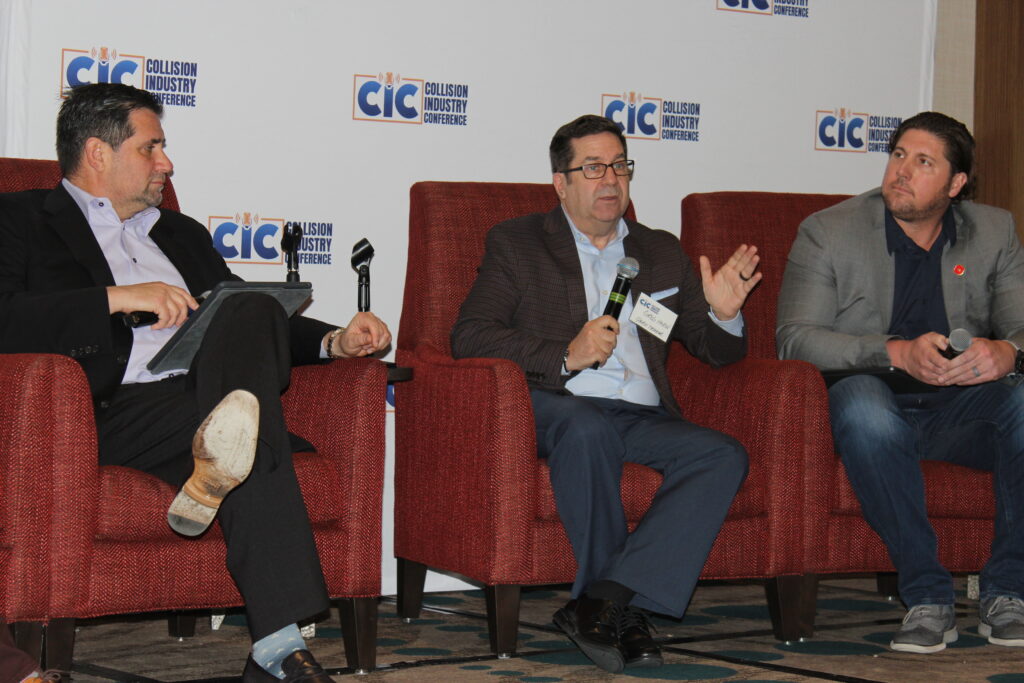 "We're seeing telematics certainly being much more prevalent on the policy and on rate-maker side, at least domestically," he said, adding that he's noticed the proliferation of both rates and claims in Italy and Brazil.
"They're able to get much more insight into the facts of the loss, confirm what their customers were telling them about those facts, and make those liability determinations — those coverage determinations — much more accurately through the use of that data insight gleaned and the AI put on top of it," Anderson said. "I think it's still in the early phases of claims. …there's some challenges."
Horn said telematics is used more in underwriting and risk assessment and has only scratched the surface in claims.
"One of the things that would benefit the claims process is collision notification," he said. "Most of these telematics companies, when they're linked to the OE, have… a collision detection notification and it begins a process. One of the things that doesn't happen and should is… we have this technology that we should be able to get the parts identified earlier and marry that process. …It feels to me like this industry just fights innovation as a whole. I think what we could do is really carry this process to have a better, faster, higher customer-satisfied repair."
Harris added that USAA offers two telematics-based insurance products to its customers, one of which is through, Noblr, an insurtech it recently acquired. The other, called SafePilot, is a discount program based on driving behaviors. Noblr's usage-based product takes that one step further and factors in a per-mile component.
"Through our SafePilot offering we are starting to get into how can we enable a more seamless claims experience because of the data that our members are openly sharing with us? We do have the ability to report a claim the moment that we detect a loss through proactive notification of loss," Harris said.
When a notification of a collision is received, USAA checks in with the customer to see if they need medical attention and if they want to report a claim, he added. USAA also validates the collision data they received.
Ellingsworth said telematics is moving away from a product-centric discussion in the industry to "the insurance neighborhood." He said there's opportunity to listen to customers and understand what it means to them to not have their car. In other words, how much they rely on their vehicle to get to work or their kids to school, and to travel elsewhere on a regular basis.
"I was surprised this year, when it came to digital experiences and communicating, customers hate having to repeat themselves… to multiple different people," Ellingsworth said. "They hate not knowing what's going to happen next. When things change, they hate not knowing that it changed."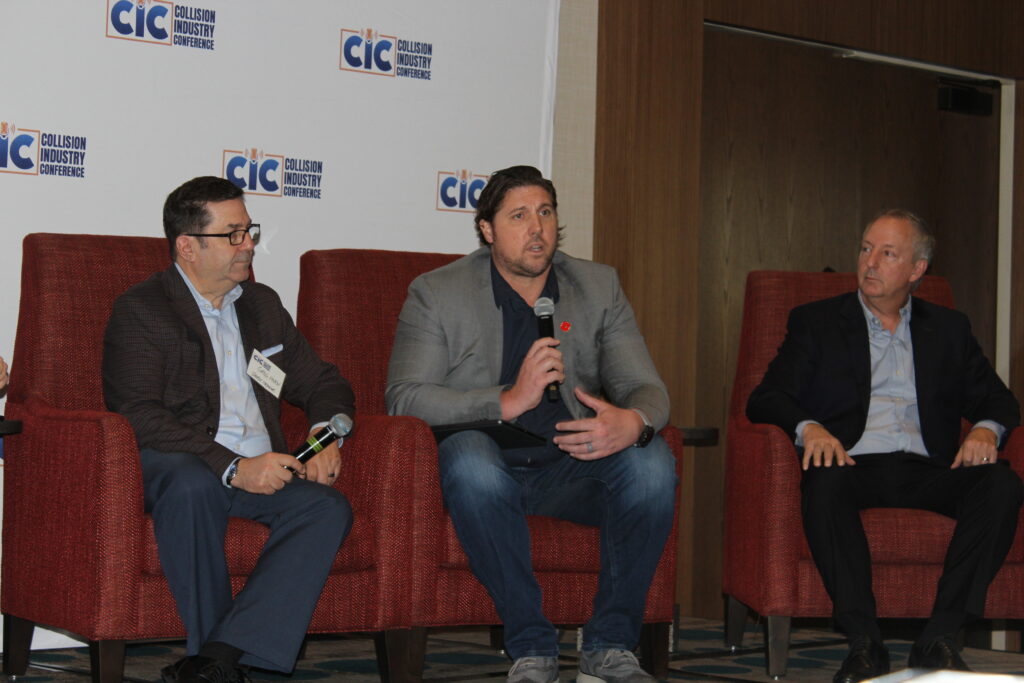 One company that was recently the top performer in digital improvement, which Ellingsworth used as an example of how to successfully communicate with today's customers but didn't provide the company name, found that policyholders prefer calling to ask questions and if they need to leave a voicemail, getting answered via text message.
"It's a non-traditional way to innovate," he said.
"People say data is the new gold," Anderson added. "I think data is the new ore information is going to build so transforming data to actionable information is what's going to propel telematics to be extremely useful within the industry. I think the challenge is that nobody wants to give up their mining rights."
Horn agreed and said telematics could help repairers find parts that they need beyond just the traditional ones when no one has them on hand.
"How do we get a national search going for those parts, again, aimed at getting the car repaired more quickly and back on the road more quickly? The older cars we talked about, they're still disconnected …the common link is getting your smartphone to act as the conduit to make your car digitalized."
Harris said the industry is "in this bridge state" and now is the time to capitalize on partnering toward the common goal to make revenue and get data.
"I think the real value, and I love the comment on actionable insights, is going to be unlocking some standardized data within the car with the OEMs so that we understand what car it was, the dynamics of that specific car, what car was being used, and that kind of helps solve some challenges with the OB-II device and mobile devices," he said. "Over the next 12 years, half of the cars that are made today are going to be on the road."
The panel agreed that there needs to be data standardization across OEMs but that accomplishing that would be tough. Ellingsworth said, "It's a constant annual refresh, but it's that level of effort to be really right versus nearly right."
They also agreed that the conversation on how to solve issues with telematics needs to continue outside of CIC meetings to make any headway.
Parts and OEM Influence
In his top 10 factors that he thinks will come to light this year to affect the industry, Terlep said parts shortages may actually get a little easier to deal with.
"But I don't think it's going to go away. I think we're still going to have challenges. …what's going on at the OEM level? You're seeing a lot of investment is being split… I think we're going to continue to see some parts challenges."
Terlep predicts parts challenges will include repairers facing more OEM-restricted parts — those that are only available to OEM-certified shops.
"I think also that, from a certification perspective, the OEM networks are going to want more data of what's going on with cars," he said. "They want to know if the cars are being repaired correctly."
And, he added, OEM influence is only going to continue to increase as OEM certifications become more important.
"Repair procedures are critical in the repair of a vehicle today and they're only going to become more critical," Terlep said. "OEM training [is' critical this year. …telematics in my opinion, are going to start… not only in first notice of loss but underwriting as well."
Battery Electric Vehicles
Terlep noted that the automotive industry is spending more than $1 trillion on battery electric vehicles (BEVs) and are already becoming more common on the West Coast. BEV market share is at 7% and create $50 billion in revenue this year even as automakers will sell less than 50,000 of most EV models, he said.
Models slated to come out this year include the long-awaited Tesla Cybertruck, Chevrolet Blazer EV, Silverado EV, Nissan ARIYA, BMW i5, and Hyundai IONIQ 6.
Business Technologies
Terlep predicts that vehicle build data will appear in more industry platforms, including third-party application integration, because it's "such a critical piece to understand what's out of the vehicle."
He also thinks AI, augmented reality (AR) or virtual reality (VR) will also be used more throughout this year as well as new ADAS and repair procedure technologies coming to market.
"There's some pretty cool new repair procedure technologies out there, which I think are going to change the way people use repair procedures," Terlep said. "You're going to see a lot more ADAS calibration stuff. You're gonna see ADAS identification technologies and I think you're gonna see more validation and documentation… document this stuff as if you're going to court tomorrow."
Economic Uncertainties and Governmental Regulations
Concerning the economy, Terlep noted that interest rates are up and money is more expensive while a possible recession looms and the housing market is "crushed."
Government measures will certainly have an effect on EVs this year since Biden's Inflation Reduction Act includes offering new, used, and commercial vehicle tax credits. The topic is promised to be discussed more at the April CIC meeting in Richmond.
There's also the "right to repair" issue still on the table in at least two states, Massachusetts and Maine as well as data privacy and appraisal clause bills being proposed at the state level by legislators. Often framed as independent repairers not having access to OEM repair procedures, the "right to repair" objective, at least concerning vehicles, is actually about access to data.
In reference to wanted data access in the automotive industry under the guise of "right to repair," the Alliance for Automotive Innovation (AAI) states in a memo that, "Automotive right to repair already exists and always will. …Automakers agree and support numerous initiatives to facilitate seamless independent auto service and repair."
Images
Featured image: CIC Chairman and Opus IVS ADAS Solutions Vice President Frank Terlep (Credit: Lurah Lowery/Repairer Driven News)
Michael Anderson, Greg Horn, and Luke Harris (Credit: Lurah Lowery/Repairer Driven News)
Greg Horn, Luke Harris, and Marty Ellingsworth (Credit: Lurah Lowery/Repairer Driven News)
More information
Nebraska bill supporters want right to follow OEM repair procedures, opposition says will monopolize parts & drive up repair costs
Texas bill backs payment for following OEM repair procedures, prohibits use of non-OEM replacement parts as cost savings measure
SC bills tackle OEM repair procedures, appraisal clause & auto glass safety
CIC: How to make sure your business practices & vendor agreements protect customer PII
New York legislates right to repair information for digital electronic products
Share This: