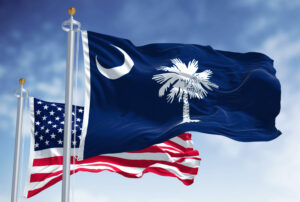 SC bills tackle OEM repair procedures, appraisal clause & auto glass safety
By on
Insurance | Legal
A bill has been pre-filed in the South Carolina House of Representatives that would require 2015 model year and newer vehicles to be repaired according to OEM repair procedures and would mandate every auto insurance policy in the state include an appraisal clause. Three other bills have also been filed that have to do specifically with auto glass repairs.
The Rural Area Support Act (H. 3256), sponsored by Rep. Joseph H. Jefferson, Jr. (D-District 102), aims "to prohibit collusion between automobile insurers and vendors" by allowing policyholders to choose the shops they take their vehicles to for repairs and requires insurers to use South Carolina-owned vendors for at least 50% of their covered services.
"When an insured chooses a vendor that is not a contracted vendor for the insurer, all coverages and services must be provided without bias," the bill states. "In South Carolina, a vehicle owner shall not be required by an insurer to travel unreasonable distances into the urban areas to obtain an estimate, vehicle repairs, or a rental car. …For purposes of this section, vendors include body shops, rental car companies, glass companies, and automobile parts companies."
The act is also written to mandate OEM repair procedures be followed on MY 2015 vehicles and newer and that an appraisal clause be included for policyholders to invoke. An appraisal clause allows policyholders to have third-party appraisals done when they don't agree with their carrier's valuation of their vehicle. Low valuations often lead to total losses on vehicles that could've been fixed. Both the carrier and the policyholder hire an independent appraiser and if the appraisers can't agree, an umpire is selected to make the final decision.
Specific to repair costs, the bill states, "Insurers are prohibited from establishing an agreement with any company where that company establishes a price that must be satisfied by a repair shop to do claims repair work for the insurer, and then retains a percentage of the claim."
If passed, the act would also mandate insurers to pay sales tax for vehicle paint purchases during repairs. Lastly, the bill would name vehicle renters and leasees as the primary insured on auto policies offered by rental companies or their affiliates.
The Rural Area Support Act was referred to the House Committee on Labor, Commerce and Industry on Dec. 8.
A similar bill, under the same name, was filed in January but was never voted on in the Labor, Commerce and Industry Committee or on the House floor. The only difference between it and the new version has to do with rental agreements. The January version called for allowing policyholders to choose the rental car company they use while their vehicle is being repaired. The Dec. 8 filing stipulates that as well but also lays out how rental insurance coverage would be agreed on.
Both versions of the bill state, "It shall be unlawful for an automobile insurer to collude or conspire regarding vendor rates with any vendor including body shops, rental car companies, glass companies, and parts companies."
H. 3260, sponsored by Rep. John Richard C. King (D-District 49), seeks to amend current law "to provide that an automobile insurer may not consider claims submitted for the repair or replacement of automobile safety glass when determining the premium rates on the insured's policy."
The amendment also states, "Any automobile physical damage insurance coverage deductible or policy deductible does not apply to automobile safety glass."
H. 3260 was also referred to the House Committee on Labor, Commerce and Industry on Dec. 8.
Two other bills, H. 3384 and H. 3372, deal with sunscreening and tinting on automobile glass. Under H. 3384, a single sunscreening device would still be allowed on the side wings or side windows, or both, at the right and left of the driver and side windows behind the driver but would change allowable light transmission from not less than 27% to not less than 20%.
H. 3372 changes the criminal penalties that would be filed against those who sell and/or install sunscreening products or materials on vehicles that aren't in compliance with the requirements outlined in H. 3384. Rather than facing jail time for a misdemeanor, violations would constitute a fine of at least $1,000 per violation for the seller and installer and of at least $200 per violation for the vehicle owner.
The bill was referred to the House Committee on Education and Public Works on Dec. 8.
Images
Featured image credit: rarrarorro/iStock
Share This: