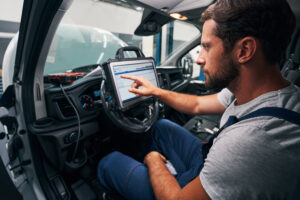 Industry pundits hit on the ever-increasing importance of diagnostic scans & documentation
By on
Collision Repair
Dan Risley, CCC Intelligent Solutions quality repair and market development vice president, recently stressed the importance of documenting diagnostic operations in both estimates and repair orders and shared corresponding data on increased use.
CCC's mid-year Crash Course report showed that in Q2 2022, 51.6% of estimates in CCC ONE had a diagnostic operation listed, up from 47.8% in the same period in 2021. However, Risley noted that in Collision Advice's 2021 "Who Pays for What?" survey, 85% of respondents said they perform pre-repair scans on "all" or "most" vehicles, and even more said they usually perform a post-repair scan, which have also increased from last year's report.
"Although these two figures are different… they both indicate that scans on estimates are increasing and are likely to continue as vehicles continue to include more advanced driver assistance (ADAS) features," Risley wrote. "I mentioned above that roughly half of estimates in CCC ONE include a line for a scan. Does that chart mean we as an industry are missing scans on nearly half the vehicles that roll through a shop? That's almost certainly not the case. What is likely driving this is that a significant number of shops are scanning but not documenting the scan on the estimate."
He added that "estimate accuracy and documenting all the repairs on the vehicle, especially as they relate to ADAS systems, has never been more important."
CCC found that scans are more common on vehicles one to three years old, which Risley said makes sense because newer vehicles are more complex and more likely to have ADAS features affected by a collision.
Roughly 60% of all registered vehicles had at least one ADAS feature, according to the 2022 Crash Course report. That's likely to increase now that automatic emergency braking (AEB) comes standard on all vehicles as of September, Risley said.
Risley emphasized the "value and importance" of documentation and accuracy:
"Documentation. If your internal SOPs include steps for pre-repair and post-repair scans, document and provide detail of the scan(s) and type of scan(s) performed on the estimate. Add the line to the estimate and attach a copy of the diagnostic scan report in CCC ONE. The scan report can be manually attached or, if you are using one of CCC's integration partners (Opus IVS, asTech, AirPro, or American Honda) and have activated the connection, it happens automatically as the operations are performed.
"Accuracy. Your shop may have different procedures for aftermarket or OEM operations depending on vehicle year or make, DRP guidelines, or OEM certification programs. Cut down on administrative errors and unnecessary supplements by defining these situations and documenting the proper direction for your team."
A new CCC Diagnostics product can help shops program those specifics into CCC ONE "to reduce human error and make it easier to put the intended operation(s) and the proper amounts on the estimate," Risley added.
Opus IVS ADAS Solutions Vice President Frank Terlep has also many times driven home the importance of documentation noting that repairers should document their every move like they're going to court the next day. Pre- and post-scans and the reports produced from both should also be kept for each repair.
"You need to document every repair as if you were going to court tomorrow," Terlep said during a November Repairer Driven Education (RDE) session at this year's SEMA Show. "Particularly when you're talking about technology that controls steering, braking, and acceleration because if you don't have the documentation that you did the right things the right way at the right time with the right people and you get dragged into court, you're gonna lose, and if you're not following OEM procedures.
"You should [take] as many images as you can to document what your people are doing [with] the vehicle. You need a report of what they did. We call this a workflow report, and this workflow report, time and date stamps everything a technician does during the calibration process."
Validation that ADAS features are operating properly after calibrations is the last, and a very important step, Terlep added.
"You must take the car on the road to validate the systems operate as they're supposed to because I will guarantee you — matter of fact, I've seen it many, many times — just because there's no DTCs and my calibration equipment said it was OK" does that mean the vehicle is operating as it's supposed to, he said.
Video of Terlep's session on this topic, and all of the 2022 RDE sessions, will soon be available here, on the Society of Collision Repair Specialists (SCRS) RDE site. Session overviews and the opportunity to enroll are also available at the link.
A recent SCRS Consumer Tip also helps to develop a more thorough understanding for vehicle owners on why scans are so important and the role they play in authorizing repairs. As Database Enhancement Gateway (DEG) Administrator Danny Gredinberg notes in the video, the primary purpose of scans is to "confirm the features and functions of the car are working properly."
"Every vehicle manufacturer clearly states in their repair procedures… that before the vehicle is disassembled, we need to hook up a computer and run what's called a diagnostic scan so we can understand what's working and functioning properly and what is not functioning properly before we disassemble the vehicle. …The vehicle manufacturers also state that when the vehicle is reassembled, we need to do what's called a post-repair scan… to ensure everything is working."
Images
Featured image credit: yacobchuk/iStock
Share This: