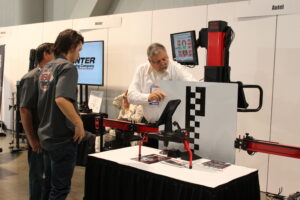 In one of several Society of Collision Repair Specialists (SCRS) Repairer Driven Education sessions, held during this year's SEMA Show last month, Opus IVS ADAS Solutions Vice President and incoming Collision Industry Conference (CIC) Chairman Frank Terlep gave a rundown of what it takes to open and operate a successful advanced driver assistance system (ADAS) calibration business, which he said is a booming business to get into.
Calling ADAS calibrations "the biggest opportunity" for the industry in 20 years, Terlep said 98% of vehicles sold this year are ADAS-equipped. Couple that with the potential for 14 million accidents and 13 million windshield replacements that call for calibrations and a lot of money can be made. At 10-12 calibrations a day, or 4,800 a year, at a cost of $300-400, Terlep said a calibration center can make over $773,500 in profit a year. 
But that doesn't come without challenges. First of all, 80% of auto and collision repair facilities don't have enough space to properly perform calibrations, according to Terlep. And there's also equipment to think about from scan and diagnostics tools to targeting and alignment systems, vehicle lifts, and more.
"The equipment you buy today will need to be continually updated to handle the different systems that you're going to end up calibrating or diagnosing," Terlep said. "Calibration is important for the safety of vehicles since ADAS controls steering, braking, and acceleration. That's why it's going to be so critical for whoever, whatever, business you get in, how you do it correctly. There is no 'what kind of works' in ADAS calibrations."
In an interview with Repairer Driven News, Thomas Patterson, Glass Doctor's director of new product development and technical training and an Auto Safety Council member, also spoke on the importance of proper ADAS calibrations.
"There's a lot of people who claim they're doing a calibration and really all they're doing is a diagnostic trouble code scan," he said. "You have to do a pre- and post-scan. You have to do a calibration, an actual calibration. …There is such a big margin of error that won't throw a DTC code. You're going to get someone killed. …We have to return it [the vehicle] in the same condition in which we received it. We can't give a customer back a vehicle that is unsafe. …It requires very technical equipment and information and knowledge and if you're not willing to do what you need to do to do it correctly, you don't have any business doing it at all."
Facility Requirements
First of all, opening a calibration center requires a minimum investment of $150,000 up to $250,000, Terlep said.
Every calibration center that wishes to complete 10 or more calibrations a day must be a minimum of 4,000 square feet with an alignment/calibration bay, a second calibration bay, and a third bay for miscellaneous ADAS repairs. Each bay should be 10 meters wide by 15 meters long.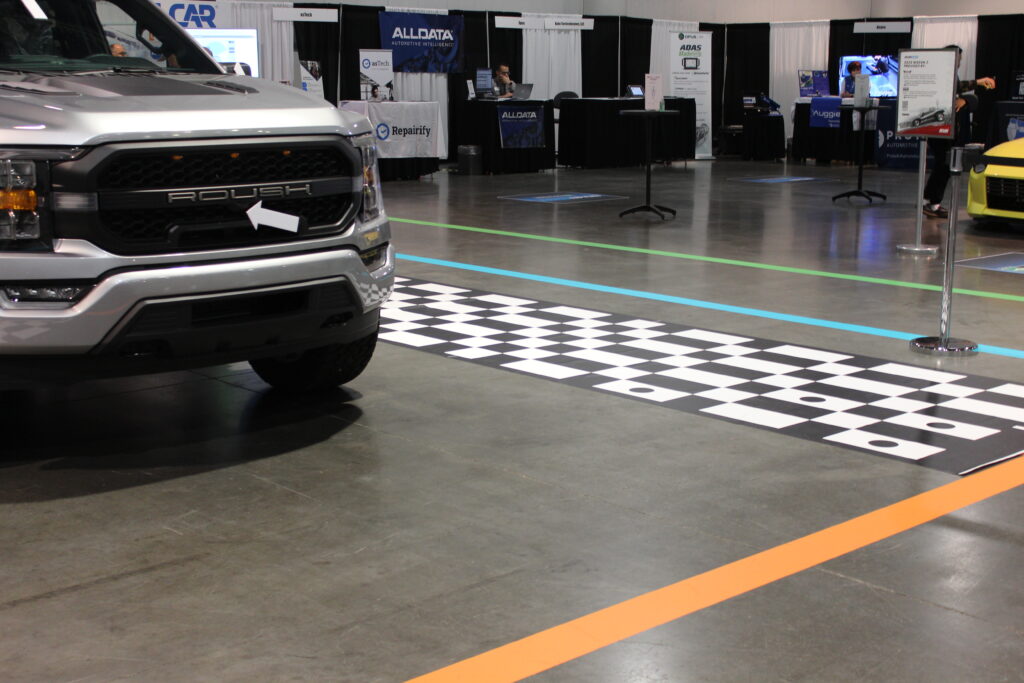 The floors should be neutral-colored, flat, and level. The floors also must be "pristine," Terlep said, to the point of being able to "virtually eat off the floor." It's ideal as well to coat the floors in epoxy so measurements can be written on them with dry erase markers.
The walls should be painted matte beige, gray, light gray, or white and shouldn't have any windows. Lighting should include dimmable 300- to 400-lumen bulbs so the space can be bright as daylight, or dimmer to reduce glare. All reflective surfaces should be avoided or removed so as not to interfere with calibration equipment.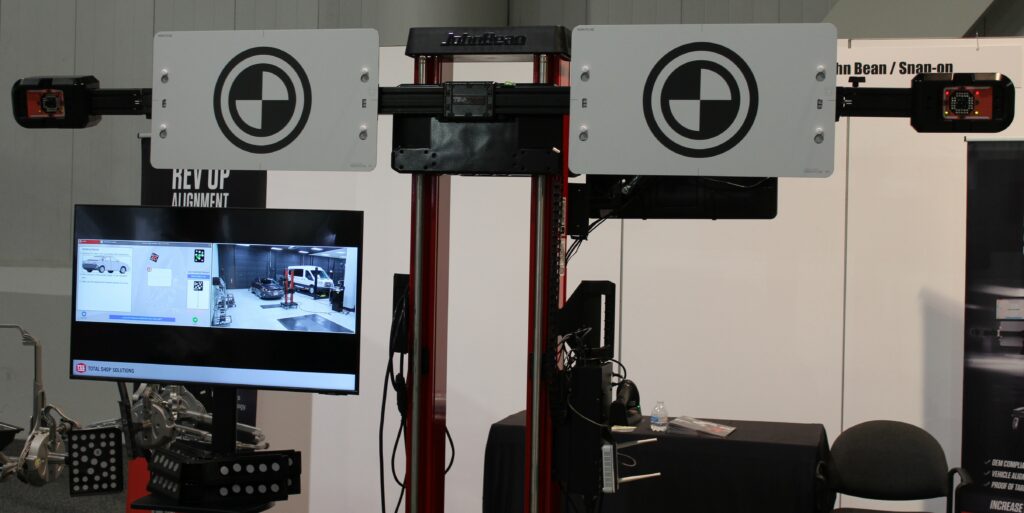 The Calibration Process
The first step, Terlep said, is to identify what ADAS features are on the vehicle either with scan tools or by the VIN.
"When a vehicle shows up in my facility, whatever kind of facility I'm at — collision or mechanical — in my opinion, you have the responsibility to identify all the ADAS technology in that vehicle at that point as soon as that vehicle arrives," he said. "Because if you don't do that, how do you have the conversation with Mrs. Smith that says, 'You know that your car has blind spot, radar camera, blah, blah, blah? …if you don't have that conversation with the consumer upfront, how do you explain to them that, 'Oh, by the way, we have to do a calibration and add an extra day on the repair.'"
Next, is a complete and accurate repair plan. "You're not writing an estimate, you're writing a repair plan; how you're going to fix the vehicle. And if you don't do this upfront, how do you do that? You don't."
Terlep said there are also certain steps that have to be taken before calibrations are done based on the OEM, including but not limited to: Are all the tires the same? Is the tire pressure correct? Is the trunk empty? Is it full of fuel? Did you take a picture of the dashboard with the key on the door closed to see what dash lights come on?
Pre- and post-scans and the reports produced from both should also be kept for each repair.
"You need to document every repair as if you were going to court tomorrow," Terlep said. "Particularly when you're talking about technology that controls steering, braking, and acceleration because if you don't have the documentation that you did the right things the right way at the right time with the right people and you get dragged into court, you're gonna lose, and if you're not following OEM procedures.
"You should [take] as many images as you can to document what your people are doing [with] the vehicle. You need a report of what they did. We call this a workflow report, and this workflow report, time and date stamps everything a technician does during the calibration process."
Lastly is validation that the ADAS features are operating like they're supposed to. "You must take the car on the road to validate the systems operate as they're supposed to because I will guarantee you — matter of fact, I've seen it many, many times — just because there's no DTCs and my calibration equipment said it was OK" does that mean the vehicle is operating as it's supposed to, Terlep said.
What happens during the on-road validation should also be documented, he added.
It's important to note as well, according to Patterson, that the two types of calibration — static and dynamic — require different processes. Static, when done correctly, is accurate regardless of climate and road conditions because it's completed in an indoor controlled environment, whereas for a dynamic calibration the vehicle must be driven through an environment.
"More and more consumers are trying to demand mobile calibration service and that is something that we just don't really promote," Patterson said. "If it's dynamic in driving the car, that doesn't really matter. But when it comes to setting up targets and stands outside in a very uncontrolled environment where this is a really precise process, we don't promote that."
Training, Personnel, and Marketing
Terlep said, in his opinion, calibrations training for the industry "is just starting to get above water around this" and Patterson said there isn't much training available. Both noted I-CAR offers calibration training and certification.
"At the end of the day, we would rather you have some formal education… and to do your homework, decide which scan tools you want to go with, and then find out what the training is because there's not a lot of training out there," Patterson said.
Terlep noted that the companies shops buy their equipment from have the responsibility to train repairers on how to properly use the equipment.
As for getting a business model going, or starting a secondary calibration business, Terlep recommends knowing all of the strengths, weaknesses, and opportunities as well as the company's position in the local market.
Considerations include:
Marketplace vehicle parc
Top five vehicles that makeup 80% of your repairs
Marketplace demographics
Do you have the space for calibrations?
How many cars are three years and newer that are typically repaired at your shop?
How much is your shop subletting? If you're subletting calibrations, what does that equate to in dollars your shop could be making?
How many collision centers are in your market?
How many shops are doing calibrations in your market?
How many dealers are marketing calibrations?
What's your revenue?
What are your specific, measurable, achievable goals with relevant timelines?
"If you don't have your crap together in your existing business, what are you gonna do in a new business? …Also, if you're going to go into the business, we suggest you create a separate corporation, a separate LLC, for my collision brethren in the room," Terlep said. "We want you to do that for two reasons. Number one, we want you to be able to sublet your repairs to that company. Number two, for reliability purposes."
It's also important to create specific job descriptions for every role in the business, Terlep said.
When it comes to marketing, a core marketing message to communicate to your customers is essential, Terlep said. Keep it simple and to the length of an elevator ride about what the shop does.
A good website and social media presence on LinkedIn, Facebook, Instagram, and/or TikTok are also necessities to tell potential customers what you do for a living, what services you provide, and what benefits you provide. They're also good spots for customer comments, video referrals, and FAQs. Terlep also recommends creating a marketing kit about what makes your business different, including challenges faced, who your ideal client is, and what services you offer. The kit can be given out on handouts or put online.
Communication with customers, and many ways to do so such as through email, texting, and website chat, are key, Terlep said. For longer repairs, be sure to check in with your customers on a weekly basis about what you've done in the last week, he said.
Lastly, in order to be successful performance metrics are also important from how well you're communicating with your customers and meeting their expectations to knowing your top services and top vehicles, how your technicians are doing, where your sales are coming from, and your cycle times.
"Don't be a hack," Terlep said. "Think of you putting your family, your friends, your relatives in that car that you didn't validate and do it right. And if you think about it that way, you're gonna do it right."
Videos of the 2022 RDE sessions will soon be available at rde.scrs.com/p/2022. Session overviews and the opportunity to enroll are also available at the link.
Images
Featured image: Industry professionals receive information about ADAS calibration equipment during the 2022 SEMA Show. (Lurah Lowery/Repairier Driven News)
An example of ADAS calibration targets is set up during the 2022 SEMA Show. (Lurah Lowery/Repairer Driven News)
An ADAS calibration targeting system is set up for industry professionals to see and ask questions about during the 2022 SEMA Show. (Lurah Lowery/Repairer Driven News)
More information
Share This: