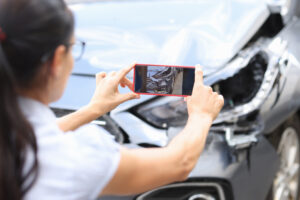 Customer satisfaction with the digital property and casualty (P&C) claims process has fallen for a second consecutive year, according to the J.D. Power 2022 U.S. Claims Digital Experience Study, released Tuesday.
The survey found that overall satisfaction with the digital claims experience declined 7 points year over year to 857 on its a 1,000-point scale.
The "most notable" driver of the decline is customers' experience with the photo estimation process, which met customer expectations just 34% of the time, the study said.
It said that the ease of submitting photos through a carrier's app "takes a big hit" when customers still need to arrange for an in-person estimate. Electronic communications with an estimator bring the highest satisfaction score, J.D. Power said, with video chat scoring "particularly high." However, just 15% of customers are using that technology, it said.
Similarly, just 41% are using an insurer's website or app to report a claim, even though overall satisfaction with the claims process is significantly higher among those who do so. "Satisfaction is notably higher when services such as the estimate being scheduled, shop being notified, or rental car confirmed are provided," J.D. Power said.
Those trends echo J.D. Power's 2021 U.S. Claims Digital Experience Study, which found a low rate of adoption of digital tools by consumers. "…None of the most important key performance indicators are achieving even a 50% success rate and adoption remains stubbornly low," the 2021 report states. It found that during 2021, just 40% of claimants interacted with an estimator through a digital channel, and only 47% made a claim through a website.
The need to manage customer expectations in light of longer repair times is also posing a challenge, J.D. Power said in its 2022 study. "P&C insurers are facing a host of challenges that include rising repair costs as well as supply chain disruptions and shop backlog issues that are driving notably longer cycle times," said Mark Garrett, director of P&C insurance intelligence at J.D. Power.
Insurers would benefit by providing "proactive, multi-channel engagement and regular updates with customers," Garrett said. "But many customers are facing clunky interfaces, infrequent updates and frustrating workflows that force them to pick up the phone and chase down information.""
The study found that customers are three times more likely to say the claims process was slower than expected when they do not receive regular updates through digital channels. When given updates, they're nearly twice as likely to say that the process was quicker than expected.
Garrett said some carriers have begun establishing a set of best practices that "could pave the way for industry-wide improvements," but did not name those carriers or provide further details.
Now in its third year, the U.S. Claims Digital Experience Study evaluates digital experiences among P&C insurance customers throughout the claims process. It looks at the functional aspects of desktop, mobile web and mobile apps based on four factors: visual appeal; clarity of the information; navigation; and range of services.
The study is conducted in collaboration with Corporate Insight, a provider of competitive intelligence and user experience research to the financial services and healthcare industries.
Michael Ellison, president of Corporate Insight, said digital tools can "take the sting out" of the claims process "by making it easy to exchange information with an insurer, receive frequent updates on progress and ask questions along the way."
"The insurers that are setting themselves apart as leaders in this space are those that have consistently delivered simple, easy-to-use tools and proactively managed customer communications throughout the claims process," Ellison said.
The study is based on 2,890 evaluations by auto or home insurance customers who filed a claim in the past 12 months. The study was fielded from June through September 2022.
More information
J.D. Power studies find customer dissatisfaction, disengagement with digital claims processes
LexisNexis: Digital claims processes frustrate consumers; UBI adoption remains low
Despite progress in AI-powered claims handling, human judgment remains 'key,' Mitchell says
Images
Featured image by megaflopp/iStock
Share This: