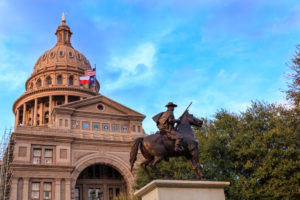 A Texas state representative who has spent years advocating for insurance reform has introduced a new bill that could change the way disputed appraisals are resolved.
Rep. Travis Clardy (R-District 11)'s HB1437, filed last week, seeks to amend the state's insurance code to ensure the accuracy of repair estimates within Texas auto policies.
The bill aims to ensure insurance estimates are a true reflection of the actual cost of repairs. Under the proposed new legislation:
Personal auto insurance policies would be required to contain an appraisal procedure that complies with the insurance code's amendments;

The insurance company and insured person could demand an appraisal within 90 days of the proof of loss;

Both the vehicle owner and insurance company would be required to appoint "competent appraisers;" and

If those appraisers could not agree on the amount of loss, they would select a mutually agreed upon umpire to determine the true cost of repairs.
The bill is consistent with recommendations in January from the Texas Office of Public Insurance Council (OPIC) that the right to appraisal on insurance claims be a mandatory part of policies.
Jill Tuggle, executive director of the Auto Body Association of Texas,  said the bill would require all insurance companies to keep appraisal clauses in their policies.  As it stands, a few of the state's larger insurers have removed language that prevents insurance holders from invoking their right to appraise in the event of a total loss.
"That's caused some issues and we feel like if we don't make this a requirement in Texas that other insurers will follow suit, and it will have a ripple effect on other parts of the claims and settlement process," Tuggle told Repairer Driven News.
A representative from Clardy's office said the intent of the bill was to ensure insurance payouts cover the actual cost of necessary repairs so that damaged vehicles can return to the roads safely.
"Unsafely repaired vehicles are potential weapons that could harm many Texans," the legislative employee told Repairer Driven News. "Texas has had quite a few issues with unsafe repairs."
The issue of inadequate auto insurance payouts is exacerbating despite political pressure for reform, said auto appraiser Robert McDorman.
"It's just getting worse and worse," McDorman told Texas Watch. "It's not getting any better. We've been to the Capitol; many times we've been to the Texas Department of Insurance. We've spoken to three different commissioners and for some reason, the message isn't being heard."
This is the second auto insurance-related bill Clardy has introduced this year.
On Jan. 14, he submitted a bill that would prohibit insurers from requiring the use of non-OEM replacement parts to save money or because of a lack of OEM part availability. 
HB 1321 would also prohibit insurers from limiting where or who parts are purchased from, and parts are not to be considered like kind and quality unless the insurer or OEM has "conclusively demonstrated" it as such by proving that it "meets the fit, finish, and quality criteria… is the same weight and metal hardness… and has been tested using the same crash and safety test criteria" as OEM parts.
Specific to steering, the bill would amend current law to further prohibit insurers and their employees from steering policyholders toward certain repair facilities. Carriers would be barred from suggesting in any way that a particular repairer or facility will provide faster repair times, service, or more efficient claims handling.
IMAGES
The Texas Capitol is shown. (TriciaDaniel/iStock)
Share This: