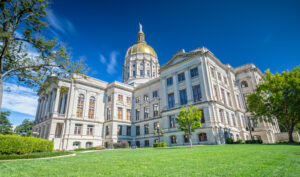 A Georgia bill that would allow businesses, including repair shops, to charge electric vehicle (EV) drivers for electricity by the kilowatt hour is moving through the state legislature.
HB 406, led by Rep. Rick Jasperse (R-Jasper) unanimously passed in the state's House Technology and Infrastructure Innovation Committee last week and will next be debated in the House Rules Committee.
Jasperse told the committee that the legislation, which includes an excise tax clause, is meant to offset the loss of gas taxes as EVs gain in popularity.
"The goal at the beginning was very simple and it maintained to be very simple," he said. "That was to make sure that as we move from carbon-based fuel of gasoline, diesel, propane and others to electricity in some areas that we were going to maintain our funding for House Bill 170."
HB 170 serves as a funding mechanism for transportation infrastructure in Georgia. The bill, passed in 2015, includes a fuel tax and rescinded income tax credits for EV purchases. It also introduced a new annual alternative fuel fee for fully-electric vehicles.
The new legislation would allow stores that own EV charging equipment to sell electricity by the kilowatt hour. EV drivers would pay an excise tax on the electricity they buy, with generated funds helping ensure the state's HB 170 remains fully funded, Jasperse said.
HB 406 would also require EV chargers to be tested and inspected periodically, with Jasperse saying the legislation would give drivers confidence in the safety of the infrastructure and insight on the amount being charged.
If passed, the Department of Agriculture would be tasked with testing and inspecting stations periodically and ensuring the amount businesses charge reflects the amount of electricity used to recharge a vehicle.
"All electric vehicle charging stations shall be capable of accurately measuring and prominently displaying the amount of electricity delivered to each electric vehicle on a per kilowatt-hour basis," the bill says. "Such stations shall be further equipped with meters to record the total kilowatt-hours dispensed."
Georgia is being allocated $135 million in federal funding to build and EV charging station network. Although any business with  EV infrastructure could charge customers for using it under the legislation, it's expected to be especially beneficial to convenience stores.
Angela Holland, Georgia Association of Convenience Stores president, spoke in favor of the bill during the committee hearing, saying her association represents about one-third of the state's convenience stores.
"Convenience stores' number one priority is to fuel motorists whether that's fossil fuels, compressed natural gas, propane, alternative fuels–including hydrogen, ethanol, biodiesel –electricity or Slurpee," Holland said, drawing laughs.
"With so many convenience stores on prime real estate we're poised to be the leader for the electric charging vehicle consumption to Georgia's drivers–if only we were allowed to do so."
She added that in Georgia, "There's approximately one convenience  store in every nine square miles, and this statistic places our stores closer to drivers than any other retail channel. We feel this is a good opportunity to help move the needle towards electric."
Georgia is positioning itself as a hub for the EV industry; more than 35 related projects have been announced totaling $21 billion in investments since 2020, the state said in a press release.
Hyundai Motor Group announced plans last year to build its first U.S. electric vehicle and battery manufacturing facility in the state.
Rivian is working to build a $5 billion plant east of Atlanta that will be capable of producing up to 400,000 vehicles per year.
Images
Featured image: The Georgia State Capitol in Atlanta. (Susanne Neumann/iStock)
Share This: