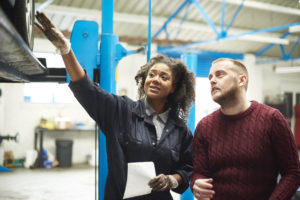 The Women's Industry Network (WIN) has doubled the amount of scholarships distributed to aspiring auto technicians through its annual awards program.
Through its 2023 WIN College Student Tuition and Conference Scholarship Awards, the advocacy group supporting women in collision repair handed out scholarships to 20 applicants.
Last year, just 10 applicants were selected.
WIN is boosting its support for women interested in working in the industry as the auto sector faces a shortage of skilled workers. It's among a number of organizations helping grow the workforce through scholarships, mentorship, and networking.
Its scholarships are presented annually to female students enrolled in a post-secondary collision repair technology program.
Recipients are awarded between $500 and $2,500 based on the selection committee's evaluation of their application and an interview process. Each selected student also receives tool kits worth more than $500.
"We understand the need to attract talent to our industry and are firm believers that supporting students throughout their schooling will make a difference," said Holly Whitley, this year's scholarship committee co-chair. "The new tiered criteria for the 2022-23 program has engaged students across a wider spectrum of experience."
WIN also announced a new student engagement program that will help its student members connect with each other and share experiences.
With women making up just 2.5% of employed automotive technicians, other organizations are sharing tips on how to bump up female representation.
TechForce Foundation said in a whitepaper last year that recruiting female candidates for careers in the industry is an "obvious" solution to solving the ongoing technician shortage.
With that in mind, it sought suggestions from women employed in the industry about how employers can attract, retrain and grow more women techs. The feedback from the 31 participants is summarized in the foundation's recently published whitepaper, "Women Techs: Solving the Tech Shortage Problem."
Feedback given by participants indicated that overcoming discouragement and obstacles at virtually every point in their careers, from societal discouragement from working in a male-dominated field to experiencing bias from customers, co-workers, and management.
TechForce has taken its feedback and distilled it into concrete "action items" that employers can take to help bring more women into the industry.
"Women techs are fierce renegades who refuse to be stifled by society's expectations; they resiliently overcome challenges and reject any attempts to limit them," the report says. "Women techs love being technicians – and they hope more women will join their ranks, but in order for that to happen, transportation industry employers must establish a culture where women feel welcomed and supported – where they can envision themselves enjoying a long career."
This year's WIN scholarship recipients include:
      Kaygen Bogle, Convoy, Ohio (Wyotech)
      Mykenzie Fagan, Rio, Wisc., (Madison Area Technical College)
      Sierra Fahley, Larsen, Wisc. (Fox Valley Technical)
      Nikya Fields, Houston, Texas (UTI Houston)
      Amy Fitzgerald, Tullahoma, Tenn. (Tennessee College of Applied Technology Murfreesboro)
      Sylvia Fort, Torrance, Calif. (El Camino College)
      Ruth Guardiola, Bellevue, Wash. (Metropolitan Community College)
      Alexandria Huntley, Spring, Texas (UTI Houston)
      Ren Weilage, Mankato, Minn. (South Central College)
      Morrigan Wolf, Redmond, Wash. (Lake Washington Institute of Technology)
      Renee Betz, Afton, Okla. (UTI – Houston)
      MaryAna Buell, Idaho Falls, Ida. (Idaho State University)
      Taeler Coverdale, Houston, Texas (UTI – Houston)
      Lizbeth DelReal, Topeka, Kans, (Washburn Institute of Technology)
      Brooklyn DiFrederico, The Villages, Fla. (Lake Technical College)
      Carla Vanessa Ortiz Coleman, Jacksonville, N.C. (Coastal Carolina Community College)
      Sandra Rowland, Maple Hill, N.C. (Coastal Carolina Community College)
      Mariah Sherman, Houston, Texas (UTI – Houston)
      Kayla Tollis, Coraopolis, Penn. (Rosedale Technical College)
      Anastasia Wingo, New Freedom, Penn, (Pennsylvania College of Technology)
Click here to learn more about WIN's scholarship program.
Image
Featured image: (sturti/iStock)
Share This: