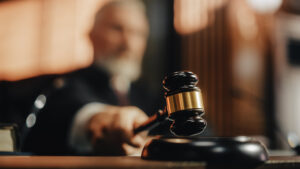 Massachusetts Progressive total loss ACV case partially dismissed
By on
Insurance | Legal
A class action lawsuit filed against Progressive in Massachusetts that alleges undervaluation of total loss vehicles has been partially dismissed by a federal judge.
Plaintiff Hayley Martorana alleges in the 2022 suit that Progressive Direct, through Mitchell International, uses valuation reports to determine actual cash value of total loss vehicles and "systemically thumbs the scale" when reaching its values by applying "'Projected Sold Adjustments' [PSAs] that are: (a) deceptive and unexplained; (b) contrary to appraisal standards and methodologies; (c) not based in fact, as they are contrary to the used car industry's market pricing and inventory management practices; (d) not applied by the major competitor [CCC Intelligent Solutions] of Defendant's vendor Mitchell; and (e) on information and belief, not applied by Defendant and Mitchell to insureds in other states like California and Washington."
The suit goes on to say that the practice Mitchell and Progressive use "results in a significant downward adjustment to the base values of the comparable vehicles used to calculate the ACV [actual cash value] of Plaintiff's and Class members' total loss vehicles."
Mitchell isn't a defendant in the case. However, both Progressive and Mitchell are accused of excluding data from its projected sold calculations, such as when comparable vehicles' list price equals sold price and when sold prices exceed list prices.
The suit states that Martorana was in a wreck on June 12, 2020 during which her vehicle was totaled. She held first-party comprehensive and collision insurance coverage underwritten by Progressive. Progressive valued it at 7.2% of each comparable vehicle's value prior to adjustments, allegedly leaving out sold prices above list prices, transactions from dealerships that market themselves as "no-haggle" dealerships, and every transaction where the sold price equaled the advertised price. Had PSAs not been used, Martorana's ACV payment would have been $613.27 higher, according to the complaint.
The suit alleges violation of the state's Consumer Protection Act (CPA), breach of contract, breach of the implied covenant of good faith and fair dealing, and an unsettled dispute between the parties on the plaintiffs' coverage rights as policyholders that should be resolved with declaratory judgment.
Progressive violated the CPA "by knowingly and intentionally concealing and failing to disclose material facts regarding its application of an arbitrary Projected Sold Adjustment to comparable vehicles in order to reduce their market value and, as a result, the amount of Defendant's total-loss payments to insureds," according to the complaint.
The class seeks a declaratory judgment from the court "that in paying total-loss claims by first-party insureds, it is a breach of Defendant's insurance contract, as well as a violation of law, for Defendant to base the valuation and payment of claims on values of comparable vehicles that have been reduced by arbitrary Projected Sold Adjustments." A jury trial and disgorgement of Progressive's profits are demanded as well as actual, compensatory, statutory, punitive, and injunctive relief.
Progressive sought dismissal of counts one and four, which U.S. District Judge Denise J. Casper granted in a March 10 order. The dismissed counts were allegations of CPA violation and seeking declaratory judgment.
"Martorana alleges that the PSA does not reflect market realities because 'prices are priced to market to reflect the intense competition in the context of Internet pricing and comparison shopping,'" Casper wrote. "During Martorana's purported class period, she alleges that car dealerships use sophisticated pricing software — "which provides the advertised prices of all competitors; the average 'turn' of a given year, make and model; the amount for which vehicles have sold during a given time-period; etc. — and now appraise vehicles before acquiring them to price them to market and do not negotiate from that price."
While Casper rules that Martorana has sufficiently pleaded a violation of Chapter 93A — having to do with unfair trade practices — based on the predicate of a violation of Chapter 176D, § 3(9)(a) by proving – along with Progressive's own data – that the differences between listed and sold prices of used vehicles are false – she wrote that Progressive has the better argument according to case law. 
"Martorana suggested at the motion hearing that subsection (c) also encompasses the evaluation of a claim's monetary value, because when an insured is investigating its liability, it is also investigating the amount of loss," Casper wrote. "Martorana has proffered no caselaw that stands for that proposition. To the contrary, a review of the caselaw in this area demonstrates that, when confronted with a subsection (c) claim, courts have only analyzed the steps an insurer took to determine whether it was liable. …statutory provisions, therefore, further suggest that subsection (c) relates only to claims of investigation, not settlement offers and the evaluation of same."
Because of those reasons count one was dismissed only to the extent that it relies on Mass. Gen. L. c. 176D, § 3(9)(c) and (g) to prove an unfair or deceptive act. A violation of Mass. Gen. L. c. 176D, § 3(9)(c) would include, "Failing to adopt and implement reasonable standards for the prompt investigation of claims arising under insurance policies" and (g), "Compelling insureds to institute litigation to recover amounts due under an insurance policy by offering substantially less than the amounts ultimately recovered in actions brought by such insureds."
Casper dismissed count four because "it is evident that Martorana's claim for declaratory relief is duplicative of her breach of contract claim," she wrote.
Casper also notes in her order that, under Martorana's policy, "Progressive agreed to cover 'any direct and accidental damage to your auto caused by a collision' to a maximum amount of 'either the actual cash value ('ACV') of the auto or the cost to physically repair the auto, whichever is less."
"Additionally, the policy provides that '[s]ometimes there may be a disagreement as to the amount of money we owe for losses or damage to an auto. If so, Massachusetts law provides for a method of settling the disagreement. Either you or we can, within 60 days after you file your proof of loss, demand in writing that appraisers be selected. The appraisers must then follow a procedure set by law to establish the amount of damage. Their decision will be binding on you and us." Id. at 31. Furthermore, the policy prohibits the insured from suing Progressive 'unless there is full compliance with all the terms of this policy.' …Progressive determined the vehicle was a total loss and offered her the ACV of same."
The complaint and the order don't say whether Martorana invoked the appraisal clause.
Many car insurance policies include an appraisal clause that policyholders can invoke to have a third-party appraisal done when they don't agree with their carrier's valuation of their vehicle or damages. Low valuations often lead to improper indemnification for loss, and in some cases can lead to total loss determinations on vehicles that could otherwise be fixed. Both the carrier and the policyholder hire an independent appraiser and if the appraisers can't agree, an umpire is selected to make the final decision.
Progressive and Mitchell didn't respond to Repairer Driven News' request for comment on the case by publication deadline.
Images
Featured image credit: gorodenkoff/iStock
Share This: