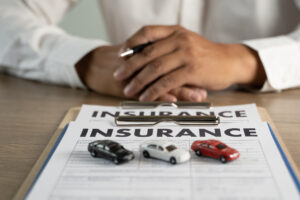 The nation's four largest auto insurers cut back on advertising spending last year to help mitigate the rising cost of doing business, according to a newly-released report.
The report was released as insurers struggle to remain profitable. Inflation and supply chain shortages have driven up costs as have rising expenses associated with repairing modern vehicles equipped with complicated features.
Insurers have already spiked rates throughout the nation in an attempt to offset such costs, with ValuePenguin's State of Auto Insurance in 2023 report indicating auto insurance carriers will likely raise premiums by an average of 8.4% this year.
The average cost of full coverage insurance is expected to reach $1,780 per year, and 45 states will see their car insurance premiums increase this year by at least 1% with drivers in Michigan, Florida, and Rhode Island paying the highest premiums.
S&P Global Market Intelligence said GEICO reduced its advertising spending by 38% year-over-year in 2022, representing the highest drop among top auto insurers. The company spent $1.28 billion on advertising last year, about $800 million less than in 2021.
Allstate's ad spend also dipped below $1 billion last year, with the insurer spending about $950 million in 2022, representing a 27% year-over-year decrease. It reported a $1.4 billion loss for 2022, despite strong results from home insurance, protection services, and fixed-income investments.
Allstate executives said during a Q4 conference call last month that it is working to boost its auto insurance profits as inflation, higher used car prices, and catastrophic weather events cut into its bottom line. Its descent into the red was attributed during the conference call to underwriting losses on auto insurance and market-to-market losses on its equity portfolio.
CEO Tom Wilson told investors that a number of measures are necessary to right the ship, including cutting back on unnecessary spending.
"[This] includes broadly raising auto insurance rates, reducing expenses including temporary moves such as less advertising and permanent reductions including digitizing and outsourcing work and lowering distribution costs," he said. "Underwriting restrictions have been implemented to reduce new business volume until profitability is acceptable. "
State Farm's budget shrank more slightly, dropping from $1.07 billion in 2021 to $1.01 billion last year. It hit its five-year peak of $1.21 billion in 2029.
Both GEICO and State Farm also reported billions in 2022 underwriting losses but have differing business moves and outlooks for 2023.
In his annual shareholder letter, Berkshire Hathaway Chairman and CEO Warren Buffett said 2022 was a "good year" for Berkshire, and offered a bright outlook for this year. The dozens of businesses that the company owns generated $30.8 billion of profit despite rising inflation and supply chain disruptions. GEICO, a subsidiary of Berkshire, however, had nearly $1.2 billion in currency losses and, specifically in car insurance, experienced the sixth straight underwriting loss despite increasing premiums, Reuters reports.
When State Farm announced its 2022 financial results last month the company said its auto insurance lines had seen "record underwriting losses due to rapidly increasing claims severity and significant additions to prior accident year incurred claims." The loss was $13.4 billion.
Moving forward, State Farm said it plans to continue to adjust for inflation and supply chain trends.
Conversely, S&P's research found Progressive spent the most on advertising last year among its main competitors, although its budget still dropped from $1.87 billion in 2021 to $1.73 billion last year.
The insurance industry isn't the only one scaling back expenses, with a World Federation of Advertisers (WFA) survey finding the economic downturn is prompting 74% of respondents to reconsider their ad budget.
The survey found nearly 30% of major advertisers will decrease their budgets through 2023.
"2023 media budgets are hit hard by the recessionary climate, much more so than previously estimated by analysts," Nick Walters, chief executive of Ebiquity, in the report. "As brands will aim to achieve more with less, we increase our efforts to drive smart savings by cutting ineffective and wasteful spend first."
IMAGES
Featured image credit: juststock/iStock
Share This: