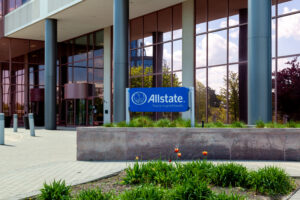 Allstate will modify claims as it eyes higher profits in auto sector
By on
Insurance
Allstate says it is working to boost its auto insurance profits as inflation, higher used car prices, and catastrophic weather events cut into its bottom line.
Part of its strategy is to modify claim practices to manage loss costs, executives told investors during a Q4 conference call. 
"Claim practices have been modified to deal with the higher loss cost environment," said Mario Rizzo, Allstate's chief financial officer. "For example, we have strategic partnerships with part suppliers and repair facilities to mitigate the cost of repair and use predictive modeling to optimize repair versus total loss decisions and likelihood of injury and attorney representation."
Tom Wilson, Allstate's CEO, said the company uses predictive models to determine whether there's a better way to settle a claim, or if a damaged car should be repaired or totaled. 
"We're a data-driven company, so we use predictive models as you know well, for just about everything," Wilson said. "It could be fraud, [or] do we think this claim might end up being severe enough where it gets represented by a lawyer?"
Allstate reported a $1.4 billion loss for 2022, despite strong results from home insurance, protection services, and fixed income investments. Its descent into the red was attributed during the conference call to underwriting losses on auto insurance and market-to-market losses on its equity portfolio.
Wilson told investors that a number of measures are necessary to right the ship.
"[This] includes broadly raising auto insurance rates, reducing expenses including temporary moves such as less advertising and permanent reductions including digitizing and outsourcing work and lowering distribution costs," he said. "Underwriting restrictions have been implemented to reduce new business volume until profitability is acceptable. 
"Claims operating processes are also being modified to manage our loss costs. This plan is being implemented but earned premiums from auto insurance rates have not increased enough to offset higher loss costs."
Allstate's plan to hike rates should come as no surprise, as executives said last year that drivers could expect higher bills.
Allstate began filing auto insurance rate actions in late 2021, raising its rates by 10% since Q4 2021. Last August, Allstate said it implemented rate increases of 14.5% across eight locations, resulting in a total premium impact of 3.2%. Since the start of 2022, the carrier has implemented 72 rate increases averaging approximately 10.3% across 51 locations.
Allstate isn't the only company raising its rates.
Insurify said in its latest report on auto insurance trends that the average annual car insurance rate will rise by another 7% to $1,895 in 2023, based on historical trends and the current state of the industry.
In 2022, the nationwide average cost of car insurance rose by 9% to $1,777, according to the report.
Rising auto insurance policies have prompted some drivers to switch carriers, a study found. J.D. Power's most recent auto insurance trends report found shopping spiked 12% despite holding steady the previous quarter. About 4% of people moved their policy to another company.
Allstate drew criticism in Georgia last summer when the state's Insurance and Fire Safety Commissioner released a statement, claiming the insurance company increased its rates by 40% through a loophole in Georgia's filings policy.
"I am angry and disappointed that Allstate has chosen to exploit a loophole in state law to implement such a substantial increase in costs on hardworking Georgians when families are already struggling with historic inflation everywhere from the gas pump to the grocery store," Commissioner John F. King said at the time.
"This latest increase means Allstate has now bypassed our office to raise overall rates in Georgia by 40% in this calendar year alone. In response, I have begun conversations with our legislative leaders regarding changes to state law to give our office additional authorities to protect consumers from these types of inexcusable actions."
Those conversations have culminated into action with a new bill seeking to change the way Georgia's filing system works. As it stands, the insurance commissioner can only approve or deny minimum limits policy filings, while all other filings go into effect immediately under the state's "file and use" clause.
Allstate defended its insurance rates as "competitive" and in compliance with the law in a statement to Repairer Driven News.
"Georgia passed its unambiguous auto insurance law 15 years ago by broad bi-partisan majorities in both the House and Senate, and Allstate has followed it to the letter ever since," it said. "Our rates are competitive despite all the factors causing them to go up across the insurance industry, which is why customers in Georgia continue to choose Allstate."
Image
The Allstate Canada head office in Markham, Ontario, Canada. The Allstate Corporation is an American insurance company. (JHVEPhoto/iStock)
Share This: