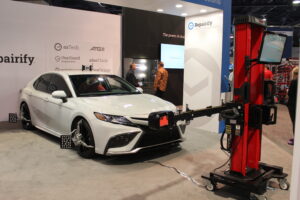 ADAS calibration companies say proper repairs are 'paramount' to systems' safety, would contribute to USDOT's goal of zero crashes
By on
Collision Repair | Repair Operations
Vehicle diagnostic companies Repairify and AirPro Diagnostics shared with Repairer Driven News how following OEM repair procedures in collision repair is essential to preventing injuries and deaths in repaired vehicles that could be involved in another crash.
"The current and near-term vehicle safety technologies provide significantly safer vehicles for the motorist," said Chris Chesney, Repairify Training and Development's vice president. "The systems onboard are becoming more mature and robust in their ability to mitigate collisions. But they all still require the motorist to be involved and in control. As well, the other vehicles on the road that are not equipped with these systems continue to present opportunities for an accident.
"When these damaged vehicles are repaired, it is critical that they be returned to their 'as designed state' or we risk placing the motorist in a vehicle that cannot perform in a way that was intended. Failure to properly calibrate a sensor that should be calibrated presents a risk to the motorist by allowing them to drive a vehicle that may not react as designed when called upon. However, when a technician reads, understands, and follows the OEM processes and procedures, including a post scan and a comprehensive test drive, to ensure the affected systems are operating as designed, [that] will contribute to safer roadways."
Many "faulty repairs" or missed operations, he added, could cause some safety systems to be inactive or inaccurate.
"It's simple things, like thrust angle not being adjusted, or attempting to repair a damaged radar sensor bracket and not calibrating the sensor post repair can place the 'view' of the safety systems askew," Chesney said. "This may result in a system applying the brakes or issuing a warning when it is not warranted. As you can imagine, this could distract the motorist or cause them to panic, creating risk for themselves and others. …Contrary to belief, many failures of a safety system will not set a diagnostic trouble code (DTC) or post a warning message on the dash. There simply are no standards for this in place."
Michael Quinn, AirPro president, told RDN having a brand specialist involved in repairs is "critical in these highly sophisticated vehicles."
"We make a very positive impact in the safe repair of a vehicle," he said. "We feel we are a 'Gate Keeper,' at some level, to the motorist.  Mandating a post-repair scan by a qualified brand specialist safeguards motorists."
He shared a statement agreed to in 2019 by OEMs who are members of the Alliance of Automobile Manufacturers and Association of Global Automakers -now, who have since merged to form the Alliance for Automotive Innovation (AAI):
"Failure to follow OEM repair procedures in the course of a post-collision repair should be considered an unauthorized modification of a vehicle and its systems, introducing the potential for bodily injury and death to any future drivers and occupants of the vehicle, as well as occupants in other motor vehicles on the roadway."
Quinn said the statement "sends shivers" down his spine every time he reads it.
"This is a tremendous responsibility that the collective repair community has and should not be taken lightly," he said.
AirPro Automotive Diagnostic Specialist Joseph O'Leary provided several examples of improperly repaired vehicles he's come across that could've led to injuries or death, including the installation on a Ford of a used/unlocked restraint control module (RCM) that could have caused the air bags not to deploy; several didn't register as active. The air bag light was disabled and the seat belt buckling system didn't recognize the belts were latched.
He said he's also seen several vehicles with improper camera and radar system repairs, including improper bracket gluing, "that would have led to a malfunction in the operation of the active lane keep assist system, potentially causing a collision due to the calibration being off due to improper placement."
"Another example is a radar that was malfunctioning due to a support bar having damage; aiming the radar in the 'up' position and activating the braking system when the vehicle went under any type of overpass," O'Leary said. "[There are] many more examples like this where brackets, quarter panels, bumpers, etc. are damaged and missed during inspection and the vehicle put back together only to return due to the system being so far out of tolerance that it set a DTC and was deactivated.
"Calibrations are absolutely crucial as the human eye cannot see these very tight tolerances… but through performing a calibration, we are able to determine a malfunction and appropriately give the shop a recommendation to repair and recalibrate. If these vehicles were to leave the shop, they could absolutely operate outside of their designed tolerance and cause a collision due to improper aiming, thus causing bodily injury to the driver and others. Oftentimes, while scanning vehicles, we find open recalls that have not been performed. While AirPro cannot perform those recalls, we do inform the shop that an open recall is present."
Specific to bumpers, Chesney shared that using a replacement bumper cover that has a metallic label adhered to the back side of it can cause a good sensor to view vehicles in a wider, narrower, or skewed manner.
"This could give the motorist confidence that the lane beside them is clear when in fact it is not or vice versa," he said.
The picture below, provided by AirPro, shows a Hyundai front radar that was installed backwards. "After a collision repair, a calibration scan was submitted for this vehicle, and during the analysis, found the dash warning indicator was illuminated and the system was disabled due to a DTC for the radar being blocked," O'Leary said.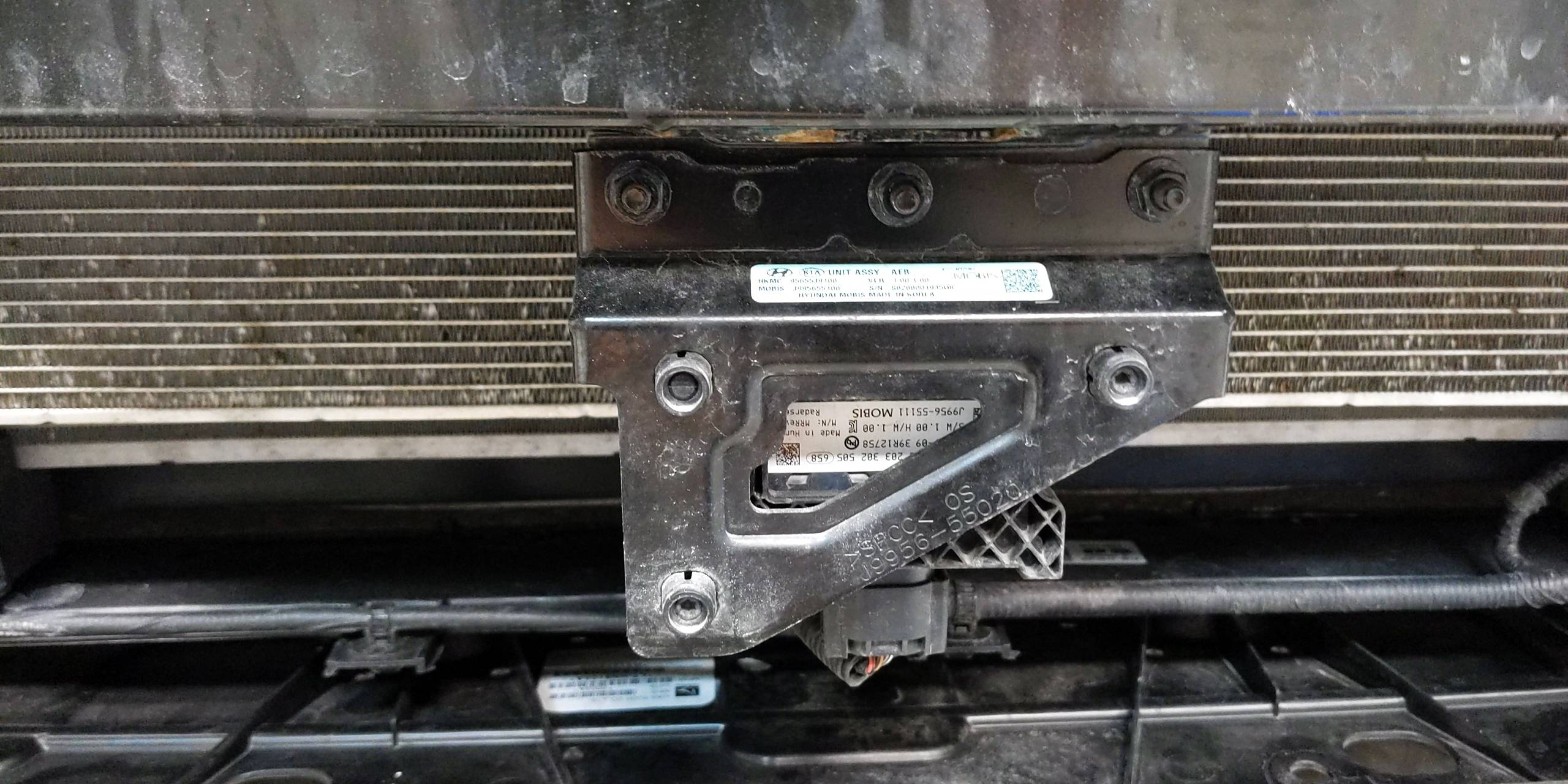 Another example, below, was provided by AirPro in which the radar and radar bracket were zip tied in place. That caused the calibration to complete abnormally and "far out of tolerance," O'Leary said. The calibration was successfully completed after the radar and bracket were replaced.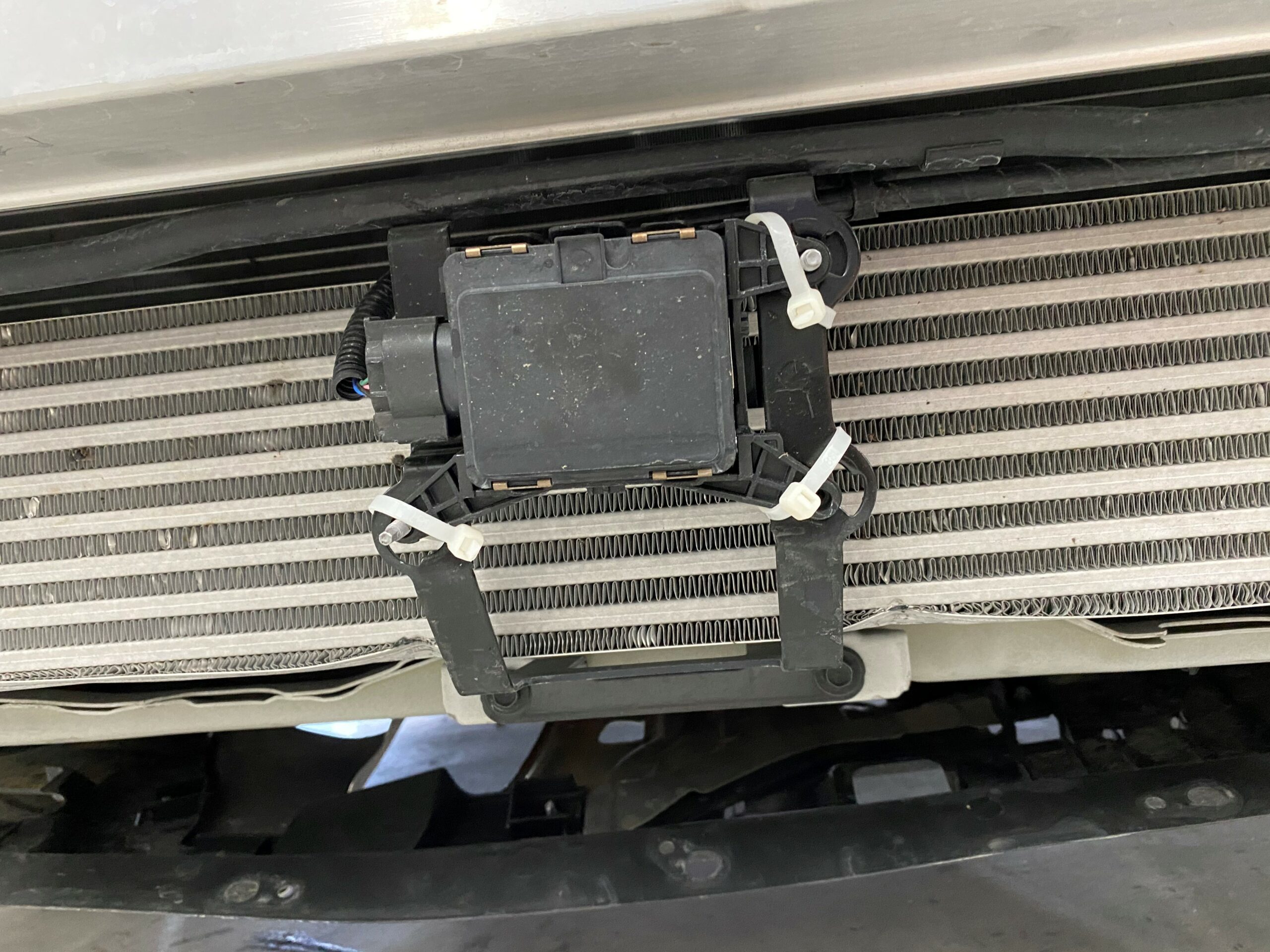 "The importance of repairing the vehicle correctly and replacing all broken parts is paramount to a successful calibration and a safe vehicle," O'Leary said.
U.S. Transportation Secretary Pete Buttigieg launched a Call to Action campaign on Friday that asks the private sector, law enforcement, municipal organizations, health and safety advocates, and OEMs to take specific actions in 2023 to reduce serious roadway injuries and deaths on roadways, which the department says have reached crisis levels. As of Friday, 49 had voluntarily committed to taking action.
"Traffic crashes cost tens of thousands of American lives a year — a national crisis on our roadways — and everyone has an important role to play in addressing it," Buttigieg said. "Today we are issuing a national call to action and asking all Americans — including private industry, non-profit and advocacy organizations, and every level of government — to join us in acting to save lives on our roadways."
The Call to Action was announced just after the first anniversary of the department's National Roadway Safety Strategy (NRSS). The NRSS outlines a concrete set of actions USDOT has committed to and adopts a five-pronged "Safe System Approach" — safer people, safer vehicles, safer speeds, safer roads, and post-crash care — to reduce roadway fatalities.
The National Highway Traffic Safety Administration (NHTSA) said last month that while roadway fatalities and the fatality rate has declined consistently for 30 years, progress has stalled over the last decade and went in the wrong direction in 2020 and 2021.
So far this year, NHTSA reports in its latest projections for traffic fatalities in 2022 that fatalities are beginning to level off after two years of dramatic increases.
USDOT said it created the NRSS "in response to the fact that traffic deaths in America steadily decreased for decades but then surged during the early days of the pandemic in 2020 [and] have remained stubbornly high with nearly 43,000 people killed in 2021."
Some of the voluntary commitments already received by USDOT include 3M, AAA, American Honda Co., Insurance Institute of Highway Safety (IIHS), Lucid, and several others.
3M plans to help improve visibility and safety on roads by working with road agencies to determine how reflective signage and lane markings could make dangerous curves, stop-controlled intersections, and bike lanes safer. 3M committed to protecting vulnerable road users like pedestrians, cyclists, and school children by improving 100 school zones, and dedicated $50 million to address social justice and racial opportunity gaps that include investments in transportation equity initiatives.
AAA will continue to fund and publish new case studies and research aimed at understanding the factors contributing to unsafe roads and how to better implement the Safe System Approach. In collaboration with Johns Hopkins and the UNC Highway Safety Research Center, AAA will develop a guidance report for use by engineering and behavioral highway safety practitioners interested in adopting Safe System principles.
Honda will continue to invest in driver safety education initiatives for teens and young adults. Planned initiatives for 2023 include: grants for organizations focused on teen driver safety, teaming up with the National Safety Council's DriveitHOME program to offer free virtual parent nights for young driver education, and free educational resources for teen drivers on its consumer website.
IIHS has initiatives underway to: improve occupant protection systems, enhance collision avoidance systems, and address the safety needs of vulnerable road users outside the vehicle; improve driver behavior associated with advanced driver assistance systems (ADAS) through consumer information programs, including direct outreach through insurance companies and auto dealers; expand the acceptance and use of speed management and traffic signal compliance cameras through improved messaging with policymakers, practitioners, and the public; encourage the use of multifaceted interventions that integrate engineering, enforcement, and public education approaches to address the challenges of speeding, impairment, unbelted occupants, and vulnerable road user safety, and connect industries and organizations to holistically address road safety challenges.
Lucid will join with an ADAS and automated vehicles coalition to inform the public the systems and vehicles and invest in joint communication campaigns to educate consumers on automation technologies. "Lucid strives to continually refine the suite of detection, warning, and prevention systems on our vehicles and we believe automakers have a responsibility to convey the capabilities of their vehicles to consumers," the OEM told USDOT. "Lucid vehicles will continue to come standard with a comprehensive suite of active safety features, including automatic emergency braking, front and rear cross traffic protection, traffic sign recognition, blind spot monitoring, lane departure protection, and rear pedestrian collision protection.
USDOT also announced last week that President Joe Biden's Bipartisan Infrastructure Law provided 510 grants totaling more than $800 million as part of the new Safe Streets and Roads for All discretionary grant program. The grants will be used to help cities, counties, tribes and metropolitan planning organizations (MPOs) "create plans and to implement measures that prevent deaths and serious injuries on our nation's roadways."
The department's latest progress report covers the actions USDOT has taken so far to commit to the NRSS. An online progress dashboard that is updated quarterly can be accessed here.
Images
Featured image: Vehicle calibration demo set up by Repairify at the 2022 SEMA Show in Las Vegas. (Credit: Lurah Lowery/Repairer Driven News)
Share This: