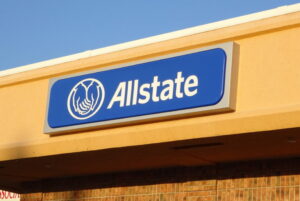 Allstate will pursue bigger rate increases as loss costs remain high, CEO says
By on
Insurance
Allstate will be pushing its auto insurance rates higher, and at a faster pace, for the remainder of 2022, as it deals with entrenched higher loss costs, the carrier's CEO said during the Barclays Global Financial Services Conference last month.
CEO Tom Wilson also briefly addressed labor rates, disclosing that rival State Farm "just raised their labor rates $6 an hour across the country. We don't do it that way. We do it market by market, vendor by vendor so that puts some pressure [on costs]."
Severity factors, such as used car values and inflation in parts and labor costs, have risen significantly and are not expected to go back down, Wilson said. "The real trick will be how much is inflation going to keep going? Used car prices kind of leveled out but that's not true with labor costs and parts, [with] auto manufacturers still trying to catch up and raise prices on OEM parts."
Allstate began filing auto insurance rate actions late last year, raising its rates by 10% since fourth-quarter 2021. In August, Allstate said it implemented rate increases of 14.5% across eight locations, resulting in a total premium impact of 3.2%. Since the start of 2022, the carrier has implemented 72 rate increases averaging approximately 10.3% across 51 locations.
In addition to raising rates, Wilson outlined three other paths to improved profitability: implementing underwriting restrictions in underperforming markets, continuing to reduce expenses, and modifying claim practices to deal with a high inflationary environment.
He said the pandemic created "all kinds of volatility" in the P&C insurance space with "way, way improved profitability in 2020." That was "despite the fact that we gave our customers over a billion dollars back… We led the industry on that, by being customer focused."
"Loss costs are up, so what you have to do is raise prices. And so we've done that," Wilson said, in response to a question from Barclays insurance analyst Tracy Dolin-Benguigui.
While used car prices are moderating, "we're not going back to where we were before because it gets embedded in the system. People buy cars; they get loans on cars. Nobody wants the prices to go down by 40% to get back to where they were. That's not going to happen."
"So, you act differently. And we have taken larger, more rapid price increases," he said, outlining the first of several strategies that Allstate has put in place to get its combined ratio, at 105 for the first half of 2022, back down to the mid-90s, where it was before the pandemic.
Rate-taking, he said, is a higher priority for the company than growing its customer base. "When we're deciding whether we raise prices, we're raising. We're not moderating that because we want to keep growing," Wilson said. "The interesting thing is we've still done pretty well with growth despite that, which just says the environment a little more volatile."
Customers "seem OK with" the company's "very aggressive price increases," he added, relaying information he received from a group of agents a couple of weeks ago. "I'm not saying that they're happy we're calling to say we're raising their rate 15%. But they're like, 'Yeah, my house is worth more and my car's worth more. Everything else is going up, food's up, gas is up.' So they're not shocked. So when you look at our retention levels and its impact on growth, we're outperforming our retention, given the size of pricing."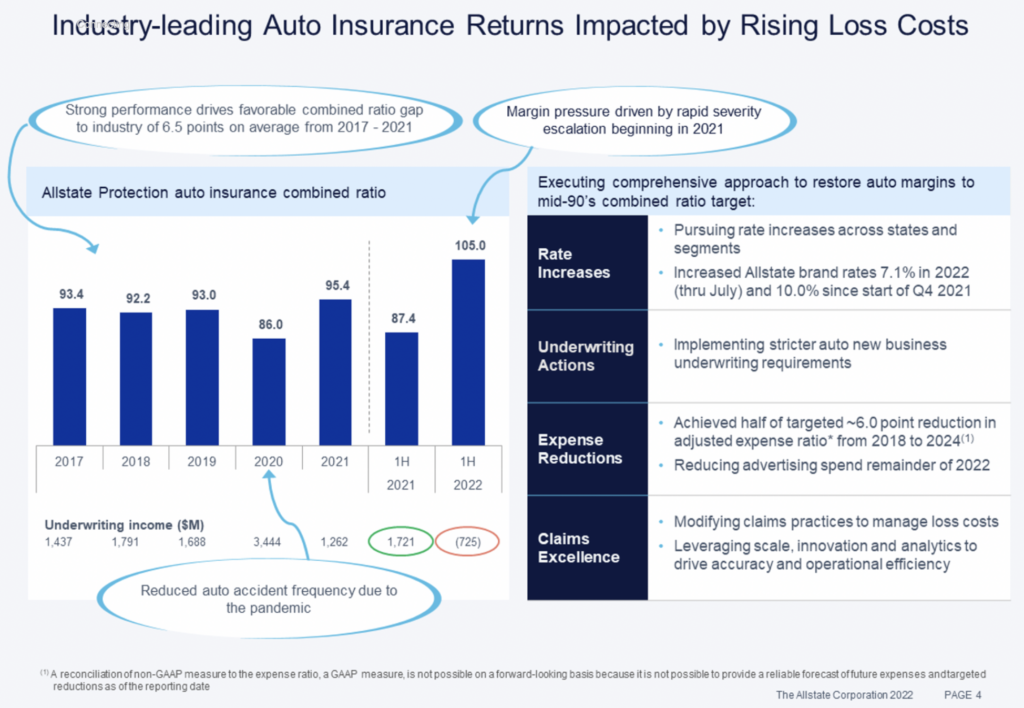 During a Q&A session, Wilson theorized about incorporating an automatic adjustment into auto policies, as the company has done with property values for property insurance.
"Had we had that for used car prices in auto insurance, our prices would've gone up automatically," he said. "We didn't. Nobody does. It's sort of a one-time thing.
"So, we are looking at how do we build those automatic rate mechanisms into auto insurance? And what we would do with home insurance," he added. "I'm more interested in home insurance because it's a 12-month policy. It takes longer to get the money."
In addition to rate actions, Allstate is implementing more restrictive underwriting actions on new business in places where it cannot achieve adequate rates. One such example is California, where the Department of Insurance (CDI) has taken no action on an increasing number of rate filings.
"California is a hard one, they haven't improved any [rate filings] — I think it's been 29 months," Wilson said. "We've had a commercial filing in there for a couple of years. We thought we had a deal on homeowners, and we no longer do. So we're in an environment where we're assuming that not much is going to change in the near term… I think the California market will be increasingly unstable."
Each market must stand on its own, he added. "Our objective is every line, every state, pretty much every year has to make its nut. So we don't believe in cross-subsidizing from auto to home or California to New York or New York to Florida," he said. "Everybody's got to live on their own because we're trying to minimize customer subsidization."
In California, Allstate has increased its downpayment requirement to 50% to suppress the sale of new policies. "We're looking at a whole range of things that are going to fix the profitability in that state. So I think you'd expect us to get smaller in that state," Wilson said. "That's 12% of our premiums in the auto business. But we're completely comfortable with it if we don't grow in California. We can't give our money away."
He said Allstate recently filed for a 6.9% auto insurance rate increase in California, "the most you can get without going to a hearing… We need more than 6.9, [but] we're not going to get 6.9. They've told everybody you can send them whatever you want, but they're not looking at it. So we're not going to wait, and hope is not a strategy."
Overall, the carrier has been working to counter inflation by "leveraging analytics, using scale [and] redesigning processes," he said. "We have strategic partnerships with a bunch of parts suppliers where we buy, at discounts, [and with] repair facilities," he said, and "we use predictive modeling to decide should we repair or replace this car" on collision claims.
More information
Barclays Global Financial Services Conference
https://event.webcasts.com/starthere.jsp?ei=1566208&tp_key=4a979e2999&language=en-us
Images
Featured image: An Allstate agency in Acme, Mich. (John Huetter/Repairer Driven News)
Share This: