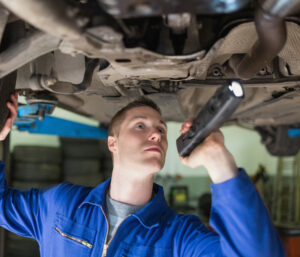 While used car prices remain high, Consumer Reports (CR) advises consumers it's now more important than ever to thoroughly check out used vehicles before buying, and perhaps collision repairers can be of some assistance in that.
First, Consumer Reports says never to skip the test drive and always double-check buying agreements, and all the numbers.
A test drive can not only help consumers determine if they're worth the asking price but sounds and certain movements will point to prior damage, Consumer Reports says.
"Note unusual squeaks and rattles, and any items that need to be repaired," the consumer publication says. "A car that pulls to one side might be showing signs of previous damage. Paint overspray on the back of body panels and doorjambs can signal bodywork from an accident. The smell of mildew or mold could indicate water damage, which you definitely want to avoid."
CR's chief mechanic, John Ibbotson, says to avoid vehicles with signs of deep water exposure.
"Even if a vehicle looks acceptable and may be working when you inspect it… water damage could lead to many electrical problems down the road," he said.
Ibbotson's point that not all damage is visually evident could extend beyond water damage as well, potentially opening the door for collision repair businesses to aid consumers in the used car shopping experience.
Could your shop offer inspection services and diagnostic scans that would find any prior collision damage on a vehicle someone just purchased? Could your facility work with local dealers to inspect and scan their used vehicles before they're put out for sale?
CR says collision damage and previous repair inspections are also important in determining roadworthiness.
"The results of this inspection give you ammunition to negotiate a final price. Either you can get a lower price because you're going to fix the problems or you could offer to pay their price if they fix the problems. Of course, you could ask that the problems be fixed and continue to haggle over the price."
In a recent Society of Collision Repair Specialists (SCRS) Consumer Tip video, Database Enhancement Gateway (DEG) Danny Gredinberg and Collision Advice CEO Mike Anderson covered what safety inspections are and why they're important following a collision. Could similar practices be put into place to ensure a secondary owner that the vehicle is roadworthy?
"Most OEM manufacturers require safety inspections to be completed on your vehicle after it's been in a collision," Anderson said. "The vehicle manufacturers design vehicles with your safety in mind and so what they do is they install certain features in your vehicle that will protect you and your family in the event of an accident. …for example, seat belts. Most, if not all vehicle manufacturers, will require that your seat belts are inspected after the vehicle's been in a collision to ensure that when you go to drive your vehicle again in the future that the seat belts will operate as intended. Other items that may need to be inspected as a result of a collision are items like steering columns."
Many steering columns are designed to collapse during a collision to prevent driver injury so they need to be removed and measured by collision repair shops to determine if they've collapsed or not. If they have, they will need to be replaced. The same with air bags and air bag sensors — if air bags deployed they will need to be replaced.
In a separate Consumer Tip video, Anderson and Gredinberg covered what vehicle owners should know about pre- and post-repair scans. Reports from these scans are likely an important document for used car buyers to ask of dealers since many modern-day vehicles have many complex safety systems and advanced driver assistance systems (ADAS), such as lane assist, blind spot warning, and automatic emergency braking.
The primary purpose of pre- and post-scans is to ensure the features and functions of vehicles are properly working, Gredinberg said. Anderson added that every automaker states in their repair procedures, which serve as the instruction manuals for vehicles, that before vehicles are disassembled in a repair shop post-collision, a diagnostic scan needs to be conducted through a computer connected to each vehicle.
"If we don't do this pre-diagnostic scan before we disassemble the vehicle then anything we do after that fact can be reactive, not proactive," Anderson said. "The vehicle manufacturers also state that when the vehicle is reassembled we need to do a post-repair scan where, again, we hook up a computer to your car to do diagnostic testing to ensure that everything is working."
It's important to note that there aren't dash lights for every function and feature of a vehicle that would alert you to any issues or non-working functions, Anderson added, making pre- and post-scans all the more important for vehicle safety. As vehicles become more and more like smartphones on wheels with ADAS, scans ensure those systems are working properly and are calibrated correctly to be accurate when you get back on the road.
Next, CR says it's important to check the vehicle's title and get a vehicle history report. The first step in checking for a title is to make sure the seller has it in hand on the day you're looking to buy the vehicle.
"Examine the document for signs that the vehicle has been wrecked, repurchased under a state lemon-law program, suffered flood damage, or had another problem," CR wrote. "Many state title documents will have that information on them."
An indication of a prior collision, and possible remaining or improperly repaired damages, on a vehicle title is if it's called a salvage title, meaning the vehicle was totaled by the former owner's insurance company and then bought back by the owner with the damaged unrepaired.
In some states, titles won't flag you to that sort of information so CR recommends looking at vehicle history reports. While they can be helpful it's important to note that they won't list everything. If a collision or any damage wasn't reported or the repairs and even maintenance work to the vehicle wasn't documented, that won't be part of the vehicle's history. And as CR points out, the information on the reports should still be verified.
"Even though the seller may give you the report, you should still verify the information with the reporting service," CR said. "Along with total loss information, the reports might provide warnings about odometer tampering, collisions that weren't a total loss, and any outstanding recalls. If the seller won't spring for one, you should get your own.
"Though helpful, vehicle history reports aren't perfect. There are many reasons they can miss accidents, flood damage, vehicle theft, and other events that can seriously affect a used car's value as well as your decision about whether to buy it."
It's also important to verify vehicle mileage, CR says. Does the number on the title match the vehicle's odometer reading? Also, are there any outstanding liens against the vehicle?
"If the dealer doesn't have the title or won't show it to you, consider a different car or a different dealer," CR says.
Consumers can also get a free Vehicle Identification Number (VIN) report from the National Insurance Crime Bureau and visit carsforsale.com to get a free report from the National Motor Vehicle Title Information System (NMVTIS).
Not providing timely title transfers has led to many headaches through used car dealer Carvana in Michigan, Illinois, and North Carolina leading to delayed registrations and state legal action against the company.
Open recalls are also an important factor to consider when buying a used car. The cost of most are usually covered for free by automakers at their dealership shops but there are exceptions to that. Recalls can be checked with the vehicle's VIN on the National Highway Traffic Safety Administration (NHTSA)'s website.
"If you find any recalls for the VIN, ask the seller to provide receipts showing that the fixes have all been done," CR says. "You can also go to a dealer for that brand with the vehicle's VIN to ask someone to check whether the car has had the recall work done. Consumer Reports recommends that you not buy any vehicle with an open recall. With any vehicle you buy, make sure all of the recalls have been completed before you take possession."
Two other recommendations CR provided to consumers was contacting the previous owner and getting a mechanic's inspection done of the engine, transmission, and overall vehicle condition.
Sometimes previous owner contact information, or at least their name, is provided on vehicle history reports but CR says some other options are on the title or to ask the dealer for the information.
"Don't believe a dealer who tells you federal law prohibits the dealership from revealing former owner information," CR wrote. "In fact, some states — including Kentucky, Maine, and Massachusetts — require dealers to turn over former owner information if it's reasonably available."
Images
Featured image credit: Wavebreakmedia/iStock
Share This: