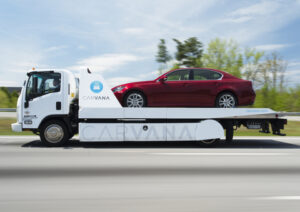 Illinois reaches settlement agreement with Carvana, operations allowed to continue
By on
Legal
Illinois Secretary of State Alexi Giannoulias and Carvana have reached a settlement agreement for the vehicle dealer to continue operating in the state.
Giannoulias' office said Tuesday Carvana admitted to violating Illinois law and agreed to abide by new restrictions aimed at protecting consumers. Illinois was the first state in the nation to suspend Carvana's license in May 2022. Carvana sells and buys vehicles in Illinois on its e-commerce platform and operates a vehicle vending machine in Oak Brook.
"The admission by Carvana demonstrates what we knew all along: that Carvana was violating the law in a manner that was harmful to Illinois consumers," Giannoulias said. "Under my administration, I will do everything to ensure that proper safeguards are in place that protect Illinois consumers regardless of how they purchase a vehicle."
When asked by Repairer Driven News, Carvana didn't admit to wrongdoing but provided the following statement.
"For the past eight years, we have been an economic engine in the state by providing Illinoisans with an unmatched e-commerce experience that includes great selection, home delivery, and a 7-day money-back guarantee and today's agreement with the Secretary of State allows us to move forward in our journey to becoming the largest automotive retailer," said Alan Hoffman, Carvana head of corporate affairs. "We look forward to working with Secretary Giannoulias to ensure customers continue having access to the best car buying and selling experience possible."
According to the settlement agreement, Carvana admitted that "in certain instances… it failed to transfer title to the purchaser within 20 days from the date of sale of the vehicle" but denied all other allegations made.
Illinois began investigating Carvana's practices in February 2022 after customers complained they were receiving out-of-state temporary registration permits and not receiving title transfers in a timely manner as required by the state's vehicle code. Carvana eventually lost its dealer license prior to the settlement agreement being reached.
The agreement calls for Carvana to adhere to Illinois law in the future, surrender its $250,000 bond, and allow for pre- and post-licensing Secretary of State Police inspections to ensure it remains in compliance. It also allows the Illinois Secretary of State to summarily suspend and revoke Carvana's dealership license once again if it fails to comply with either the agreement or the laws. As part of the agreement, Carvana will participate in additional dealer training and drop its civil court case against the Secretary of State.
Giannoulias emphasized that Carvana's actions of putting unregistered license plates on vehicles jeopardized Illinois consumers who were at risk of being ticketed by law enforcement for driving without proper title and registration.
Also, in Colorado, Carvana has been accused of affecting a buyer's safety by allegedly selling an improperly repaired vehicle.
Carvana has been allowed to sell cars in Illinois during the Secretary of State's investigation but only under strict guidelines set forth by a Temporary Restraining Order (TRO) granted by a DuPage County judge. Under the guidelines, Carvana was not allowed to issue temporary registration permits or license plates and was required to register titles through Illinois remitters, which are third-party entities licensed in Illinois to process title transactions. This ensured titles would be processed expeditiously.
Giannoulias applauded the efforts of the Secretary of State Police and said that if customers have issues with their titles and registrations they should contact the Illinois Secretary of State Police at 630-693-0551 to file a complaint.
Images
Featured image credit: Carvana/Business Wire
Share This: