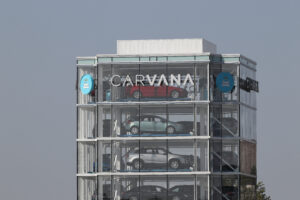 Carvana takes Illinois Secretary of State to court over dealer license
By on
Legal
An Illinois judge has ordered a temporary restraining order (TRO) against the Secretary of State that restricts revocation or suspension of Carvana's Illinois dealer license pending an Aug. 31 hearing.
Secretary of State Jesse White's Office launched an investigation into the online car sales company in February after receiving 95 consumer complaints regarding the company's alleged failure to properly transfer titles to buyers and misuse of out-of-state temporary registration permits (TRPs). Due to that investigation, which the office confirmed to Repairer Driven News, is still ongoing, Carvana's dealer license was suspended. It was later reinstated under strict guidelines, which White's office said in May Carvana had violated so the company's dealer license was once again suspended.
The TRO was requested by Carvana because White "violated the Illinois Administrative Procedures Act (the "Act") by summarily suspending Carvana, LLC's ("Carvana") Dealer Certificates of Authority and dealer plates (collectively, the "Licenses") without first providing Carvana a hearing," according to a memorandum filed by Carvana that contains the TRO request.
"Allowing the suspension to continue pending a hearing will exacerbate the irreparable harm to Carvana's reputation, goodwill, market share, and business operations—without any adequate remedy at law," the memorandum states. "The Court should enjoin the Secretary from enforcing the suspension until Carvana receives the hearing that Illinois law and due process require."
In a written statement to RDN, a Carvana spokesperson said, "Citizens of Illinois deserve exceptional customer experiences, and over 6,000 have already spoken up in support of keeping the Carvana car buying experience — including our 7-day money back guarantee, home delivery, and nationwide inventory selection — available in their state. State records indicate there have been over 500,000 title transfer violations in Illinois over the past 3 years – Carvana represents significantly less than 1% of that total, and over other 90 IL dealers had more title transfer violations than Carvana.
"We believe this data indicates that while we aren't perfect, we provide title and registration services at a rate among the top-performing dealers in the state. Carvana has built its entire business around customer experience and shares the State's commitment to reducing paperwork challenges as much as possible. We sincerely appreciate the support from our Illinois customers and are excited to continue to serve them while we continue working with the State to resolve its concerns and hopefully improve the title and registration system itself for the benefit of everyone in Illinois who purchases a car."
Illinois Secretary of State spokesperson Dave Druker told RDN the TRO doesn't prevent the office from continuing its investigation into the consumer complaints against Carvana.
"Due to the judge's decision in the circuit court in DuPage County to grant Carvana's request for a temporary restraining order, the Secretary of State's order has been reinstated, allowing Carvana to conduct business in Illinois under strict guidelines," Druker wrote to RDN. "During the reinstituted stay, Carvana is allowed to sell vehicles in Illinois, but Carvana cannot issue temporary registration permits or license plates during this stay order.
"Carvana must register titles through Illinois remitters, which are third-party entities licensed in Illinois to process title transactions. This will ensure titles are processed in a timely manner. Carvana has an administrative hearing scheduled on August 30, so the stay order will remain in effect at least until that date."
When asked to elaborate on the meaning of "title violations," Druker said Carvana was in violation for not sending title work to the Secretary of State within the required 20 days from purchase. He also told RDN, when asked, that total loss vehicles cannot be registered as clean title vehicles in Illinois.
The memorandum filed by Carvana states that in past discussions White has not said out-of-state sales would be subject to any Illinois licensing requirements. "Indeed, the Secretary has long acknowledged that Carvana does not need Illinois Licenses to consummate sales from Carvana's non-Illinois-based dealerships with customers in Illinois. (Id.) Nor does Carvana need those Licenses to effectuate delivery of cars sold from outside Illinois to Illinois customers. Carvana has complied with this requirement. …And, in the five years since Carvana first met with the Secretary, there have been approximately 25,000 vehicles sold to Illinois consumers via out-of-state transactions without any objection from the Secretary."
IMAGES
Featured image credit: jetcityimage/iStock
Share This: