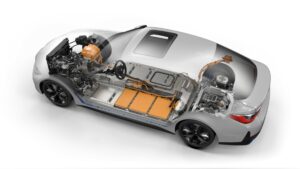 BMW has issued a recall for certain 2022-2023 iX xDrive50, iX M60, 2022 i4 eDrive40, and i4 M50 vehicles warning that the high-voltage batteries might have internal damage that could cause a fire.
BMW said the vehicles should not be driven or charged and should be parked outside and away from structures until the batteries are replaced. The recall affects 83 vehicles sold in the U.S., based on the OEM's review of vehicle manufacturing information and production records from its supplier, Samsung SDI.
The automaker said it knows of no accidents or injuries caused by the defect.
The recall was issued after BMW became aware of three "field incidents," the first of which involved a 2022 BMW i4 eDrive40. An investigation determined that an "irregularity" during Samsung's production process had allowed debris to enter into a battery cell, causing a short circuit.
BMW became aware of a U.S. field incident, involving a model year 2022 iX xDrive50 on June 3 and a third, involving a 2022 BMW iX M60, on June 19. Investigation of both incidents also pointed to production irregularities that allowed debris to enter a battery cell.
Owners of affected vehicles are being contacted by phone, and will also be notified by First Class mail. Dealers were contacted on July 27, BMW said.
The affected iX xDrive50 and iX M60 vehicles were produced between Dec. 2 and June 30, and the affected i4 eDrive40 and i4 M50 vehicles were produced between Nov. 22 and June 13.
BMW is one of 12 OEMs responding to a recommendation by the National Transportation Safety Board (NTSB) to update their emergency response guides (ERGs) to include vehicle-specific information for fighting high-voltage lithium-ion battery fires.
As of early June, eight vehicle producers — Honda, Hyundai, Mitsubishi, Porsche, Proterra, Van Hool, Volkswagen, and Volvo — had successfully completed the actions asked for by the NTSB, which were made after its investigation of four Tesla battery fires in California and Florida.
Fires in EV batteries pose the risk of electric shock to emergency responders from exposure to the high-voltage components of a damaged lithium-ion battery, according to the NTSB.
"First responders deserve to have the information they need to stay safe when providing post-crash care — and that includes knowing how to suppress a high-voltage lithium-ion battery fire," said NTSB Chair Jennifer Homendy, in announcing the agency's recommendation.
This spring, the National Highway Traffic Safety Administration (NHTSA) announced that it is investigating LG Energy Solution's high voltage lithium-ion batteries used in electric vehicles following several recalls by Mercedes-Benz, General Motors, Hyundai, Stellantis, and Volkswagen over the past two years. More than 138,000 vehicles are involved in the investigation.
More information
8 OEMs update EV battery emergency response guides on fire risk, handling
NHTSA investigating LG EV battery safety following numerous recalls by 5 OEMs
Images
An illustration of the electric drivetrain of  the BMW i4 eDrive40. (Provided by BMW)
Share This: