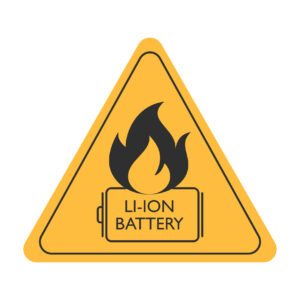 Eight out of 22 automakers have updated their emergency response guides (ERGs) to include vehicle-specific information for fighting high-voltage lithium-ion battery fires in electric vehicles (EVs) at the recommendation of the National Transportation Safety Board (NTSB).
Honda, Hyundai, Mitsubishi, Porsche, Proterra, Van Hool, Volkswagen, and Volvo have successfully completed the actions asked for by the NTSB, which were made after its investigation of four Tesla battery fires in California and Florida. The board says it also reviewed regulatory and industry actions related to EVs and the guidance available to emergency responders to put out EV fires. NTSB found two primary safety issues: inadequacy of vehicle manufacturers' ERGs as well as gaps in safety standards and research related to high-voltage lithium-ion batteries involved in high-speed and high-severity crashes.
"The objective of the investigation was to identify and evaluate unmitigated hazards to first and second responders," NTSB states on its website. "Electric vehicle fires, caused by crash damage to a vehicle's high-voltage lithium-ion battery or an internal failure of the battery, pose risks of thermal runaway (fire) and exposure to high voltage (electric shock) associated with stored energy in the battery."
Among some of the updates made by OEMs are: revisions to all of Honda's ERGs for its EVs beginning with model year 2020 and newer — details of which are available here; updates by Hyundai to its 15 ERGs including how to douse EV battery fires and deal with stranded energy in EV battery packs; and Mitsubishi updated its guidance on safety storing Outlanders that have damaged batteries. An overview of each OEM's ERG updates can be found on NTSB's website.
Twelve OEMs — BMW, BYD, Stellantis, Ford, General Motors, Gillig, Kia, Mercedes-Benz, Nissan, Subaru, Tesla, and Toyota — are "making progress" on the steps identified in the recommendation and two manufacturers, Nova Bus Corp. and Karma Automotive, haven't responded to the board.
"First responders deserve to have the information they need to stay safe when providing post-crash care — and that includes knowing how to suppress a high-voltage lithium-ion battery fire," said NTSB Chair Jennifer Homendy, in a news release. "Our recommendation is a simple but powerful action that can save the lives of first responders and crash victims alike. I congratulate the eight electric vehicle manufacturers that have stepped up and call on the remaining 14 companies to implement our recommendation immediately."
Fires in electric vehicles powered by high-voltage lithium-ion batteries pose the risk of electric shock to emergency responders from exposure to the high-voltage components of a damaged lithium-ion battery, the NTSB states.
"A further risk is that damaged cells in the battery can experience thermal runaway — uncontrolled increases in temperature and pressure —which can lead to battery reignition. The risks of electric shock and battery reignition/fire arise from the 'stranded' energy that remains in a damaged battery."
The same risks are present for factory workers who manufacture the batteries and collision repairers who work on EVs that are powered by high-voltage lithium-ion batteries. A recent example of the risk associated with the batteries is a fire at Rivian's Normal, Illinois plant on May 28. While the Normal Fire Department said in a news release that a defective battery pack had been in a repair area of the plant prior to it igniting in a testing area, the "exact cause" of the fire wasn't immediately known.
"When firefighters arrived, there was a battery pack in thermal runaway in a battery testing area in the southwest side of the plant where the batteries are built for the Rivian vehicles," the department said in the release. "Firefighters connected hoses to standpipes inside the building and extinguished the battery pack fire and then continued to flow water on the pack to keep it cool to prevent further thermal runaway from occurring. …Once the battery pack was extinguished and cooled, firefighters moved the fire damaged battery outside of the plant and began ventilating the smoke from the building. Once outside, firefighters continued to cool the pack with water until it was released to Rivian engineers for investigation and disassembly."
Damages were to the battery pack, the carrier, and the test booth equipment. No injuries were reported. Rivian didn't respond to Repairer Driven News' request for comment on the fire and their EV battery safety protocols by the publication deadline.
According to WGLT, the fire last week was the third time the Normal Fire Department has responded to a fire at the Rivian plant since production began in the fall of 2021. The first was in October and the second was in February of this year.
So far, Rivian hasn't issued any recalls for battery fires within its vehicles. General Motors issued a recall last year on nearly 110,000 model year 2017-2022 Chevrolet Bolt and Bolt EUV EVs, according to Consumer Reports.
The National Highway Traffic Safety Administration (NHTSA) is investigating LG Energy Solution's high voltage lithium-ion batteries used in electric vehicles following several recalls by Mercedes-Benz, General Motors, Hyundai, Stellantis, and Volkswagen over the past two years. More than 138,000 vehicles are involved in the investigation.
IMAGES
Featured image credit: ​​​Sibani Das/iStock
Share This: