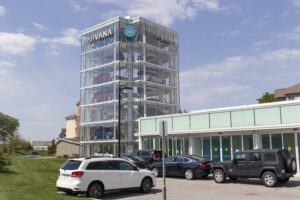 Carvana's Illinois dealer's license has once again been temporarily suspended by the Illinois Secretary of State Police as of July 18.
On May 26, the Illinois Secretary of State's office implemented a stay on Carvana's temporary suspension order that was issued May 10, which allowed the company to conduct business in the state "under strict guidelines." The suspension was put into place after an investigation was launched by the Secretary of State's Office into 95 signed complaints received from consumers regarding the company's alleged failure to properly transfer titles to buyers and misuse of out-of-state temporary registration permits (TRPs).
A temporary suspension order has been reinstated "for misuse of issuing out-of-state temporary registration permits and for failing to transfer titles," according to Secretary of State Spokesperson Henry Haupt. During the reinstated suspension order, Carvana isn't allowed to sell vehicles in Illinois.
"My top commitment is protecting the interests and well-being of Illinois consumers," said Illinois Secretary of State Jesse White, in a statement. "I applaud the Illinois Secretary of State Police for their ongoing efforts to protect customers. We will continue to do everything we can to ensure that every customer is properly served."
Haupt told Repairer Driven News that Carvana violated the May 26 stay by continuing to "conduct business in a manner that violates Illinois law, including:
Issuing Temporary Registration Plates of another state to Illinois residents in violation of the Stay Agreement. This is illegal.
Issuing Temporary Registration Plates without going through a licensed remitter as required by the Stay Agreement.
Failing to process title and registration paperwork through the Secretary of State upon sale of a vehicle to Illinois customers as required by Illinois law."
Vehicles that have already been purchased, but not yet delivered, can still be delivered to the buyers during the suspension, but no new vehicle sales can occur in the state during the suspension order. Haupt said the suspension will remain in place until the issues are resolved.
Consumers that are facing issues with their title and registration for a vehicle they purchased from Carvana can contact the Illinois Secretary of State Police at 630-693-0551 to file a complaint and the Secretary of State Police will provide assistance in getting the title transferred.
Carvana didn't return RDN's request for comment by the publication deadline.
This isn't the first time Carvana has lost its dealer license. CBS17 reports Carvana's North Carolina license was suspended for 180 days and was reinstated in February. The North Carolina Department of Motor Vehicles claimed that in Wake County Carvana failed to deliver titles to the department, sold a vehicle without a state inspection, and issued an out-of-state temporary registration to a buyer that purchased the vehicle in North Carolina, according to CBS17. The news outlet also found that Carvana's Charlotte license is under probation until Nov. 17, meaning it can still operate under certain regulations.
Automotive News also reports that in February Carvana "averted a suspension of its dealer license in Florida after it processed outstanding vehicle title applications before a key Jan. 31 deadline."
IMAGES
Featured image credit: jetcityimage/iStock
Share This: