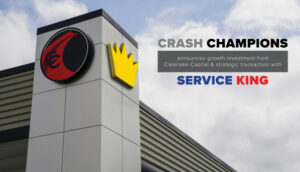 The pending merger of Crash Champions and Service King is an indication that private equity firms are attracted to the collision repair industry, and that further consolidation should be expected, according to David Roberts, the managing director of Focus Advisors.
"Expect some further combinations among the next tier of multi-regional MSOs. Expect more investment interest in the collision repair industry among private equity firms. With three multi-billion revenue firms, the probability of further consolidation continues to increase," Roberts said in his analysis of the merger released Monday.
When completed in August, the merger will create a 550-plus shop operation with more than $2 billion in annualized sales, Roberts said. The new entity will be able to compete coast-to-coast with its larger rivals Gerber and Caliber, as well as six smaller "super-regional" MSOs: Classic Collision, Joe Hudson, Collision Right, Kaizen Collision, Quality Collision, and Vive Collision. In addition, Roberts referred to "three more emerging private equity investors who have yet to reveal their first platforms."
What appeals to private equity investors about the collision repair industry at this moment, Roberts told Repairer Driven News, is cash flow.
"In good times and bad, businesses that have passed positive cash flow or attractive to large pools of capital whose primary objective is more predictable returns and lower risk," he said. "The Ubers, Airbnbs and other tech darlings who shares have plummeted over the last three months don't generate cash; they burn cash – billions of dollars of cash. Investors in these kinds of companies are not seeking stability. They are seeking hypergrowth and for much of the last decade the focus on top line revenue growth and market share gains among the tech darlings has propelled these stocks to extraordinary values.
"In markets where the wind is at one's back, these kinds of investments do extraordinarily well. But when the wind shifts as it has over the last three months and the economy slows, there is more focus on companies with more stable cash flows."
With T-bills that essentially a 0% return, he said, investors who have a large pool of cash are willing to accept relatively modest returns from more stable cash flow generating businesses, like collision repair.
Roberts described how Crash Champions was primed to make a major acquisition, relying on the help of "an aggressive financial partner," Alvaraz & Marsal Capital, and its proven ability to build "an extensive, experienced management team."
The company, under founder and CEO Matt Ebert, had assembled an "extensive pipeline of prospective acquisitions," and had for the past six months been circulating an investment memorandum, seeking a new private equity sponsor, Roberts said.
An opportunity presented itself when Clearlake Capital acquired control of Service King and sought to resolve its "deteriorating financial performance." Clearlake then "negotiated a debt conversion to new equity and an extension of other debt obligations," and injected $200 million in cash into the business.
"Crash was looking for capital to continue its rapid growth. Clearlake was looking for a partner to help manage a billion dollar investment in collision repair. The resulting merger is a combination of an additional deep pocketed capital sponsor, extensive management team, geographic penetration and scale that now rivals its two biggest competitors," Roberts said.
"Service King was in a less positive position when COVID hit than other large consolidators and MSOs," he told RDN. "Its cash flow was diminishing because of some structural and organizational issues.  And when volumes fell off dramatically for a few months, they had less capacity to bounce back."
With Crash Champions gaining a major influx of assets, and probably some cash, "total debt to capital will be much more reasonable for the combined companies," he said.
The merger gives both companies a "huge increase" in revenues and scale, and the rare opportunity in the collision repair industry to attain years' worth of growth in a single transaction.
Advantages and pitfalls
Crash Champions gets extensive entry into new markets, while both companies' footprints in overlapping territories where neither dominated are strengthened, Roberts said. "With the merger, Crash enters 12 new states and several of the fastest growing metropolitan areas around the country such as Nashville, Atlanta, Oklahoma City, Omaha, Kansas City Las Vegas, Salt Lake City Little Rock and Charlotte," he said.
Roberts predicted that the merged company would have much greater negotiating power with auto insurers, particularly at a time when capacity in many markets is under severe restraints, and length-of-repair is increasing. "In many markets, finding capacity for damaged vehicles is driving up reimbursement rates to the benefit of scaled operations with excess or repurposed capacity that can adjust to demand," he said.
"Insurance companies don't confide their negotiating strategies with Focus Advisors, but I can speculate that they have a love/hate relationship with super large providers like Crash/Service King," Roberts told RDN. "On one hand, they need providers with capacity where they can send repairable vehicles. The big Three have that capacity – along with the other large well organized super-regionals and strong local MSOs. Its far more administratively attractive for insurance companies to deal with a huge entity with performance requirements and capabilities.
"But those huge providers now have more leverage against insurance companies," he added. "They can demand more rate increases and inclusion of more procedures in their ROs. They can slow down their performance a bit as they accept higher reimbursements from smaller insurers. Lots of small opportunities to improve their financial rewards. Just not many big ones."
The ability of large multi site operators to negotiate better reimbursement rates should be of benefit to repairers everywhere, he said. "It's a rising tide that lifts all boats."
He said the increased scale should yield advantages in purchasing, "from paint to parts to consumables to sublet services," and that the integration of the back offices of both companies should bring "considerable savings and standardization."
There are potential downsides to the deal as well, Roberts said. Among them is the vulnerability of its workforce to rivals trying to address worker shortages. "Every competitor will be seeking to pry away technicians during the uncertainty of integration," he said.
Integrating so many properties at once while maintaining margins presents a big challenge, too, although Clearlake "has a strong track record of building platforms and integrating add-ons," he said.
Even though many Crash Champions executives have had experience working for Service King, he added, merging the management teams is sure to be fraught with "different operating styles, divergent histories, success and disappointments."
Is Crash Champions finished with major acquisitions? Probably not, Roberts said, although the company may take a breather as it integrates the Service King shops. "[G]iven the success of their program in the last 3 years, there is probably a substantial pipeline of commitments that will be completed. And the deep pockets of Clearlake will likely allow Crash to contemplate many, as well as larger, transactions," he said.
Regional analyses
Roberts took a look at how the merged company would be positioned in a variety of regions of the US.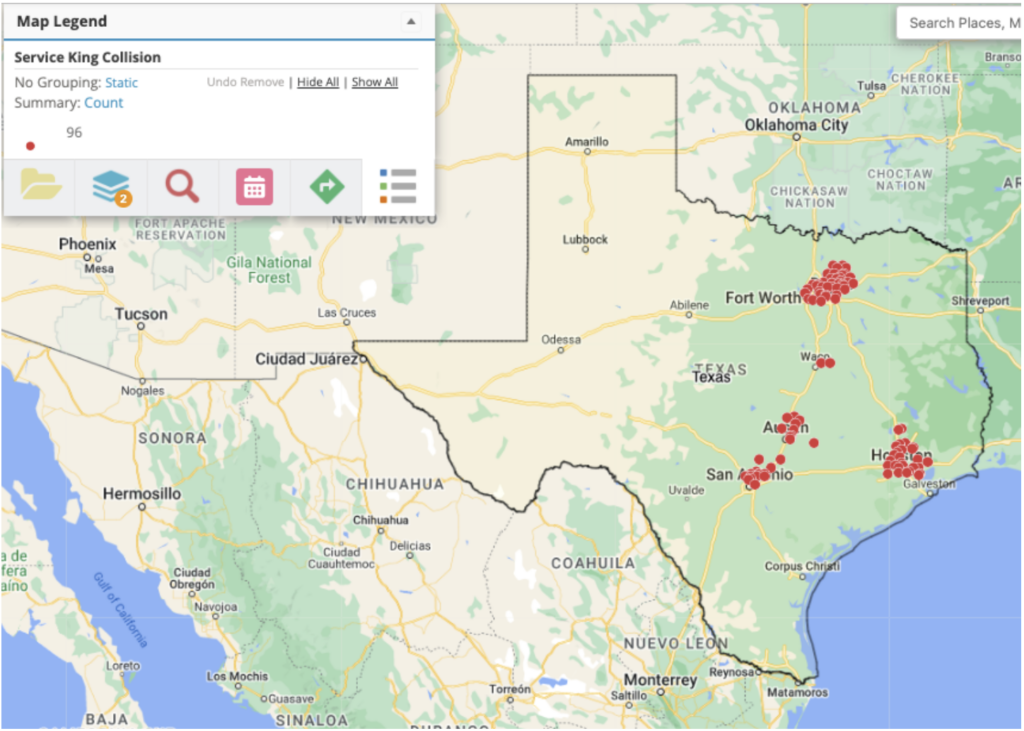 Texas: With 96 locations in a state where Caliber dominates and Gerber is a weak third player, this is the "grand prize," he said. "The original Service King locations owned by Eddie Lennox are the core operations in the best performing region for Service King."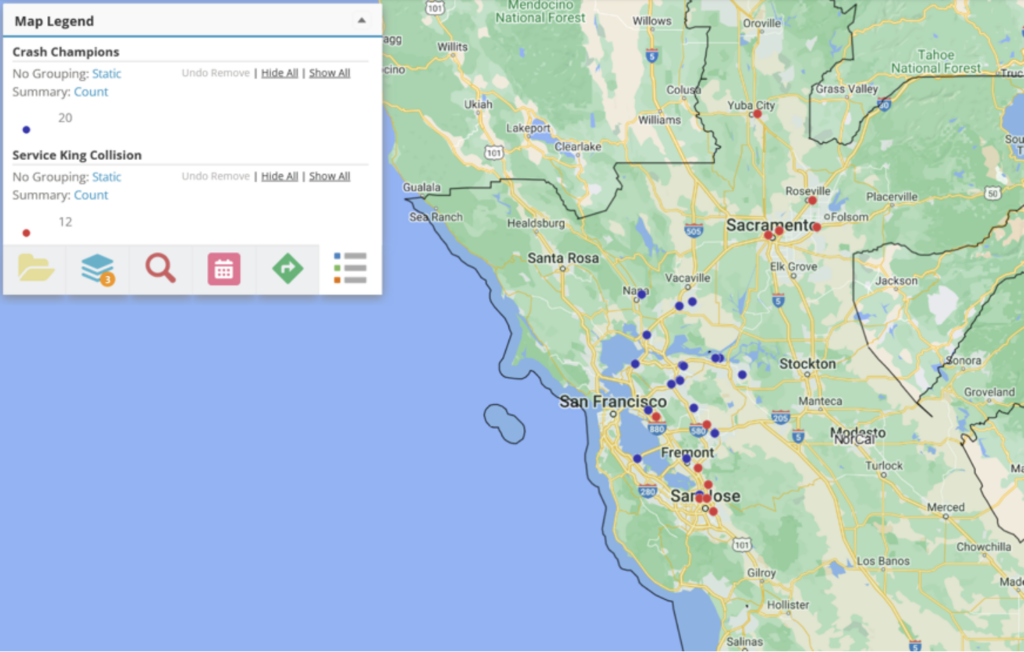 Northern California: "Crash has a very strong position in Northern California with the acquisition of Mike's Auto Body. With the addition of Service King's South Bay and Sacramento shops, it is a strong number 2 to Caliber," he said.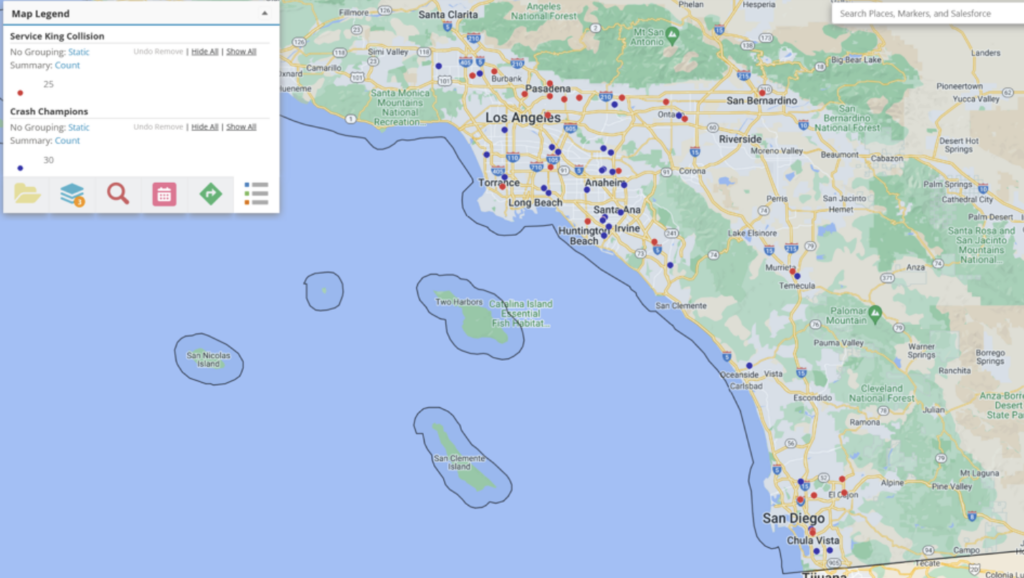 Southern California: Combining Crash Network's 30 shops with Service King's 25 gives the merged company "a stronger footprint in the nation's largest market. However, even the combination of these two still leaves them a very distant second to Caliber," Roberts said.
Florida: Having a total of 47 shops gives the company improved penetration in the market.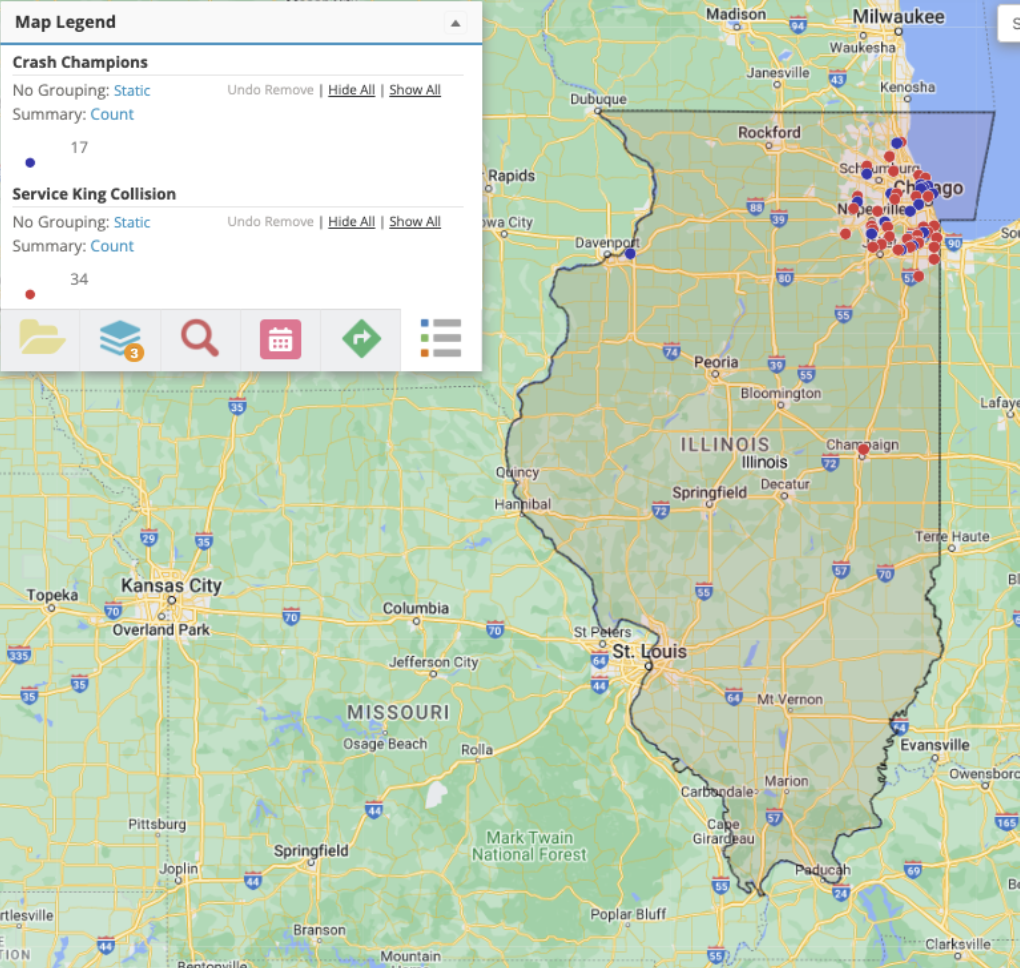 Chicagoland: The merged company becomes "one of the dominant providers in the market," Roberts said, with 51 shops.
UPDATE: Service King to merge with Crash Champions in August
Images
Featured image provided by Crash Champions
Maps provided by Focus Advisors
Share This: