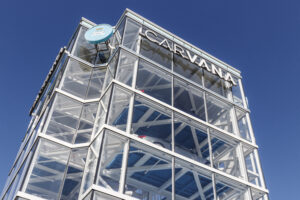 Carvana Illinois license suspension lifted 'under strict guidelines'
By on
Legal
The Illinois Secretary of State's office on Thursday implemented a stay on Carvana's temporary suspension order, which allows the company to conduct business in the state "under strict guidelines."
Carvana's dealer license was suspended by the state on May 10 after an investigation was launched by the Secretary of State's Office into 95 signed complaints received from consumers regarding the company's alleged failure to properly transfer titles to buyers and misuse of out-of-state temporary registration permits (TRPs). The investigation is still active.
Secretary of State Spokesperson Henry Haupt told Repairer Driven News on Thursday that Carvana can sell vehicles to Illinoisans during the stay but cannot issue TRPs or license plates. Instead, Carvana has to register titles through Illinois remitters, which are third-party entities that are licensed in the state to process title transactions. Doing so will ensure titles are processed expeditiously, Haupt said.
"We're pleased to report that we've resumed normal service in the State of Illinois," said Carvana spokesperson Veronica Cardenas. "Carvana delivered all previously purchased vehicles during this recent period as we discussed the situation with the State. We aim to continue demonstrating how our customer-centric business model is transforming the experiences and expectations of buyers and sellers of used cars."
As part of the stay guidelines, Carvana has to post a $250,000 bond as a guarantee they will pay any fines or fees incurred by customers that resulted from its "failure to follow the law."
"My top commitment is protecting the interests and well-being of Illinois consumers," said Illinois Secretary of State Jesse White, in a statement. "I applaud the Illinois Secretary of State Police for their ongoing efforts to protect customers. We will continue to work with Carvana in a concerted effort to ensure that every customer is properly served."
The stay is the result of Carvana bringing its title transactions into compliance with White's office, Haupt said.
"While all of the violations have not been corrected, the Secretary of State Police are working to resolve all existing complaints against Carvana," he said. "The Secretary of State's office will also continue to carefully review Carvana's paperwork, ensuring that the business stays in compliance. Secretary of State Police can reinstate the suspension order at any time. …It is important to note that this stay order is a small step forward that allows Carvana to operate on a limited capacity while the process moves forward."
IMAGES
Featured image credit: jetcityimage/iStock
Share This: