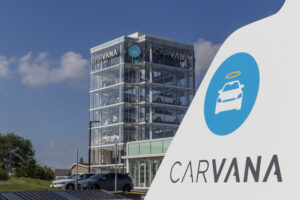 Carvana dealer license suspended in Illinois, under probation in Charlotte, NC
By on
Legal
Carvana's Illinois dealer license has been suspended by the state while the Secretary of State's Office investigates consumer complaints regarding the company's alleged failure to properly transfer titles to buyers and misuse of out-of-state temporary registration permits (TRPs).
Secretary of State spokesperson Henry Haupt told Repairer Driven News that while the temporary suspension order is in effect, Carvana isn't allowed to sell vehicles in Illinois but those that have already been purchased and not delivered can still be delivered to buyers.
"The suspension will remain in place until the issues are resolved," he said.
The Secretary of State received 95 signed complaints from consumers, which led to the investigation launch in February.
"Carvana would issue an Illinois temporary vehicle registration, and once the registration expired after 90 days, they would allegedly replace them with temporary registrations from other states," Haupt said. "This is not allowed. In Illinois, titles must be transferred within 20 days of purchase. Carvana has been at least four to six months behind in issuing titles."
This isn't the first time Carvana has lost its dealer license. CBS17 reports Carvana's North Carolina license was suspended for 180 days, beginning in August, and was reinstated in February. The North Carolina Department of Motor Vehicles claimed that in Wake County Carvana failed to deliver titles to the department, sold a vehicle without a state inspection, and issued an out-of-state temporary registration to a buyer that purchased the vehicle in North Carolina, according to CBS17. The news outlet also found that Carvana's Charlotte license is under probation until Nov. 17, meaning it can still operate under certain regulations.
When RDN asked how many consumers were affected by the alleged misuse of TRPs and/or Carvana's failure to transfer titles in Illinois, Haupt said he couldn't answer that at this time.
RDN sent a list of questions to Carvana asking if the company has received consumer complaints such as those the Secretary of State's Office confirmed and if any have to do with salvage titles or vehicles that were improperly repaired and/or not inspected for damage, such as allegations made in a Colorado arbitration case.
A spokesperson issued the following statement in response:
"Carvana has compliantly operated as a licensed dealer and good corporate citizen in the State of Illinois for several years, and we strongly disagree with the State's characterization of both the facts and the law leading to this action. We are actively working with the State to resolve this issue, and they have agreed that we will continue delivering already purchased vehicles. We look forward to resolving this issue with minimal disruption to customers."
Haupt said any Illinois consumers that have issues with their title and registration for a vehicle they purchased from Carvana can call the Illinois Secretary of State Police at 630-693-0551 to file a complaint or to get help with title transfers.
Attorney Matthew Osborne said Wednesday he has settled the arbitration case against Carvana, which he pursued because the company allegedly sold his client, Dennis J. Atencio, a crashed 2019 GMC Terrain.
Norris Schleeter of SOS Inspections, who examined the Terrain, previously told RDN, "I can safely say from the damage I'm looking at that it was a total loss [when Carvana sold it to Atencio], and remains a total loss."
In the FAQ section of its website, Carvana assures buyers that each vehicle it sells must "pass a detailed 150-point inspection process to earn our Carvana quality standard. Our cars have clean titles, no reported accidents, and no reported fire, frame, or flood damage."
IMAGES
Featured image credit: jetcityimage/iStock
Share This: