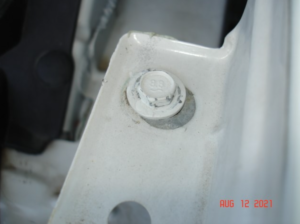 Colorado man's claim that Carvana sold him a poorly repaired vehicle heads to arbitration
By on
Announcements
A Colorado attorney is looking for documents that might help shed light on the repair of a crashed 2019 GMC Terrain his client bought from Carvana in late 2020, as he pursues an arbitration case against the online used car retailer.
Still, attorney Matthew Osborne is not optimistic that the person who carried out improper collision repairs will ever be identified.
"Whoever did the repairs didn't want anyone to know about it," Osborne said.
A two-day arbitration hearing has been scheduled for March 28 in the claim brought against Carvana by the Terrain's owner, Dennis J. Atencio. Osborne said his client is "seeking an answer that they [Carvana] committed fraud, and violated the Consumer Protection Act."
Norris Schleeter of SOS Inspections, who examined the Terrain, said, "I can safely say from the damage I'm looking at that it was a total loss [when Carvana sold it to Atencio], and remains a total loss."
"When they know a car is damaged, they have to disclose that, and they didn't do that," Osborne said.
"Owner was consulted on site during inspection about the safety issues, and told not to drive the car due to compromised crash safety and cooling system issues," SOS Inspections' report reads. "If this vehicle was involved in another similar 'slight offset' front collision it would offer almost no occupant protection, greatly increasing the possibility of personal injury, even at low speeds."
The story has overtones of the case of Matthew and Marcia Seebachan, the John Eagle plaintiffs who nearly died after the crash of their improperly repaired Honda Fit in 2013.
Carvana did not respond to a request for comment from Repairer Driven News.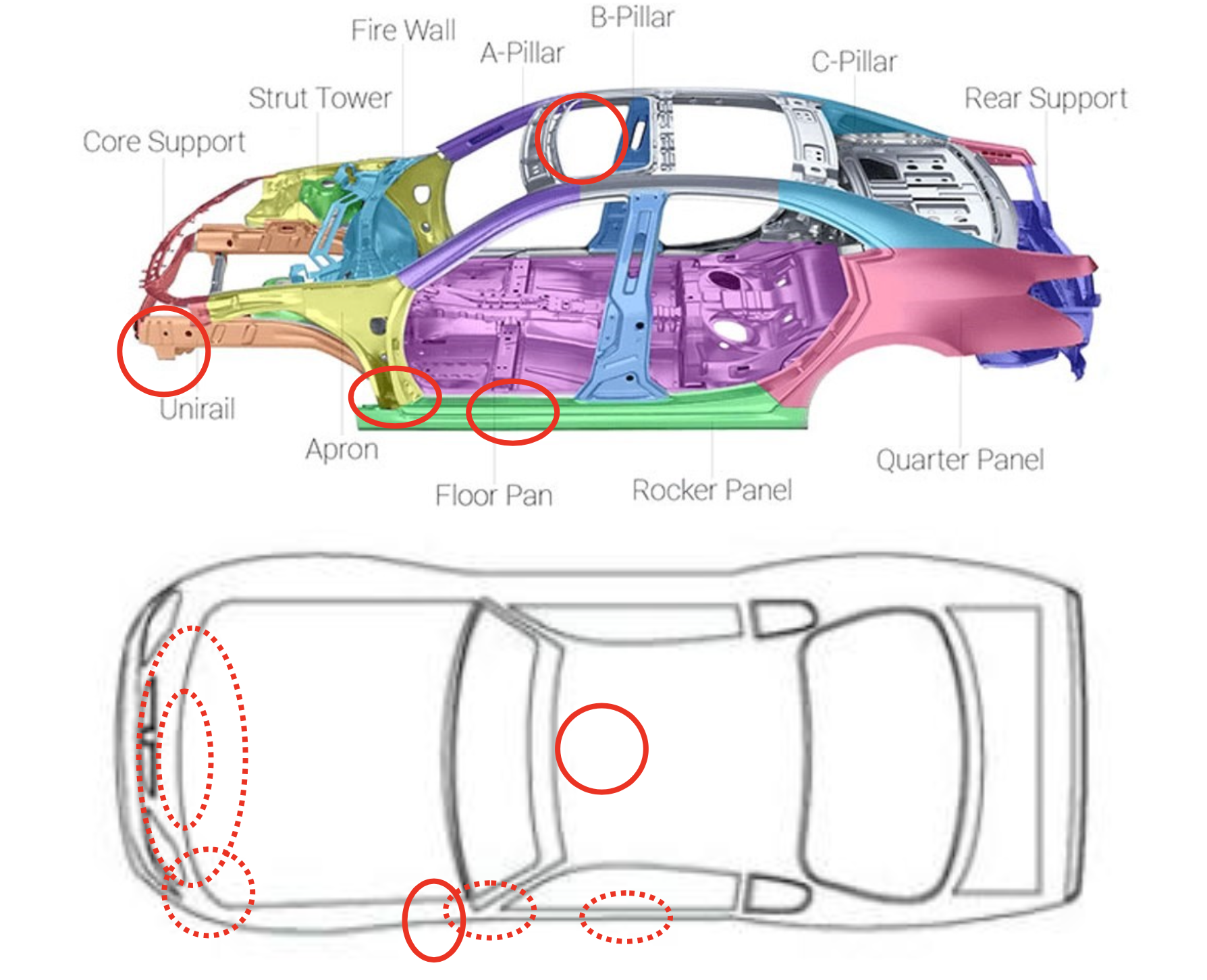 Identifying the person or shop that did the repairs isn't essential to Atencio's case, Osborne said. "For us, it doesn't really matter as long as it was wrecked before Carvana sold it to [Atencio]," he said.
An inspection of the Terrain by SOS Inspections at Osborne's recommendation showed that it had been involved in a significant front-end collision, and then inadequately repaired, Schleeter said.
The unrepaired damage includes a dent "the size of your hand" in the roof panel behind the windshield pillar, accompanied by "a crease that looks like someone hit it from underneath."
The lower left rocker panel is dented, and one of the six bolts holding the replacement lower subframe in place could not be installed because the bolt holes do not line up. Holes had been drilled in the left front fender to allow a half-inch layer of plastic filler to grip.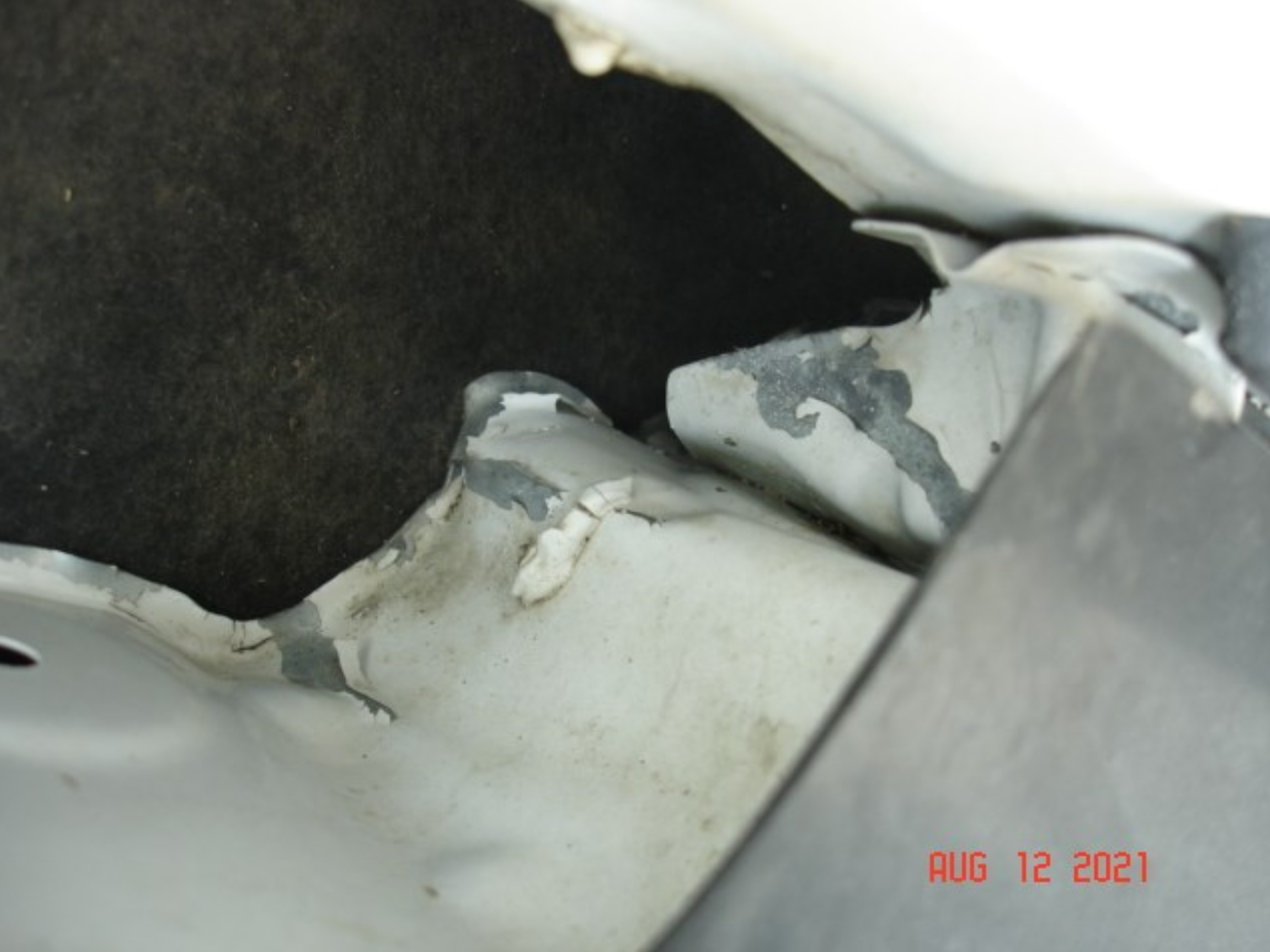 With its structure compromised to this degree, "I would think there would be a severe reduction in the safety of that car" if it were to be involved in another crash, he said.
Schleeter said that, at this point, it's not known when or where the vehicle was damaged, or who ordered the repairs done. The Terrain had been owned by the Hertz Corporation before it was sold to Atencio by Carvana on Dec. 18, 2020, and had been reported stolen at one point.
Assuming that the crash was severe enough to trigger the driver's airbag, Schleeter said he hopes to be able to have the vehicle's Event Data Recorder (EDR) scanned, to give some insights into the crash.
In the FAQ section of its website, Carvana assures buyers that each vehicle it sells must "pass a detailed 150-point inspection process to earn our Carvana quality standard. Our cars have clean titles, no reported accidents, and no reported fire, frame, or flood damage."
The company said it offers a complimentary 100-day/4,189-mile limited warranty on each car, and gives buyers seven days to return a vehicle if it does not "fit into your life."
As Osborne described it, the Terrain took a long and winding path to arrive in Atencio's driveway, acquiring a second title along the way.
It had been originally part of Hertz's rental fleet. Hertz reported the vehicle missing from the Memphis, Tennessee airport in February 2021, saying that it had been missing since May 2020.
The GMC next showed up in California, where, Osborne said, it was issued a new title by the California DMV, raising concerns similar to those detailed by Sandy Blalock's presentation on curbstoning at the most recent Collision Industry Conference (CIC) in Phoenix. The California owner sold the Terrain to Carvana, who then sold it to Atencio.
Much to Atencio's surprise, the car was repossessed from his driveway on June 23, 2021, based on the Hertz stolen-car report. It was then stolen from the company that had repossessed it, and was later discovered abandoned in a sunflower field.
"It's very embarrassing. Just the humiliation has been extremely painful," Atencio told and abc affiliate Denver7. But what might have felt embarrassing in the moment, could potentially have saved Atencio from further tragedy, had he ever been involved in a subsequent accident.
Atencio was contacted by the Denver Sheriffs Department, who told him that he could recover the vehicle for a $400 payment. At that point, Osborne said, Hertz had evidently lost interest in the vehicle.
"The most likely explanation is that it was probably wrecked when it was a rental car, and they fixed it up in-house and did a horrible job and then re-rented it," Osborne said.
Images
Featured image: The left front fender adjusted (pushed outward) to compensate for a bent chassis. (Provided by SOS Inspections)
A diagram prepared by SOS Inspections shows the areas of damage on the 2019 GMC Terrrain that Atancio bought from Carvana. (Provided by SOS Inspections)
Wrinkled sheet metal at the LF apron-to-LF fender lower edge mounting point. (Provided by SOS Inspections)
Share This: