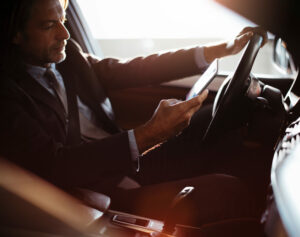 27% of survey respondents OK with texting while driving, distractions cause nearly 3K deaths a year
By on
Insurance
A recent survey of 2,000 U.S. adults shows that a third find texting while driving acceptable while nine out of 10 respondents said they would speak up if they saw a driver texting.
The online survey was commissioned by Erie Insurance and released as part of Distracted Driving Awareness Month in April.
Twenty-seven percent said they find texting while driving acceptable and 73% unacceptable. Thirty-seven percent said they don't feel it's their place to tell a driver what to do, while one in five, or 21%, said they don't say anything because they text while driving, too.
The top five reasons passengers wouldn't tell a driver to stop texting include:
I don't feel it's my place to tell the driver what to do: 37%
I wouldn't want to start an argument: 33%
It would be uncomfortable saying something: 32%
I do it, too: 21%
It doesn't bother me when someone texts while driving: 21%
I wouldn't want to offend the driver: 13%
One in five American drivers, or 20%, said they've been told by a passenger to stop texting while they were driving. Of those, 10% kept doing it anyway. Forty-seven percent stopped but did it again later when the passenger wasn't in the vehicle with them. Forty-three percent, however, stopped texting and never did it again.
"We were encouraged to see that passengers can make a difference in getting drivers to change their behavior," said Bob Buckel, Erie Insurance vice president and product manager. "The more people speak up about unsafe distracted driving behaviors like texting, the less people will do it and the safer roads will be for everyone."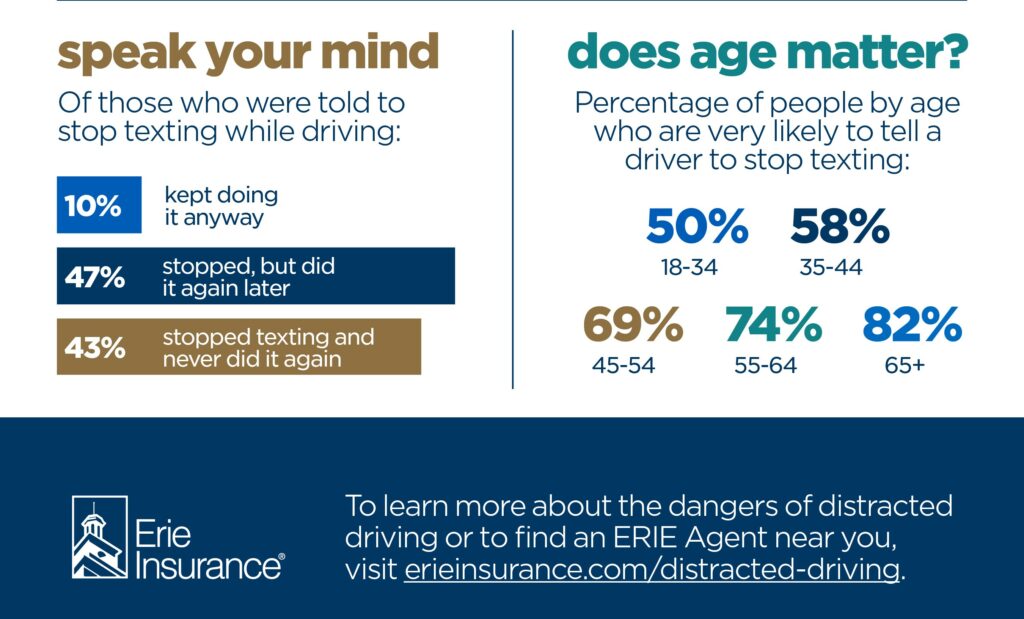 Buckel added in response to questions from RDN that Erie wanted to bring attention to texting while driving to protect their customers' lives.
"We hope the survey will spark conversations about the dangers of distracted driving and provide tips to passengers to speak up if they're in a vehicle with someone who is texting while driving," he said. "The overall goal is to make texting while driving socially unacceptable."
Erie has conducted several distracted driving surveys before, including man-on-the-street interviews about vlogging while driving. And University of South Florida psychology professor Paul Atchley said research shows hands-free isn't safe.
"It's your brain that's the problem, not touching a phone," he said. "And we know when your brain is engaged by a phone call — even a hands-free one — the risk for a car crash increases."
There are no specific laws against talking to a camera mounted on a dashboard while driving, but 24 states and Washington, D.C. prohibit using hand-held cell phones while driving and 36 states and Washington, D.C. ban all cell phone use by novice or teen drivers, according to the National Conference of State Legislatures (NCSL). Visit the Governors Highway Safety Association to learn about the laws in each state.
Another psychology professor, Stanislaw Kolek, told Erie passengers that are uncomfortable with their driver texting but don't know what to say to get them to stop could suggest driving for them while they text.
"It's a way to get them to realize that the behavior is not wanted and that you've already come up with a solution. Asking them if you can be the driver in that situation is usually a very non-antagonistic way of getting yourself out of a dangerous situation."
Eighty-seven percent of respondents said they think passengers should tell drivers to stop texting because the problem will only be solved when it becomes socially unacceptable, while 9% said passengers should not speak up because it should be up to the driver to decide for themselves whether to text while driving. Three percent said passengers should not tell drivers to stop texting while driving because there's nothing wrong with it.
Buckel said drivers can avoid distracted driving by:
Putting your phone in safe driving mode, turn off notifications and set up GPS prior to heading out for turn-by-turn directions;
Listening to a radio show or a podcast to help keep you alert and your mind will automatically tune it out when it needs to;
Carpooling with another experienced driver to share driving duties and have a second set of eyes that can spot things you might otherwise miss;
Play verbal road games such as "I Spy: to keep your mind focused on the road and defensive driving.
Avoiding distracted driving could also save you money.
"We consider all moving violations in our premium calculations, including violations such as reckless driving, improper driving, and speeding, among others," Buckel said. "And as state violations specific to distracted driving continue to evolve, we are regularly reviewing violation types to determine which ones are evidence of distracted driving and will update our rating for these violations as data suggests. We use our YourTurn Rewards program to incentivize safe driving behaviors. In order to score high enough in our YourTurn program to earn rewards, drivers need to make sure they are not using their phones while the vehicle is in motion."
According to the National Highway Traffic Safety Administration, about 3,000 people are killed in distracted driving crashes every year.
Zutobi, an online driver education resource, crunched the latest data released by the NHTSA to find out the major causes of distracted driving, in which states distracted driving results in the most fatal road accidents, and how to avoid it.
In 2020, there were 215,000 distracted driving crashes with injuries and 3,142 fatalities. For the second year in a row, New Mexico had the most distracted driving in the country. The second worst state was Kansas, followed by Louisiana, Wyoming, and Kentucky.
Cell phones can be attributed to about 13% of fatal distracted driving crashes, and about 8% of injury crashes.
Zutobi found that since 2015, the total number of distracted driving crashes resulting in an injury has bounced between 265,000 to 295,000 crashes every year.  
The most common driving distractions include:
Texting: The average text takes about five seconds to send. If you type or read a text traveling at 55 mph, you'll drive the length of a football field with your eyes off the road;
Talking with passengers or on the phone;
Eating food, which takes one or both hands off the steering wheel and gives your brain another task to keep track of;
Listening to music, audiobooks, or the radio can easily turn into a distraction if the volume is too high, or taking a hand off the wheel to flip through radio channels;
Applying makeup/doing hair;
Turning around to grab backseat items increases the possibility of swerving out of your lane; and
Using navigation devices — typing in your destination while driving is as bad as texting. Avoid this by setting up your GPS before hitting the road.
"Traffic deaths have surged in many areas," said Leo Waldenback, co-founder of Zutobi. "The major causes of road accidents are due to driver errors. For example, drunk driving fatalities have not been this high in over a decade. Distracted driving, however, shows a glimmer of hope. At Zutobi, we want everyone to be safe on the roads. Our mission is not only to prepare our users for the DMV permit test and driving test, but to prepare for a life on the roads and educate responsible drivers."
The Insurance Institute for Highway Safety (IIHS) also continues to keep an eye on distracted driving trends and data.
As a member of the National Distracted Driving Coalition, IIHS commissioned a national survey designed to guide the coalition's future educational campaigns and the efforts of other organizations.
Activities such as eating or putting on makeup can also increase the risk of a crash but mobile phones are a particularly tempting distraction, IIHS said. Phone use is now so constant that around half of 2,000 U.S. drivers surveyed by IIHS reported performing at least one device-based task on most or all drives over the past month. The problem of using apps enabled by smartphones is especially common among parents and drivers employed by app-based rideshare and delivery companies, according to an earlier analysis of the survey results.
"Overall, most drivers agreed that distracted driving increased their risk of crashing, causing a major injury or damaging their vehicle, and most agreed that being reminded by a person they care about that they might hurt or kill someone would motivate them to take steps to avoid distraction," an IIHS news release states. "Not surprisingly, however, drivers who regularly interacted with their phones while driving perceived the threat to be less severe and the barriers to giving up the practice to be greater."
Added IIHS Research Associate Aimee Cox, the lead author of the study, "Conventional, practical policy interventions that increase your chances of getting caught using your device when you shouldn't — whether that means stronger laws, increased enforcement or camera-based ticketing — definitely have a big role to play in reducing distracted driving," Cox said. "But these survey responses suggest that programs that leverage interpersonal relationships may also be effective."
Most of the surveyed drivers expressed support for "Do Not Disturb" features that do not require the driver to opt-in and that turn on automatically whenever they're in their vehicle. However, in an earlier IIHS study, 1 in 5 iPhone users reported using Apple's opt-in feature, which asks during the initial setup of the phone if the user wants it to activate automatically whenever they're driving. One reason for that low uptake may be that drivers are reluctant to use blockers that restrict functions they view as essential, IIHS said.
Vehicle manufacturers and operating system designers are already addressing that challenge with voice-activated artificial intelligence (Siri and Google Assistant), integrated controls (Apple CarPlay and Android Auto), and more robust "Do Not Disturb" features, according to IIHS.
Images
Featured image credit: Geber86/iStock
More information
Use of smartphone apps while driving prevalent, especially among gig workers, IIHS finds
Share This: