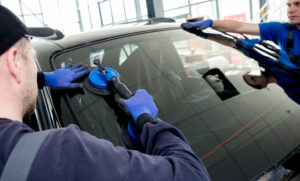 AutoBolt, a new auto glass part lookup service, has released its first annual "Auto Glass Advanced Driver Assistance System (ADAS) and Technology Report" which found that 89% of model year (MY) 2023 and newer vehicles will require calibrations following windshield replacements, up from 25% of MY 2016 vehicles.
"In general it's about 13 to 15 million windshields that are replaced every year and so once I knew I had the data on how many calibrations are required by model year, I could then cross reference that against the vehicle age distribution data that the National Household Travel Survey publishes," AutoBolt CEO Nick Dominato told RDN. "It's a billion-dollar industry — calibrations for windshield only. …It's a big number now, but it's going to grow exponentially over the years as newer vehicles come on."
Based on AutoBolt's data, there should have been 3.8 million ADAS calibrations performed in 2022 in the auto glass industry, which translates to a total addressable market for ADAS calibrations in the auto glass industry alone of $959 million.
"There are a lot of glass shops, typically near the bottom of the market or in customer pay markets, where either the shop doesn't have the equipment or the customer is paying out of pocket and is refusing to have the calibration done," Dominato said. "There's still a lot of room to grow but we don't actually have the data specifically for how often it's being missed in auto glass."
Dominato also found that it's becoming more common for OEMs to not require only static or dynamic calibrations but allow repairers the option of one or the other. That could mean potential cost savings of hundreds of thousands of dollars for shops that want to complete their own calibrations instead of subletting the service.
The cost depends on the type of calibration. Static, when done correctly, is accurate regardless of climate and road conditions because it's completed in an indoor controlled environment, whereas for a dynamic calibration, the vehicle must be driven through an environment. Opening a calibration center requires a minimum investment of $150,000 up to $250,000, according to Opus IVS ADAS Solutions Vice President Frank Terlep.
Terlep has previously said ADAS calibrations are "the biggest opportunity" for the collision repair industry in 20 years with 98% of vehicles sold in 2022 having ADAS features. Couple that with the potential for 14 million accidents and 13 million windshield replacements that call for calibrations and a lot of money can be made. At 10-12 calibrations a day, or 4,800 a year, at a cost of $300-$400, Terlep said a calibration center can make over $773,500 in profit a year.
But that doesn't come without challenges. First of all, 80% of auto and collision repair facilities don't have enough space to properly perform calibrations, according to Terlep. And there's also equipment to think about from scan and diagnostics tools to targeting and alignment systems, vehicle lifts, and more.
"With dynamic calibration, it's typically much easier to do. There's no learning curve. You don't have to set targets up with expensive equipment so it's cheap; it's easy. All you have to do is drive the car. And you don't need these crazy environmental and lighting conditions like a full tank of gas and a level floor."
However, he added, weather does play a factor because dynamic calibrations can't be completed when it's raining or snowing or in low sunlight. They also can't be done in heavy traffic.
"With static, you can do it any time… because it's indoors but you need to make a big investment in equipment, a big investment in training and you have to make a big investment in your facilities to make sure that you have the right space."
The report states that static and dynamic calibrations continue to be at parity at roughly 40% prevalence each. "But in a win for the industry, we have seen the growth of static or dynamic calibrations — which puts the choice for the calibration operator — rise in prevalence, giving the flexibility of both approaches. At the same time, we have seen dual calibration recede in prevalence."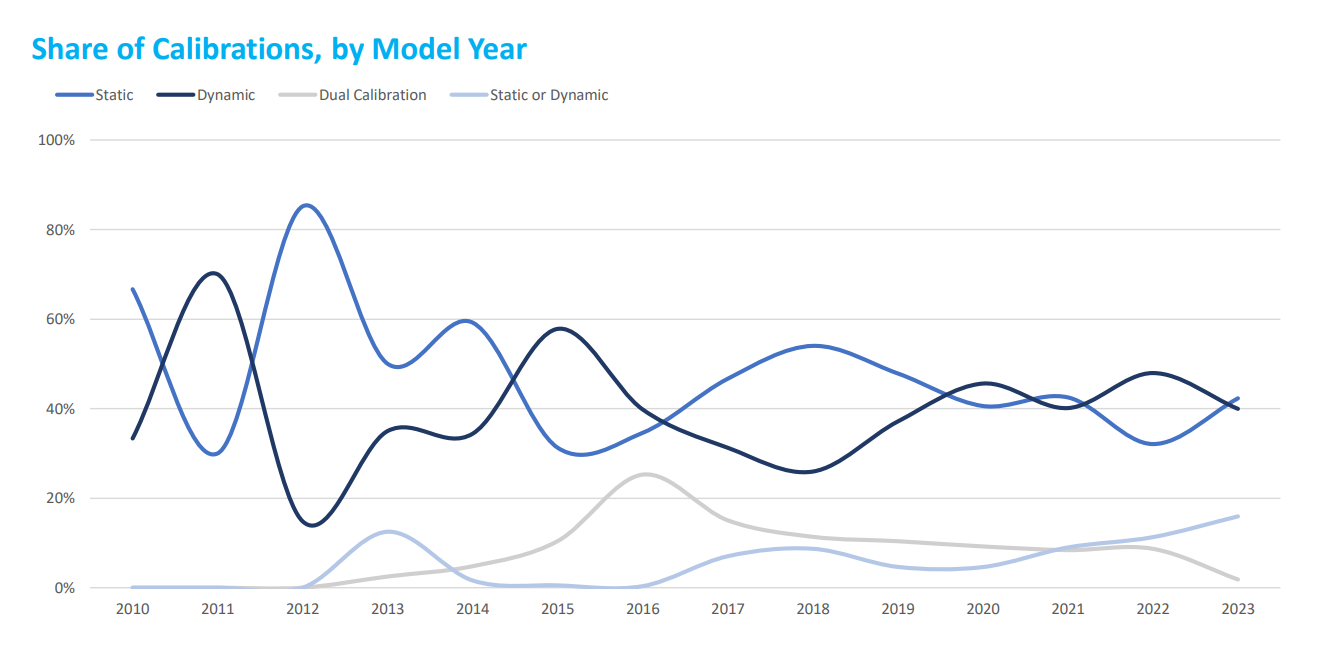 For the 2022 model year, 11 of the top 15 automakers produced over 95% of their vehicles with forward-facing cameras requiring calibrations after windshield replacement, according to AutoBolt. That's a sharp increase from just five years prior when 35% of MY 2017 vehicles on the road had forward-facing cameras that required calibration.
The U.S. lags behind in ADAS features that require calibration with Asian-manufactured vehicles requiring calibrations more than 90% of the time beginning with MY 2020. Stellantis comes in last with only 10% of its vehicles having cameras that need calibration.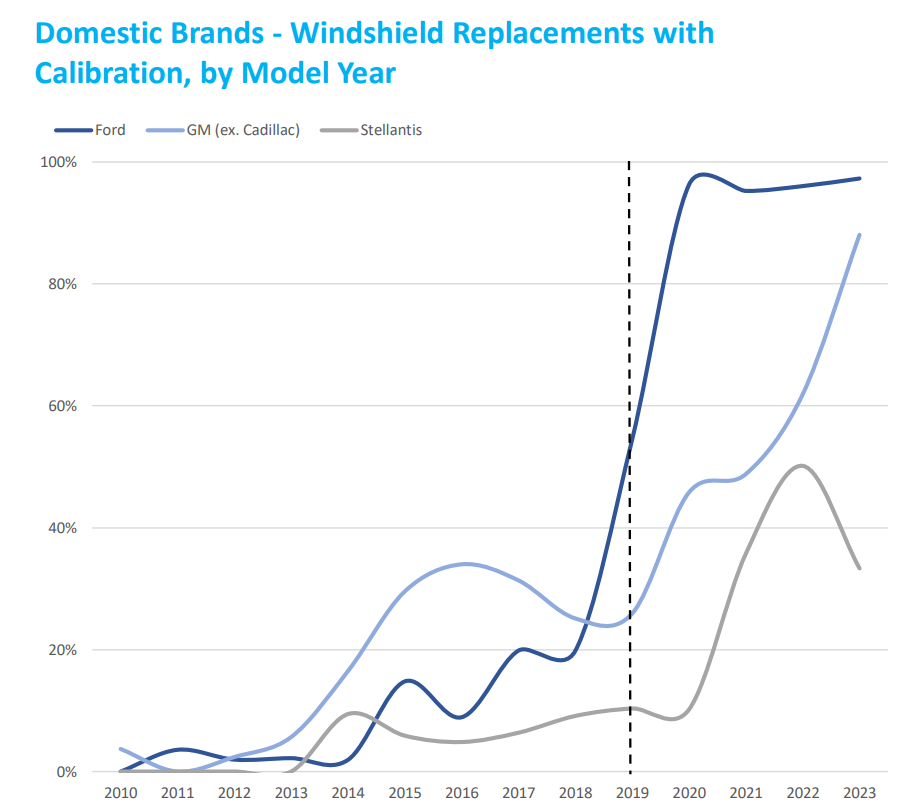 In the luxury European segment that AutoBolt surveyed, including Mercedes-Benz, Audi, BMW, and Volvo all except Mercedes produced 95% of their vehicles with forward-facing cameras in MY 2019.
A sharp uptick in windshields with ADAS, beginning in 2016, coincides with 20 automakers signing a voluntary agreement to make automatic emergency braking (AEB) standard on all light-duty cars and trucks with gross vehicle weight of 8,000 pounds or less no later than Sept. 1, 2022. Most OEMs chose forward-facing cameras installed behind vehicle windshields as the sensor for AEB, according to AutoBolt.
Calibrations of other ADAS systems, such as head-up display (HUD), night vision, or augmented reality cameras following windshield replacement remain low but are slowly growing, according to AutoBolt. Other non-ADAS technologies are becoming more common on vehicles, including acoustic features to reduce driving noise and rain sensors. Acoustic features are becoming nearly as standard as solar coating and half of all MY 2023 vehicles have rain sensors.
HUD technology also no longer belongs to luxury vehicles and can be found on a Toyota Camry.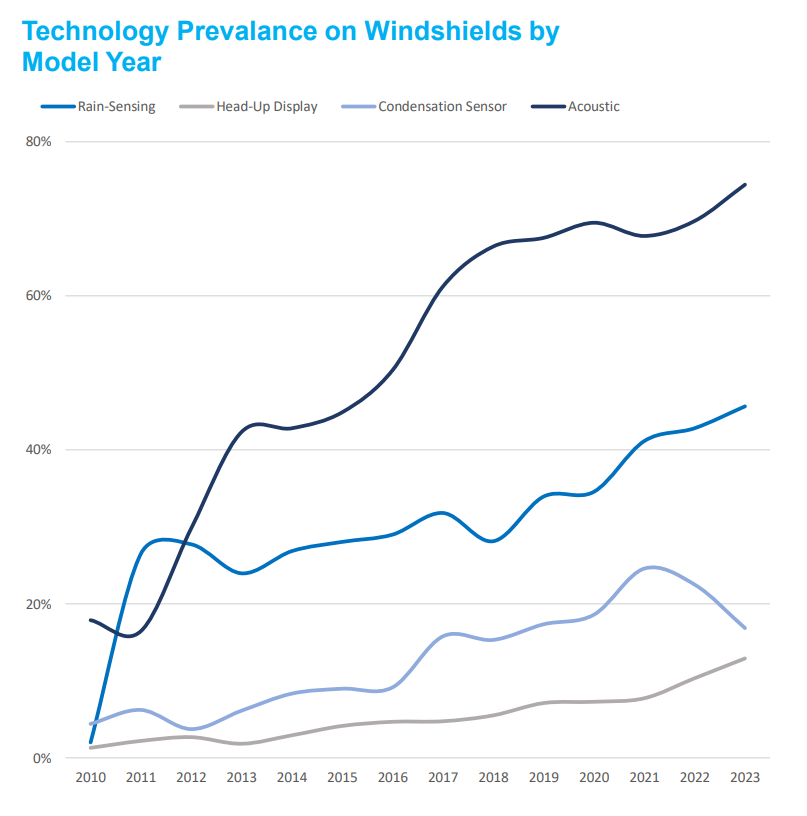 "We think we will see these features continue to become more common on windshields," Dominato wrote in the report. "At the same time, new technology will take their place as rare, high-end features, and they will slowly trickle down to the mass market. Some examples include Augmented Reality Cameras, which started on Mercedes-Benz but which can now be found on Kia and Stellantis vehicles, as well as video display rearview mirrors. A new full-width HUD system by BMW is also in the works. Expect more technology and more continued variation across windshields."
RDN asked Dominator for AutoBolt's take on position statements from OEMs, including Ford and GM, that recommend against using aftermarket glass and windshields because that could cause ADAS features to not work properly.
"Some OEMs are more sensitive than others," Dominato said. "Typically a Honda and Acura is kind of a standout where those systems are pretty sensitive. There have been a number of studies done comparing OE  and aftermarket glass. What they've found is that there's no material difference. The actual glass itself — the refraction and the reflectivity, the thickness — they're essentially for all intents and purposes identical.
"So, the notion that the glass in particular will affect the calibration of the ADAS doesn't hold a lot of water, especially when it comes to forward-facing cameras. However, what is really clear is the fact that aftermarket windshields do have a higher rate of failure on the bracket placement and that's really what causes them to be more susceptible to failures on calibration. …When the bracket placement is off substantially, oftentimes you'll see the camera will just be pointing too far out of the zone of tolerance to calibrate successfully. …aftermarket windshields are more likely to have improper bracket placement as a group."
For windshields in particular, aftermarket glass, especially lower grade material, can cause a double image on HUDs, or will appear fuzzy.
View AutoBolt's full report here.
Images
Featured image credit: romaset/iStock
All graphs taken from "Auto Glass Advanced Driver Assistance System (ADAS) and Technology Report" with permission from AutoBolt.
Share This: