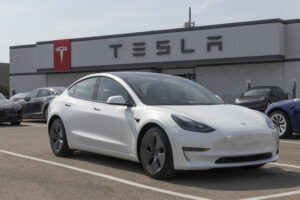 A special report from Reuters not only brought to light in detail potential privacy and business operations concerns for the collision repair industry — video recordings and photos taken by vehicles inside shops being shared — but also has led to a class action lawsuit being filed in California.
Despite Tesla's assurance to customers that their privacy is protected, including their location history and home address, former employees have said that between 2019 and 2022, groups of Tesla employees privately shared customer videos and images recorded by their cars via an internal messaging system.
The lawsuit, filed in U.S. District Court, Northern District of California on April 7, states that Tesla vehicles' cameras record as part of the advanced driver assistance system (ADAS), Autopilot, which is "integral to Tesla electric vehicles."
"Since September 2014, all Tesla cars have been shipped with sensors and software to support the Autopilot system," the complaint reads. "The system includes eight cameras to capture 360 degrees around the vehicles and, for many models, including Plaintiff's [2022] Model Y, a driver-facing camera. These cameras and the Autopilot system capture, record, and store activities taking place both within and outside Tesla vehicles."
Plaintiff Henry Yeh, of South San Francisco, filed the suit on behalf of all U.S. residents, and separately a subclass of all Californians, who at any time in the past four years to the time a class is notified have owned or leased a Tesla vehicle.
The complaint notes that, "In its Customer Privacy Notice, Tesla assures its millions of electric car owners that 'Your privacy is and will always be enormously important to us;' that the cameras in its vehicles are 'designed from the ground up to protect your privacy;' and that 'camera recordings remain anonymous and are not linked to you or your vehicle.'
"Tesla further promises its customers that it will only ever use the videos and images it collects to 'Communicate with you; Fulfill our products and services; and Improve and enhance development of our products and services.'"
Just as the Reuters report states, the complaint says Tesla employees viewed, shared, and created memes out of sensitive images recorded by Tesla vehicles, including a naked man and a child on a bike getting hit by a Tesla. Some recordings appeared to have been made when cars were parked and turned off.
"[C]ontrary to Tesla's representation that its camera recordings cannot be linked to individuals and their vehicles, the system Tesla used was, in fact, capable of— and did — show the location of recordings, meaning anyone viewing the videos and images could determine exactly where the Tesla owner lived, i.e., who the Tesla owner was," the complaint says.
"Some former Tesla employees were troubled by these practices and opined 'it was a breach of privacy.' One employee even stated that the employee 'would never buy a Tesla after seeing how they treated some of these people.' Another former Tesla [employee] said, 'I'm bothered by it because the people who buy
the car, I don't think they know that their privacy is, like, not respected… We could see them doing laundry and really intimate things. We could see their kids.'"
Both the Reuters article and the lawsuit cite David Choffnes, executive director of the Cybersecurity and Privacy Institute at Northeastern University in Boston, as stating that sharing of sensitive videos and images by Tesla employees is "morally reprehensible."
California's constitution, the U.S. Court of Appeals for the District of Columbia Circuit, the California Supreme Court, and the U.S. Supreme Court recognize the right of the public to privacy, according to the complaint. The Supreme Court "has similarly recognized the primacy of privacy rights, explaining that the Constitution operates in the shadow of a 'right to privacy older than the Bill of Rights.'"
The state's constitution allows for private legal action for constituents' invasion of privacy.
"Given Tesla's defective system for maintaining the privacy of video and images captured by Tesla cameras, the only surefire fix to Tesla's invasion of privacy is to disable the cameras," the suit states. "Thus, Tesla drivers face a dilemma: continue to have their privacy invaded, or disable their Tesla vehicle cameras.
"While it is technically possible to disable the cameras on a Tesla vehicle, doing so has a significant impact on the functionality of the vehicle's various safety and driver assistance features, including the Autopilot system. Disabling the cameras also likely voids the warranty on the Tesla vehicles. As a result, if Tesla drivers want to avoid future invasions of their privacy, the value of their Tesla vehicles would almost certainly decrease, and substantially so."
Disabling the cameras also takes professional technical expertise that the owners would have to hire someone for, the complaint adds.
The suit accuses Tesla of intrusion upon seclusion, negligence, breach of contract, negligent misrepresentation, intentional misrepresentation, and unjust enrichment and alleges violations of California's Constitutional Right to Privacy, Unfair Competition Law, and Consumer Legal Remedies Act.
Injunctive relief in the form of orders "compelling Tesla's cessation of recording, viewing, and sharing videos and images in violation of state law, and destruction of all personal data obtained in violation of state law" as well as actual, compensatory and punitive damages in an amount to be determined at trial are sought.
Images
Featured image credit: jetcityimage/iStock
Share This: