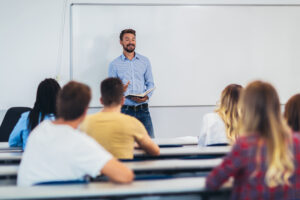 Some colleges are struggling to find instructors to teach collision repair courses
By on
Announcements | Education
The skilled worker shortage isn't just making technicians hard to come by–it's also creating a shortage of collision repair instructors.
It's a reality Laura Garcia-Moreyra, an automotive technology instructor at Northern Virginia Community College (NVCC), knows all too well.
She said the college has been trying to recruit instructors to educate students about vehicle repairs for months, with little luck.  One listing posted in January received just one external application.
Garcia-Moreyra told Repairer Driven News that the shortage is caused by a "lack of qualified techs in the field [and] pay that is less than what a top tech in the field will earn." She added the roles require a variety of office and people skills.
"All topics have vacancies, even our entry level safety class," she said, adding people are discouraged from applying because it's "too far to drive, not enough pay and [candidate's don't want to do associated administration work."
Requirements vary based on the type of instructor position an application is applying for, but one posting an auto body/collision repair instructor provided a glimpse into the type of experience and qualifications expected from candidates.
An example of classes taught for that role include:
An auto body repair course, which "teaches collision straightening procedures and use of equipment, planning repair procedures, disassembly techniques, body fastening systems, glass removal and replacement, and panel repair and alignment";
An auto paint course, which "teaches theory and application of painting and the use of painting equipment and materials including paints, thinners, primers, rubbing compounds, and cleaners"; and
An auto body welding course, where the instructor "resents the principles involved in using heat to relieve stress in shrinking metal, as well as the processes used in joining high and low strength steels. Includes oxyacetylene welding, cutting, brazing, and soldering, resistance spot welding, and MIG welding."
To qualify, candidates must have a high school diploma, at least four years of experience and be able to teach courses in auto body repair. Excellent communication, analytical and interpersonal skills are also a must, as is the ability to use instructional technology, the ad said.
An employee at Contra Costa College told RDN that the school is also struggling to find adjunct part-time help finding instructors to teach courses on topics such as automotive collision repair technology, damage report writing, painting and refinishing technology, and advanced heating and air conditioning.
The collision repair program at Contra Costa is structured around I-CAR PDP-EE curriculum, meaning instructors must have valid I-CAR certifications for the classes they're teaching, and meet a number of other job requirements.
Garcia-Moreyra said the collision repair industry can help bridge the instructor gap by encouraging techs to take on adjunct part-time help.
Doing so, she said, can be a win-win scenario for the college, its students, and the instructor.
"Techs who teach in the evenings can often find the best entry-level candidates to work in their shop and there's no administrative responsibilities," she said.
Another option NVCC is exploring is to train candidates who might be a good fit, but don't meet a role's prerequisites. She said the college is considering hiring recent graduates to return as adjunct instructors, and expanding the scope of its advertising to reach more techs.
Laura Lozano, of Contra Costa College,  said her employer has been struggling to fill instructor roles for years. Right now, they're still working to fill part-time adjunct instructor positions they began advertising last December.
Lozano, a former technician who graduated from Contra Costa College, said she has found it gratifying to train the next generation of students and encouraged others in the field to give it a try.
"There's a huge reward in working with the students," she told RDN. "There's a huge reward in contributing to the skill development that goes out into the industry."
Perks of joining the college as an instructor include opportunities for continuous training, obtaining re-certifications through the school, and having the opportunity to earn a generous wage, she added.
The automotive industry is no stranger to talent shortages, as it has grappled for decades with how to attract and retain skilled workers. A recent Techforce study found that 232,000 techs were needed in 2021 across automotive, diesel, and collision but schools were graduating only 42,000. In collision alone, the demand was 35,000 techs while only 4,500 graduated.
Images
Main image credit: Jovanmandic/istockphoto
Share This: