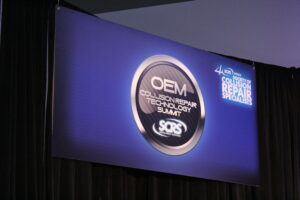 One of this year's Society of Collision Repair Specialists (SCRS) OEM Collision Repair Technology Summit sessions focused on the technician shortage, led by Carlisle and Co.'s Chad Walker and a panel of nonprofit and education industry leaders.
The sessions are offered as part of the society's annual Repairer Driven Education (RDE) agenda and are held during the SEMA Show. This year's three sessions were held on Nov. 3.
"We as an industry are finding that we are facing greater and greater difficulty in attracting and recruiting and retaining that human capital that we need to perform these safe and proper repairs," said Aaron Schulenburg, SCRS executive director. "People who have the technological savvy to be able to read and understand and apply the critical thinking that comes with those repair procedures and the skill and artistry to be able to go through the vehicle and restore it back."
Walker shared information and data from Carlisle's annual technician survey, which, on average, garners participation from 20,000-30,000 respondents, as well as TechForce Foundation's 2022 Transportation Technician Supply & Demand Report. Results from both drove home the great need for technicians.
"It's a huge issue, even on the mechanical side," Walker said. "There's a need for at least 80,000 technicians a year in the industry, especially on the mechanical side."
The Carlisle survey draws a net promoter score (NPS) for the industry — how much, if at all, technicians are recommending the profession to friends and family — based on respondents' answers, which Walker called "dire."
Using Comcast and Xfinity cable companies as examples of highly unliked providers, their NPSs are -10 to -20. The automotive repair industry is -47. "That means not only are they not promoting the career, most of them are actively telling people not to come into this," Walker said.
And not only is there a recruitment issue in the industry but there's also a retention challenge, he said, and that proves to be costly to shops. "That vacancy cost, when you do the math with the parts and the labor, it's about $39,000 that you lost from that single tech leaving you to go chase a dollar more an hour elsewhere."
That's on top of the cost of job postings and, for some, offering a sign-on bonus, he added. Not to mention the loss of productivity from being one technician short and a new tech coming on having to learn and not being as productive right away as the tech before them. All added up, for dealership automotive technicians, that's $131,000 of lost revenue when one technician leaves and $8.2 billion lost industry-wide, Walker said.
"Numbers for the collision space are going to be a little bit different," he said. "Go to the estimate, look at the loss capacity, look at the loss of productivity, look at the job posting cost, and figure out what's the magnitude of what you're losing from a cost perspective because that'll determine how much you're willing to invest in fixing the problem and just figure out how critical it is."
TechForce found in its study that 232,000 techs were needed in 2021 across automotive, diesel, and collision but schools were graduating only 42,000. In collision alone, the demand was 35,000 techs while only 4,500 graduated.
Walker said job security should also be touted by shops, and the industry as a whole, as a recruitment tool to grow the talent pool.
"There's always going to be a demand for a tech if you're a good tech," he said. "So, you will always have a job as long as you do your job. These are the things we need to be focused on with students because historically we focus on, 'Hey, you're gonna make X an hour. It'll take this long for you to get up to Y an hour.' And that used to be enough to attract some good talent. It's not enough anymore.
"They need to hear about some of the softer stuff. They need to hear that it's aspirational. …They need to hear that there's going to be a reasonable work-life. A recurring theme I hear more and more is, um, some techs, especially the younger techs, they'd rather have an extra week of vacation than another dollar or two on a flat rate wage because then they can go snowboarding or do their hobbies outside of work."
Industry perception
An important point Walker and the panel — I-CAR Planning & Industry Talent Programming Vice President Dara Goroff, TechForce Foundation Executive Director/CEO Jennifer Maher, and Collision Engineering National Program Director John Helterbrand — discussed was the need for everyone (OEMs, shops, nonprofits, schools, and insurers) to work together to change the perception of the automotive and collision repair technician roles from grease monkey to high-tech, highly skilled and trained professionals.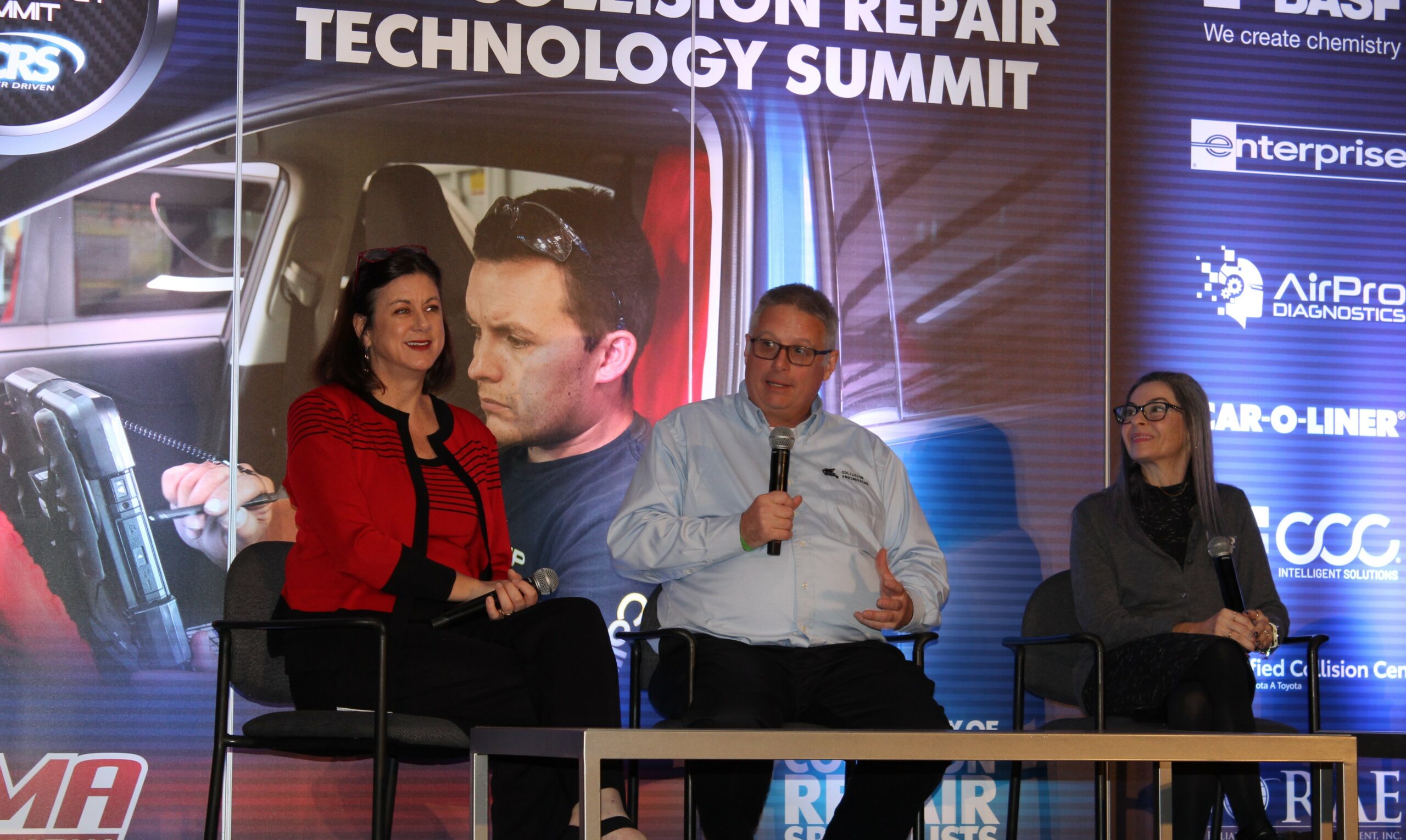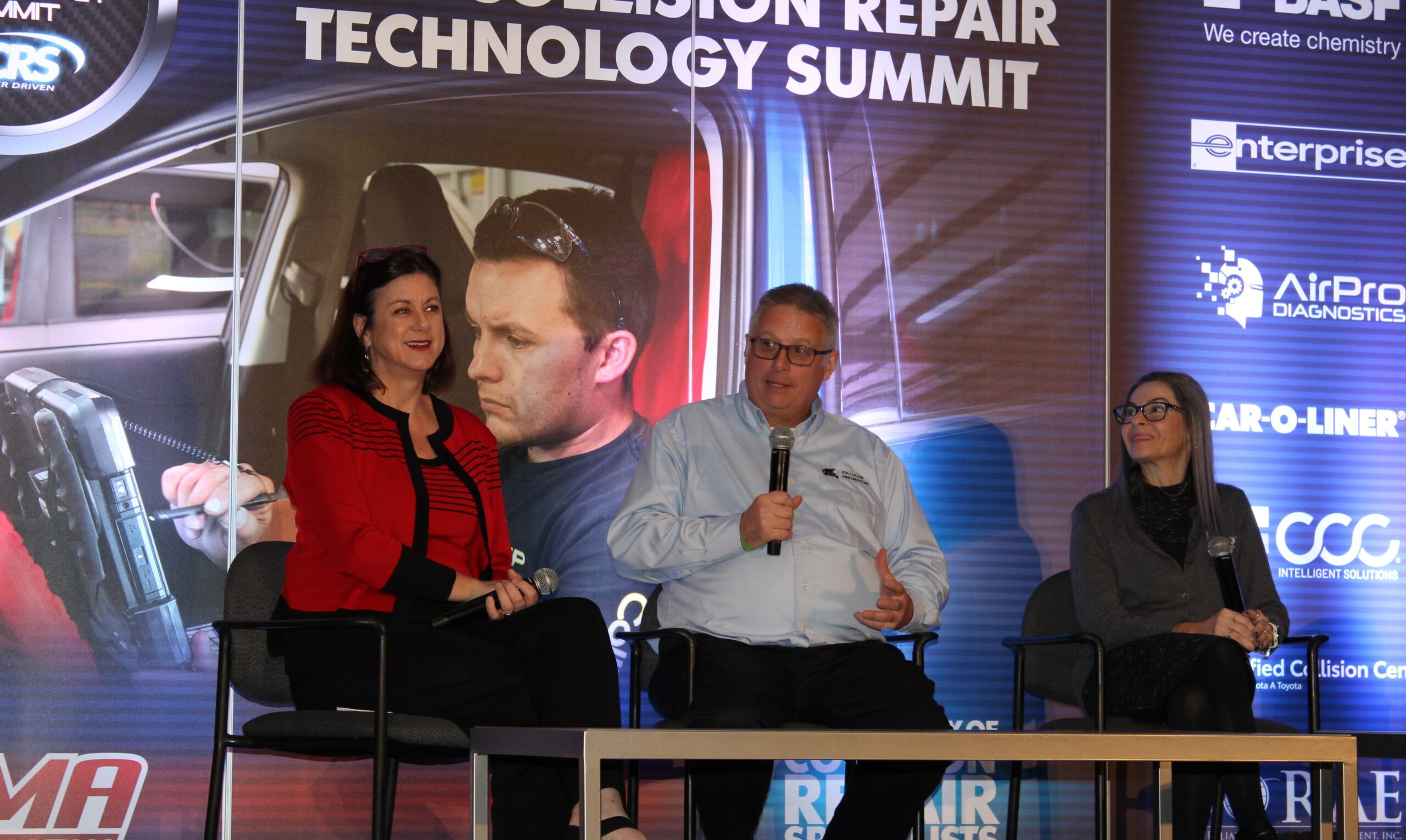 "We really have to approach both recruiting and retention. You can't just do one. It's a bit of both," Walker said. "These guys are this side of engineers. It's very sophisticated product. These things are really difficult to work on. They need a really highly skilled problem solver to work on these things. That's not what the public believes. That's not what parents believe when their kids are juniors in high school and that's a problem for us."
Maher added that getting past the stigma of what working as an automotive or body technician looks like is mostly getting past older-generation parents and counselors who have the grease monkey image in their minds. "The students will say, 'You can get me excited but get my parents and the counselors out of the way.'"
Goroff said the best way to attract and retain technicians is to have "the right curriculum in place to get them from someone who doesn't really know anything about the job they're about to do, to understanding the culture of our industry, as well as how to perform valuable, meaningful work within a shop."
Maher added it's important to know what makes the new generation, Gen Z, tick.
"I sometimes hear people say, 'Tell the kid to get rid of their phones.' No, that's not going to work for this generation," she said. "They're also the gaming generation. …How do I level up? …How will I be able to make more money? Sometimes people say they don't want to work or they're lazy. I don't see it. They just want to know how to play the game. They're excited about the rising STEM [Science, Technology, Engineering and Math]. They know these are computers on wheels. …They need more information and that's where I think the industry, we're letting them down."
Gen Z is the most socially conscious generation since World War II so they want to work for employers that know what they stand for and are involved in their communities, Maher said. "Show them you care; that you believe that they're the backbone in the industry and that they're helping to keep America rolling. I think that's your differential."
Walker noted there's competition from other industries, such as retail, to contend with including Starbucks and Amazon, which offer competitive pay and good benefits, he said.
"So you've got to find people that have the right personality, right fit; convince them what the career actually is and offer them a career that's aligned with their values so that they don't want to go to work for Starbucks or for Amazon or whatever," Walker said. "It's [about] growing the funnel."
Helterbrand said that starts with shops figuring out, if they haven't already, what their employee needs are before starting to recruit so they'll know whether the right fit for them is a brand new and green technician or someone with more experience.
"When it comes to mentoring, it's not bad to say, 'I can't do this,'" he said. "You don't need a puppy. As a mentor, I look at kids as puppies, right? We have to nurture them, show them what they need to do, help them. Some shops just need an adult dog. When I was a technician, we did not take cars we could not fix. So why would we take people in we cannot train? …Don't look at it as a failure. Look at it as an opportunity to sort of learn more about yourself and how I can change that."
Walker recommends shops have open houses and participate in career fairs for crucial face-to-face time with high school and college students and their parents and to have conversations about career opportunities as an automotive or body technician, including "a number of other horizontal and vertical opportunities for folks that enter into this career path." Examples he shared were shop foreman, master tech, working at an OEM, owning and operating a shop, or designing shop optimization software.
"…it is an exciting career opportunity for folks, especially those who don't want to go the traditional four-year path. Apprenticeship programs and school partnerships are also very critical."
Having recruiting materials to hand out is also important because parents' perception of auto and body shops is greasy, dirty, and technicians covered in oil, not that the jobs are high-paid "equally complex, equally sophisticated, if not more" to an Apple product technician, and that perception is passed on to their children, Walker said.
"We're actually more like the Apple Techs. We're fixing ADAS systems," he said. "We're diagnosing the systems with laptops at every bay. That's exciting for the younger generation. …they're good with the electronics and we really, really need that. The dynamic has changed and this, the talent that's coming in, that's very different than the talent that there was before, but it's the talent that's needed. And so we gotta understand these people. They're a little bit different. They're looking for different things, this younger generation, and we gotta amplify that and make sure it resonates with them."
Helterbrand said it's important for shops to create a career path for technicians that can be shared during recruitment. Two good examples of careers that lay out a path for students are Information Technology (IT) and nursing, he said. "They will tell you what test to take, how many years you need to be in it; all that kind of stuff. You can go online, they'll get you where you need to go. Everything is packaged for you and you are on your way."
Maher agreed and said 25 years ago many looked down on the IT industry the same way automotive and collision are looked at today but they changed the perception. "I think we can do it. …We can reframe this profession."
Maher welcomed insurers to participate and help in the discussion of recruitment with OEMs, nonprofits, schools, and shops by sharing information about the insurability of young, new technicians. She pointed out that she always tells students to keep a clean driving record or they won't be hired in the automotive or collision repair industry because they won't be trusted, or insurable, to be responsible for moving and driving customer vehicles.
"The OEMs are doing more now than they've ever done before," Helterbrand said. "They're the most open people that I've worked with in a long time because they see it when it comes to any of the other industry… they're shaking our hands and [saying], 'What can we do to help?' …but the problem is we're not fixing it."
Goroff believes the industry needs to do more to promote itself as being "a wonderful industry" to work in.
"You may enter the industry as an entry-level tech but a lot of us invest in your education and your training and in four to five years' time you could be making a six-figure salary, living comfortably, and helping to support your family," she said. "I think that all of us should be echoing and resonating that message and working together to show that your career may start in a shop and your career could go trajectory high in that shop but you'll also be meeting OEMs and insurers and suppliers through your work. We are this amazingly awesome woven spiderweb of interindustry where your career path could go from employer to employer."
Training and workplace culture
Training programs are also essential to retain employees. Those who attend one training course every year are 40% less likely to leave their job because they feel like their employers are investing in them, Walker said. Techs want to know that they're cared about and want to be part of training and mentorship programs that will help them be better professionals, earn more money, and develop their skill set. Walker recommends conducting regular departmental meetings, individual performance reviews, and providing free lunches to boost morale and to chat with techs about their needs and concerns.
Tool replacement is also an important service for shops to consider offering their techs.  The survey found that 27% of techs get frequent tool replacements and 25% receive awards for completed training or tenure.
"Please be a great employer," Maher said. "There's nothing that keeps me up at night more than thinking I'm helping to encourage kids to come into this industry and then they're getting blown out the back door. That pains me. But I also need you to help invest in growing this [talent] pond. There's just not enough. …Over the next five years, auto, collision, diesel, and aviation combined will need 1 million new entrant techs."
When technicians were asked through Carlisle's survey what makes them stay at their jobs, while pay is on the list and needs to be adequate, the No. 1 reason is shop culture of helping each other out and being known, Walker said.
"They [younger generation] want to know that they're on the cutting edge but they also wanna know that they're gonna have continuous education for the technology that comes out next," Goroff said. "I see us collaborating, talking more, sharing ideas, sharing the pain points, and looking to each other to give us the best advice on how to solve those problems."
After finding out some of his former students had left the industry, Helterbrand talked to them and discovered they were treated badly by their technician co-workers because they had a college education and assumptions were made that they didn't need any guidance when they did.
"I had 10% of my group that said, 'I hated it. I love cars, but I didn't like any of it.' …There's a lot of cancer in shops. I hate to say that. 'Why are you here, kid? You couldn't have done something else? Don't you like computers?' There is so much negativity. We had to find that mentor that was gonna be [like],' Hey, don't listen to him. He's got problems at home.' …It ain't always the older ones. Sometimes it's the ones that are closer to your age."
And sometimes, Maher added, the best mentors are the younger technicians who just recently learned the ropes and how to work out common problems because more experienced techs may not be able to best explain step-by-step processes in detail because they've been used to doing it for so long.
"They've seen something so many times that they leap straight into it. But the guy who learns something, or the gal who learned something, one year before and just figured out how to do it on their own might be the very best mentor you have and the person who can relate to your new employee the best."
Automotive industry educators, Helterbrand said, have to adjust what they teach to how the industry changes. "Industry changes almost every six months. If we don't have educators that want to take that, then we're in trouble."
And when that training is received, technicians wanted to be recognized for it, Goroff said.
"They take great pride when they learn something new," she said. "They want to be recognized for learning something new; giving them kudos when they show back up after training whether that training is live, online, or a virtual session, and allowing them to talk about it, to teach others, to encourage others about the training they took. I find that that gives them a sense of confidence but also makes them feel really excited about their employer because the employer invested in them."
Walker noted something else lacking in the industry — diversity. "We've allowed this to become a male-dominated industry and basically cut off half of the population that's available as potential technicians, who could be good technicians. We need to do more in that space to make it more welcoming for women who want to potentially go work in the technician workforce. …The more diversity you get, the more experiences you get, the better quality work you're gonna do."
Images
Featured image credit: Lurah Lowery/Repairer Driven News)
TechForce Foundation Executive Director/CEO Jennifer Maher, Collision Engineering National Program Director John Helterbrand, and I-CAR Planning & Industry Talent Programming Vice President Dara Goroff discuss the industry's technician shortage during an SCRS OEM Collision Repair Technology Summit session on Nov. 3, 2022. (Credit: Lurah Lowery/Repairer Driven News)
Share This: