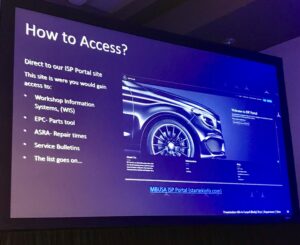 OEMs are committed to providing access to their documented repair procedures, and are continually making improvements to their platforms in the interest of promoting quality repair of their products, representatives of three OEMs told an audience during a Society of Collision Repair Specialists (SCRS) presentation last week.
During the OEM Summit session, Mark Allen, Collision Programs Manager at Audi of America; Benito Cid, Collision Business Development Manager at Mercedes-Benz USA; and Kevin Earlywine, Instructor – Collision Repair & Refinish at Toyota Motor North America, presented detailed walk-throughs of their information platforms, and strongly encouraged repairers to use them.
Wayne Weikel, senior director of the Alliance for Automotive Innovation, provided the industry-level view of the issue, while Amber Alley, general manager at Barsotti's Body & Fender, offered an end user's perspectives on accessing information.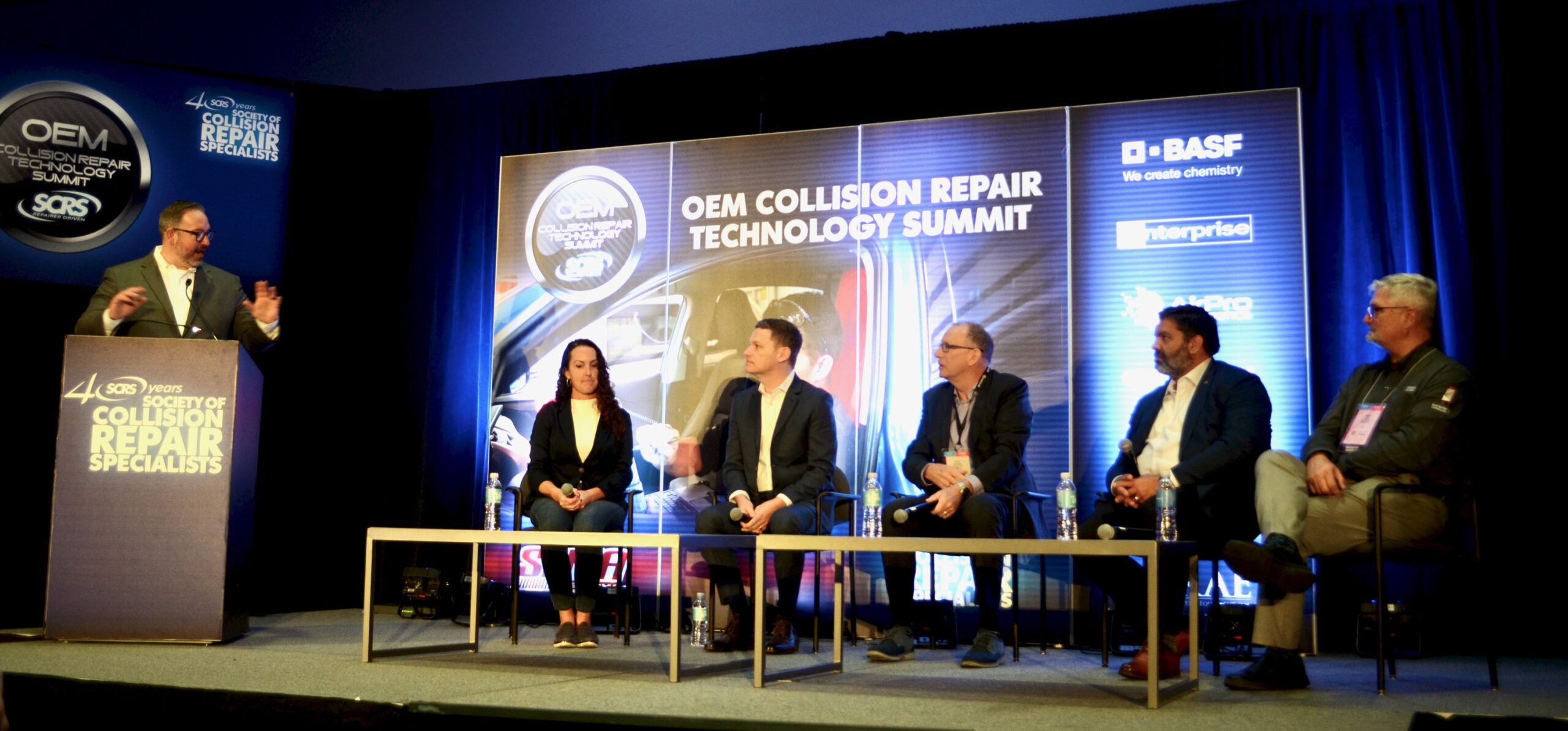 "There's been a lot of conversation, there's been a lot of articles, there's been a lot of industry conversation around whether or not repair facilities are able to access the information that they need to repair the vehicle," moderator Aaron Schulenburg, executive director of SCRS, said in introducing the panel. "And there's a difference between being able to access [the OEM procedures], choosing to access them, or not accessing them at all. We want to make sure that there is no one within the industry who doesn't understand how to get to the information that is available to them, and that they understand what information is out there."
Contrary to claims that OEs do not share repair procedures, Allen said, "We want you to repair our cars. And if you look at our collision repair networks, most of them are made up of independent repairers, not our dealers. So we have to share to get the cars repaired."
Allen noted that the auto industry has made it easy to find OE repair procedures, through the creation of OEM1Stop.com, where there are links to 39 automakers' information portals. Accessing information "is not that hard. It's out there," he said.
Cid emphasized that, while OEMs are working to make the task as easy as possible, it's the responsibility of shops to make sure that they have the current OEM information for every vehicle they work on.
"I think the consistent message from all OEMs whether they're here or not is, the information's available. You just need to find out how to get to it," Cid said.
"Systems are not all the same. They're going to be different. You'll have to obviously make the decisions on what you need from them and how much you want to learn from each of them to be able to use them," he continued. "But knowing how to use them and understanding how to use them is very different than, 'They're not available,' and 'I don't get paid to search for them.' That's not the conversation we need to be having. If you have the car in the shop, you need to have the procedures for doing the repair that you're doing."
He encouraged repairers to fully explore the OEMs' sites. "You'll be amazed at how much detail is in the repair information. And some things you wouldn't even think of — I mean, we're starting on some parts …to give the dimensions of the part, the hardness of the material, what it's made out of, the weight of it."
Earlywine offered his perspective on why repairers need to make a conscious decision to access and follow OEM procedures every time. "When we bring a customer in, essentially we're bringing that customer into our family. We want to protect them — ultimately, they're our priority.
"So why consult those procedures? We want to ensure … that vehicle is going to function properly in a subsequent accident, [and] is going to provide that customer, that family member, with safety, quality, and satisfaction, and excellent ownership experience," he said.
The procedures should be consulted by "everyone who touches the vehicle," Earlywine said.
"Collision repair refinish technicians — you may say, 'Why do they need to access that information?' Think about the blind spot monitor that's located behind the rear bumper. That rear bumper needs to be refinished properly in that radar reading range. Otherwise, that blind spot monitor may not function properly. Nowadays, we're not looking over our shoulders anymore. We're dependent on that little light in the mirror that is going to function, that is going to provide us with safety. So, these are serious safety issues that we're talking about."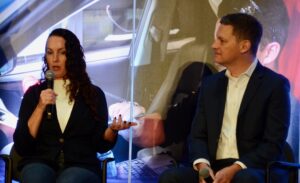 Weikel said he does not hear from collision repairers that the information is difficult to find. Rather, for shops, "the biggest problem is actually getting paid to use those repair procedures. I hear it all the time — 'Am I going to get paid?' 'How will we document it?' So, those are problems out there in the space."
He encouraged those in attendance to spread the word about OEM1Stop.com, and the general availability of OEM repair procedures. "The people who need to hear this are not the people in this room …we've got to find a way to reach everyone else," he said.
Alley, whose shop holds more than 25 OEM certifications, identified "technician hesitation" as an impediment to accessing OEM procedures every time. For instance, she said, a technician might not know that a molding that had been held on with clips is now attached with glue, and might break the molding in trying to remove it.
Another issue, she said, is getting reimbursed by insurers for the total cost of accessing all the information needed by the various technicians, which could take a number of hours in total. "I may go in and spend the 15 minutes" finding a procedure, she said, "where the facts are they should be spending four hours."
"Those two are challenges that I struggle with, and I would guess most of the industry struggles with," Alley said.
Schulenburg suggested that some shops' "bad habits" in not accessing OEM procedures every time, for whatever reason, "set the lowest common denominator that the higher operators are compared against. We need to work to move the industry, move the needle and lift the industry up."
Following are some of the details the panelists offered on their information portals.
Toyota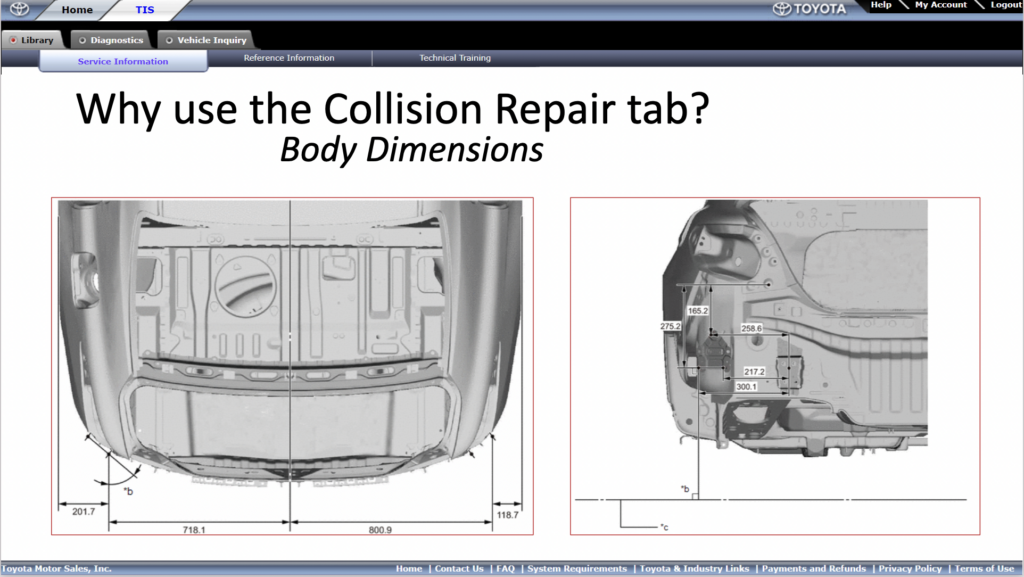 Toyota's Technical Information System (TIS) can be found at techinfo.toyota.com, or through OEM1Stop.com. "What can you find there? Everything that you need in order to return that repair for that family member, or that customer, and put them back into a quality and safe repair.
"The metallurgy of the panel, your replacement specifications, your dimensioning information, all of your calibration information, everything that you need to basically do a good quality and proper repair on that vehicle," Earlywine said.
For those with active subscriptions, accessing the information is as simple as entering a username and password. For those who don't have an account, subscriptions are available for as little as two days, and as long as a year.
The home page offers repairers a place to save "favorites," so that they can save all the procedures for a job they may be doing more than once. Tech tips, service bulletins, and messages are also available from the home page, he said.
Repair manuals available through TIS are "where you're going to find everything that you need to do any R&R or disassembly procedures, everything that's attached to the vehicle. Suspension, drivetrain, A/C, SRS airbag modules, doors, fenders, hoods, all that. You're going to get all those procedures in your RM tab. All your calibration information — it's all located there."
Most repairers will spend the majority of their time at the Collision Repair tab, Earlywine said. This section has detailed instructions on weld types, weld locations, cut and join locations, and adhesive requirements, if any, for all panels, as well as dimensioning information, and information about corrosion protection.
"So, essentially you're getting all the information so you can checkbox the safety component, the durability component, and the cosmetic component of that repair that you're going to perform," he said.
Mercedes-Benz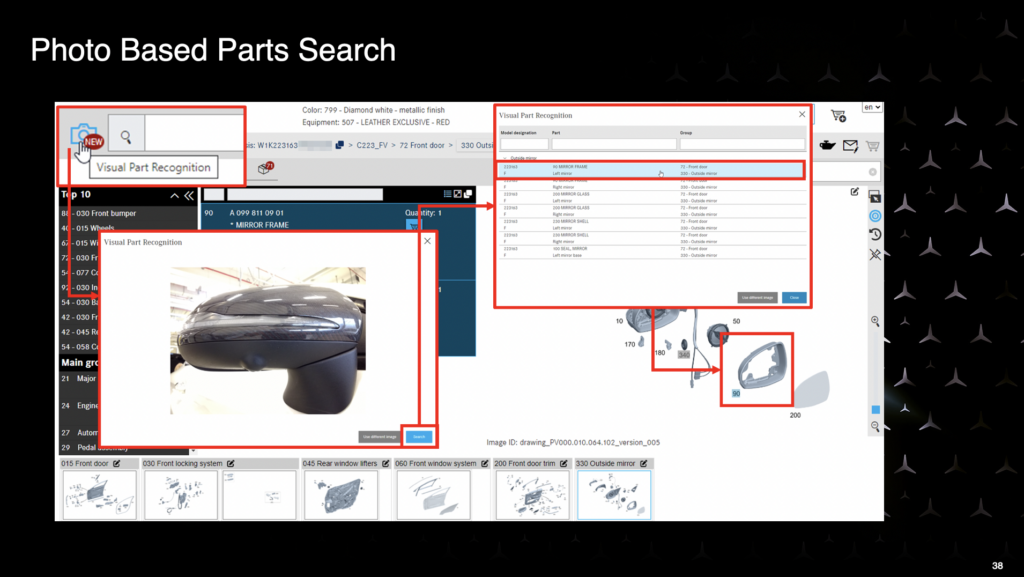 Through its Independent Service Provider (ISP) portal, Mercedes-Benz makes available the very same information that's offered through its dealer system. A shop can subscribe for as little as a day, Cid said, or as long as a year.
"In the grand scheme of things, it's a relatively inexpensive thing to do, especially if it's a one-off — the kind of thing you need the access for a day or a week." The homepage offers an option for setting up an account, as well as a way to add technicians who need access, each of whom will receive their own password.
The OEM's Workshop Information System (WIS) has been made "much more user-friendly for somebody who doesn't have a lot of experience getting on there and finding information. It's a lot better at finding keywords, doing keyword searches and things like that," Cid said.
He said WIS now has better, more direct links from the parts catalog to the actual repair procedures. From looking at a part in the catalog, a user can click on a button and be directed to all of the potential procedures that might involve that part. "So, within two clicks from the parts catalog, you are actually at the main document," which includes all of the tools, equipment, and supplies needed to make a repair, he said.
It's important for a repairer to access all of the information needed for a repair, Cid added. "Finding part of the information is better than nothing, but not much better than nothing," he said.
Another improvement is a photo parts search. "You're able to take a picture of a part …upload it to a computer and search the parts catalog, and it will give you the exploded diagram for that part," he said. The technology is not yet "100% mobile friendly," he said, "but that's kind of the direction we're going."
Audi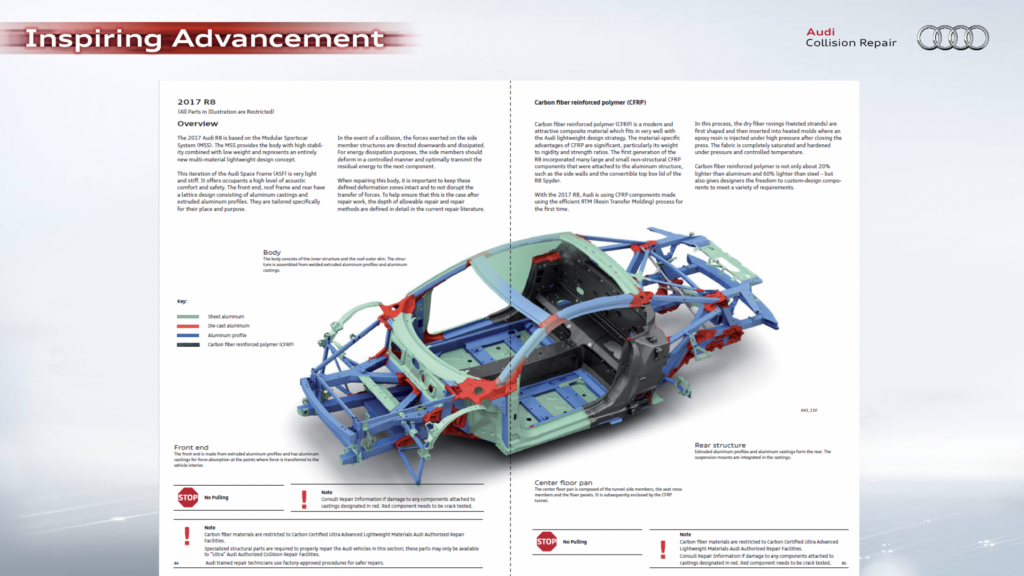 Through its erWin portal, Audi offers repairers the option of subscriptions lasting a day, a week, a month, or a year, Allen said, depending on a shop's need. Setting up an account is as simple as entering a credit card number, he said.
Once registered, a shop has various ways to find information, Allen said. "I can go in by a VIN search, which we always suggest as being the best, or I can go with my year model, and then if there are sub-models."
The repair procedures include such areas as body interior and exterior, chassis, and structure. "When I get into the structure I can look at section points. It'll tell you do we have to glue, or do we need to fasten? It gives you all the forms of attachment," Allen said.
"Because we're part of Volkswagen Group and we're Audi, we also call out the tools and equipment that you need to do the repair. And it's very critical and the reason we do is that's the tools and equipment that we used when we crash-tested the car, rebuilt it, and then validated the crash-tested repair procedures."
In just 15 minutes, Allen said, a technician can access all of the information needed to carry out a safe and proper repair. "Fifteen minutes to go in, look at the repair procedures, all the equipment that you need, have it there already, start the job. What did I just sell you? Nothing. I gave you efficiency. Because your technician has that understanding of what they need."
Audi also provides answers to questions about which structural components can be repaired, and which cannot. "We give you the body structures. You can go in and see high strength, advanced high strength, ultra-advanced high strength aluminum, magnesium," Allen said. "We put warnings in there. See the little areas that say stop, do not pull? Stop, replace only? It becomes pretty darn clear. And it's available if you just do a little bit of research."
Images
Featured image: A detail from the Mercedes-Benz Independent Service Provider [ISP] portal. (Dave LaChance/Repairer Driven News)
Moderator Aaron Schulenburg, executive director of SCRS, is joined on stage by, from left, Amber Alley, general manager at Barsotti's Body & Fender; Wayne Weikel, senior director of the Alliance for Automotive Innovation; Kevin Earlywine, Instructor – Collision Repair & Refinish at Toyota Motor North America; Benito Cid, Collision Business Development Manager at Mercedes-Benz USA; and Mark Allen, Collision Programs Manager at Audi of America. (Dave LaChance/Repairer Driven News)
Amber Alley, general manager at Barsotti's Body & Fender, speaks during the OEM Summit session as Wayne Weikel, senior director of the Alliance for Automotive Innovation, listens. (Dave LaChance/Repairer Driven News)
Share This: