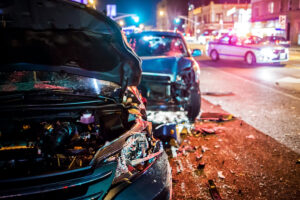 Fatal traffic collisions decreased slightly last year, according to the National Highway Traffic Safety Administration's (NHSTA) statistical projections.
Early estimates indicate 42,795 people died in traffic accidents last year, representing a 0.3% decrease from 2021 when 42,939 people were killed, NHSTA said in a new report.
Its data shows that fatalities dropped during Q4 2022, making it the third consecutive quarter where traffic fatalities have decreased.
However, Transportation Secretary Pete Buttigieg said there's still more work to be done to drive figures down further.
"We continue to face a national crisis of traffic deaths on our roadways, and everyone has a role to play in reversing the rise that we experienced in recent years," Buttigieg said in a press release. "Through our National Roadway Safety Strategy, we're strengthening traffic safety across the country, and working toward a day when these preventable tragedies are a thing of the past." 
Last year's figures are an improvement from the death toll in 2021, which represented the largest number of fatalities since 2015.
Although NHSTA has not finalized its analysis of last year's crashes, it did release a breakdown of 2021's traffic trends earlier this month.
Its research from 2020 to 2021 found three behavioral factors contributed to the year-over-year rise: speeding, impaired driving, and failure to wear a seatbelt.
Speeding-related fatalities increased by 7.9% from 2020 to 2021, while impaired driving deaths rose by 14% during the same period. 
Worse yet, there were 2,028 cases in 2021 that involved speeding, impaired driving, and unrestrained occupants, NHSTA said.
Other key findings include that:
"Fatalities and people injured increased in most categories;"

"Urban fatalities increased by 14 percent; rural fatalities increased by 4.7 percent;"

"Female fatalities increased by 12 percent, and male fatalities increased by 9.2 percent;"

"Nighttime fatalities increased by 11 percent; daytime traffic fatalities increased by 9.7 percent," and

"Forty-three States, the District of Columbia, and Puerto Rico had increases in the number of fatalities."
NHSTA has also highlighted the role distracted driving is playing in collisions, noting that fatalities in distracted driving cases increased from 12% from 2020 to 2021. In 2021, distracted driving played a role in 3,522 traffic fatalities; in 2020, it contributed to 3,145 deaths.
While handheld devices are contributing to more dangerous roadways, technology is in other areas helping make them safer. One tool, for instance, could reduce drunk driving crashes by requiring drivers to take a breathalyzer test before taking the wheel. Right now, the Insurance Institute for Highway Safety (IIHS) is calling on the government to move forward "without delay" on a law that requires all new cars to be equipped with such technology.
David Zuby, IIHS' executive director, called technology the "ultimate solution" for preventing impaired driving collisions.
"Making roads safer often involves doing a lot of little things. There's no single reason crashes occur and no single way to protect people from death and injury. When we discuss a given solution — whether it's in the realm of vehicle technology, road design or enforcement — we are usually talking about shaving off a few hundred fatalities from the annual toll at best," Zuby said in an opinion piece published last week.
"But recent action by Congress opens the door to something much bigger. If we seize this opportunity, we could put an end to one of the most persistent highway safety problems — impaired driving — and prevent more than 9,000 deaths a year."
Meantime, the Federal Communications Commission (FCC) has approved a joint application that will allow for the use of cellular vehicle-to-everything (C-V2X) technology to reduce collisions.
It allows applicants — including Ford, Jaguar Land Rover, and Audi — to use the technology in a spectrum of the 5.9 GHz band, which allows automobiles to communicate with each other, pedestrians, and nearby infrastructure. None of the automakers replied to Repairer Driven News' queries seeking insight on when they plan to begin deploying the technology.
Proponents have hailed V2X as a game changing, lifesaving technology.
"The best way to reduce the incomprehensible and unacceptable death toll on U.S. roads — nearly 43,000 lives lost last year alone — is to prevent crashes before they occur," said Jennifer Homendy, chair of the National Transportation Safety Board. "That's why, for nearly three decades, the NTSB has advocated for collision-avoidance and connected-vehicle technologies that rely on radio spectrum made available by the FCC."
IMAGES
Featured image credit: GummyBone/iStock
Share This: