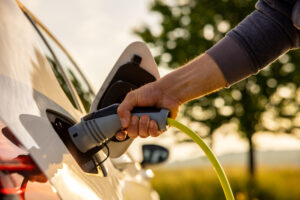 Ford electric vehicle (EV) owners will soon have access to a network of more than 12,000 Tesla superchargers throughout the U.S. and Canada under an agreement between the two automakers.
Next spring, Mustang Mach-E, F-150 Lightning and E-Transit models will be able to connect with the chargers through an adapter and software integration. Beginning in 2025, Ford said its next-generation EVs will eliminate the need for an adapter.
The Superchargers are in addition to more than 10,000 DC fast-chargers already part of Ford's BlueOval network, the OEM said.
"This is great news for our customers who will have unprecedented access to the largest network of fast-chargers in the U.S. and Canada," said Jim Farley, Ford president and CEO. 
"Widespread access to fast-charging is absolutely vital to our growth as an EV brand, and this breakthrough agreement comes as we are ramping up production of our popular Mustang Mach-E and F-150 Lightning, and preparing to launch a series of next-generation EVs starting in 2025."
Ford is among the automakers, as well as various levels of government, working to expand EV infrastructure to meet growing demand.
President Joe Biden's Bipartisan Infrastructure Law included $7.5 billion for charging infrastructure. However, supporters of vehicle electrification point to the more than 140,000 EV charging stations currently deployed across the United States – including Level 2 AC and Level 3 DC fast chargers and both public and restricted access units – as a sign that a budding system to support our transportation transformation is in place.
Meanwhile, S&P Global Mobility data shows that the charging infrastructure is not nearly robust enough to fully support a maturing electric vehicle market. Even when home charging is taken into account, to properly match forecasted sales demand, the U.S. will need to see the number of EV chargers quadruple between 2022 and 2025, and grow more than eight-fold by 2030, S&P says.
There are about 126,500 Level 2 and 20,431 Level 3 charging stations in the U.S. plus 16,822 Tesla Superchargers and Tesla destination chargers, according to S&P estimates. 
The number of chargers grew more in 2022 than in the preceding three years combined, with about 54,000 Level 2 and 10,000 Level 3 chargers added.
"The transition to a vehicle market dominated with electric vehicles will take years to fully develop, but it has begun," S&P Global Mobility analyst Ian McIlravey said earlier this year. "With the transition comes a need to evolve the public vehicle charging network, and today's charging infrastructure is insufficient to support a drastic increase in the number of EVs in operation."
Rebecca Tinucci, Tesla's senior director of charging infrastructure, said Tesla has been working for the past 10 years to build its "industry-leading" charging network.
"We're excited to deliver on our mission to accelerate the world's transition to sustainable energy by welcoming Ford owners, and other electric vehicles who adopt NACS, to our thousands of Superchargers across North America," she said.
Ford's BlueOval Charge Network is North America's largest public charging network, encompassing about 84,000 chargers. Its dealers plan to add about 1,800 public fast chargers to the network by next year.
Images
Main image: Simon Skafar/iStock
Share This: