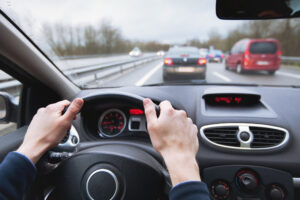 Proposed NHTSA rules would require AEB systems on new vehicles
By on
Announcements
The National Highway Traffic Safety Administration (NHTSA) is proposing to adopt new federal standards that would require more effective automatic emergency braking (AEB) and forward collision warning (FCW) systems on new vehicles.
It said when announcing the proposed changes Wednesday that requiring AEB and pedestrian AEB on passenger cars and light trucks would dramatically reduce the amount of rear-end and pedestrian crashes.
According to NHTSA, the new rules would build on existing crash imminent braking, dynamic brake support, and FCW systems but require higher speeds. It would require vehicles to be capable of braking at speeds up to 62 mph to avoid a crash when manual braking is applied and up to 50 mph when no manual braking is applied during testing.
"We've seen the benefits of the AEB system in some passenger vehicles already even at lower speeds, and we want to expand the use of the technology to save even more lives," said Ann Carlson, NHTSA chief counsel. "That's why our proposed rule would require all cars to be able to stop and avoid contact with a vehicle in front of them up to 62 miles per hour. And the proposal would require pedestrian AEB, including requiring that AEB recognize and avoid pedestrians at night."
The proposal came as a response to a Bipartisan Infrastructure law provision to establish minimum safety performances, requiring all passenger vehicles manufactured for sale in the U.S. are equipped with an AEB system.
The proposed standard includes four requirements for AEB systems for both vehicles and pedestrians. Vehicles would be required to have an AEB system that:
Provides the driver with a FCW at any forward speed greater than 6.2 mph, with NHTSA suggesting both audio and visual warnings be in place to warn the driver of an imminent collision;
Applies the brakes automatically at any forward speed greater than 6.2 mph when a collision with a lead vehicle or a pedestrian is imminent; and
Prevents the vehicle from colliding with another vehicle or pedestrian test mannequin when tested.
The final requirement would mandate that a vehicle is capable of detecting AEB system malfunctions and notifying the driver of issues that could impact its performance.
On top of requiring vehicles to provide a FCW and automatically control the brakes to reduce the vehicle's speed, the agency is proposing performance tests that require vehicles to avoid collisions under specific testing scenarios.
"NHTSA is proposing lead vehicle AEB performance tests requiring a vehicle to automatically brake or supplement insufficient manual braking as a means of avoiding contact with the lead vehicle under three specific test scenarios – stopped lead vehicle, slower-moving lead vehicle, and decelerating lead vehicle," it said in its proposal. "The scenarios are implemented using track tests and are based on those used in NCAP and NHTSA's research testing to evaluate AEB systems."
The expectation is that the vehicles being tested avoid making contact with the lead vehicle, with NHTSA saying such a requirement is "practicable to achieve, consistent with the need for safety, and may be necessary to ensure test repeatability."
U.S. Department of Transportation (USDOT) Secretary Pete Buttigieg said moving toward a comprehensive AEB mandate is an important step on the journey to make roads safer.
"Just as lifesaving innovations from previous generations like seat belts and air bags have helped improve safety, requiring automatic emergency braking on cars and trucks would keep all of us safer on our roads," he said.
USDOT's other roadway safety actions include issuing a final rule on rear impact guards and issuing a Standing General Order to collect more data about crashes that happen when automated driving systems and advanced driver assistance systems (ADAS) are engaged.
The proposal, which will have a 60-day comment period and responds to a mandate that Congress included in the 2021 Bipartisan Infrastructure Law, was lauded by the Insurance Institute for Highway Safety (IIHS).
In March 2022, IIHS and the Highway Loss Data Institute (HLDI) petitioned federal regulators to make AEB systems mandatory for passenger vehicles.
"Pedestrian AEB that works well at night is a game changer for protecting the most vulnerable people on the road," said IIHS-HLDI President David Harkey. "This proven technology takes action when a driver doesn't and can reduce the severity of a collision or prevent the collision from happening altogether."
IIHS and NHTSA worked together in 2016 to broker commitment by 20 manufacturers to equip passenger cars and light-duty trucks with AEB that prevents front-into-rear collisions with other vehicles.
Now, nearly every new vehicle sold includes AEB as standard equipment at speeds of 12 to 15 mph but NHTSA's proposal would ensure the systems work at higher speeds and stop for pedestrians as well, IIHS said.
"Automakers worked hard to make AEB standard equipment on virtually all new vehicles in response to the 2016 commitment," said Harkey. "Now they're quickly responding to the IIHS pedestrian test requirement as well. A NHTSA regulation would ensure that even more effective AEB systems, including those with pedestrian detection, spread more rapidly to more of the new vehicle fleet."
If the proposed AEB changes are approved, they would apply to vehicles manufactured four years after the final rule is issued.
Images
Featured image credit: anyaberkut/iStock
Share This: